Long and Short Reviews welcomes <a href="http://www.leeanngraffvinson.com/">Lee-Ann Graff-Vinson</a>.
Lee-Ann has been writing seriously for the last nine years–she quit work to become a stay-at-home mom. That decision was a fortunate one for her–she's had six books published and another, to be released this summer, is currently in the editing phase.
She found out quickly that she had a few misconceptions about the publishing world and writing.
"When I began writing, I thought I would quickly rise in the ranks of the famous (and infamous) authors on the bookstore shelves. What I found out was the amount of room on those shelves is limited, so are the best-sellers. You may have written the next number one read of the decade, but unless you have a marketing department who can sell you and your work to the rest of the world, it is unlikely you will hit the list of must read authors," she said.  "What I learned, however, is that Indie ebook companies are becoming as popular as traditional book publishers. If you can sell your work to a top notch Indie publisher, then your books will appear on a shelf – just in a different format. In both instances, marketing is the key to selling your writing. The more leg work you do, the better your sales are."
Her latest book, Love And Liberty, was released in January 2012 and was the first of her books to go to print.  It's the first in  her For the Love of the Military series and, even though it's shorter than traditional length,  she thinks it sends  a powerful message of teamwork and human capability no matter what your gender is.
"Warriors become family whether they like it or not," she explained. "And, when the chips are down, family is always there to help you up."
The second book in the series, Love Under Fire, is in the first edits phase.  She's also writing the third book, which is planned to complete the series, Love Unknown.
"Love Under Fire has a more graphic feel than the first in the series," she told me. "This book deals with PTSD post brutal combat. There is not a lot of romance in this book, but more the reality of dealing with a fractured mind."
Lee-Ann told me that she started trying to plot her stories, but it didn't work for her. Now she lets her characters take charge.
"They tell me who they are and where they want to go. They also tell me what trouble they want to get into and how they are to overcome it. I'm not an outline kind of gal. I sit down, start toying with an idea that's been mulling around in my head, and let my fingers do the rest. My favorite days are when I go back and read over the pages I've written the previous night and don't remember typing a single word of the story," she said.
Lee-Ann doesn't generally suffer from writer's block–she thinks because she doesn't have the time to sit at her keyboard day in and day out. Her writing time is limited and, as it is, her ideas overflow her mental capacity some days.
"It's sad to say, but I long for a day when writer's block actually hits me," she admitted. "This will mean I am writing as much as my mind is creating. And that would be absolutely fabulous."
In Lee-Ann's opinion, keys to good writing include sensory detail and showing-versus-telling.
"A writer needs to bring their reader into the story in such a way that the characters become the family the reader never had," she said. "The author needs to make the reader yell, smile, laugh, cry and talk back to the characters on the pages. This is effective story-telling. A writer who can make me feel these kinds of emotions is one I will read again and again."
She doesn't have one specific writer or story that has influenced her own writing. She reads a lot of books, because she also reviews on her blog, and when stories are written in such a way it makes her want to keep reading past her bedtime, then she takes note of the author's writing style.
I asked her to describe her writing space for us.
"I have my own office all set up with soothing pictures of scenic forests, waterfalls and beautiful lakes. There are candles spread out across shelves across my wall and pictures drawn by my children hanging up beneath them."
Finally, I asked, "If you had to do your journey to getting published all over again, what would you do differently?"
"I would probably spend more time in researching how to market myself more efficiently before publishing my work."
About the Author: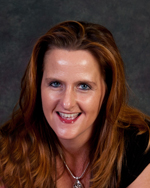 Lee-Ann Graff-Vinson is the author of military/romance/suspense and erotic stories published by Gypsy Shadow Publishing. She also writes "Queen Emily's Enchanted Kingdom," a children's picturebook series co-illustrated by her daughter. Lee-Ann is a member of the Canadian Romance Authors Network. She lives in Vancouver, Canada.
Website      Blog          Twitter               Publisher                 Facebook        Goodreads                Amazon
Captain Dana Jenkins of the United States Army is about to embark on a mission that will change her life. This isn't Dana's first deployment, but it is proving possibly to be her last. As part of the platoon traveling from Camp Liberty, Iraq to Camp Taji, Dana's convoy gets ambushed. She and the surviving soldiers are taken prisoner by the merciless Iraqi rebel group, Al-Moofoona. Their only hope lies in the hands of their fearless leader, Captain Jack Parsons—the man with whom Dana has fallen hopelessly in love.

Captain Jack Parsons can only sit and watch as what is left of his platoon is ordered into the back of a truck. Along with his men, they've taken the only woman he's ever allowed to penetrate his heart. Jack is going to do everything in his power to save them all before it's too late.
Buy the book at