Long and Short Reviews welcomes Jennifer Kacey whose latest book Together in Cyn will be released next month.  She's also turned in the second book of the series–a Christmas BDSM/Menage that will give the reader a taste of Jackson and Skye, who will more than likely be featured in Book 4 of the series as well.  Nick, introduced in Together in Cyn, is a very big part of the Christmas story as well–he and Jenna, will be Book 3 of the series.
Jennifer uses a pen name because she wants to insulate her life and family from the crazies that are out in the world–and she hopes to be well known enough one day that people see her books and know her name. Also, Ellora's Cave, the publisher she really wanted and ultimately signed with, had two author columns on their website. Column One, on the left side, was A-J; Column Two, on the right, was K-Z.  K was right at the top and, if you click on it, Jennifer Kacey is the first name.
"My husband is very good at marketing," she explained, "and if I've learned anything from him it's to take advantage of getting your name/platform out there in every way you can."
The first erotic book Jennifer ever read was Wicked Pleasure by Lora Leigh–also the first menage book and where she found the genre she wanted to write in.  She claims that as her favorite erotic book of all time. Her favorite author, however, is Joey W. Hill for her Knights of the Boardroom series.
"It is hands down the best BDSM writing I've ever read. On a five flame scale she writes at around a million! Hot, sexy, fantastic stories," she told me. "Damn now I want to go read them again!!!"
"What other authors do you think write excellent erotic fiction?" I asked.
"
OMG I love this question! Here are a few of my favorite Erotic Authors – Kele Moon, Sabrina York, Maya Banks, and JR Ward."
She hates the term "Mommy Porn"–told me that it grates on her nerves.
"I don't have a problem with porn at all," she said.  "Love the stuff. It's hot and sexy, but I know a lot of people don't agree. Adding the term Porn to any Romance gives it a very negative connotation. Just because it's heavy or descriptive with the sex doesn't make it sleazy; it makes it fantastic!!"
Jennifer rarely suffers from writer's block, but it has happened once or twice.  When it does, she gets up from her computer and walks away to go do something else.
"That way the characters/plot/conflict I'm stuck on can mélange in my head, even just subconsciously. Once I got stuck not on storyline, but character arc. I just couldn't get into one of my characters' head to finish a scene," she told me. "I thought back on one of my favorite BDSM Dom's I've read, found the book, found my favorite scene and re-read it. It had nothing to do with the same storyline, and he had a completely different arc, but alpha is alpha and got me in the zone to find what I needed to finish."
"What comes first," I wondered, "the plot or characters?"
"Characters, characters, oh so mouthy characters. I have notebooks everywhere so when one of them starts blabbing at an inopportune moment I can write it down and they'll shut it so I can get on with the rest of my day."
When it comes to her titles, she normally starts with a working title just to have something to call it instead of Book #426.
"Then as the story progresses something will jump out and grab me and it's like the final piece of a puzzle being put in place. Sometimes the title is there before even the first word is written in the manuscript. Together in Cyn didn't start out that way," she told me. "I had a title I loved, but it was too close to another EC title so we had to change it. My editor actually came up with TIC and I love it so much!! It has more than just a hint of naughty as well as a very big nod to ménage!"
Jennifer has a full time job she spends at least 55 hours a week at as well as being a wife and mother, so she has learned how to balance her time.
"I am a very good manager of my time," she assured me. "I can get more done in an hour than a lot of people can get done in a whole evening, and focus is the key. I try to stay on task and not day dream or lollygag. I also try to take at least one night off per week to just do something fun with my family. Watch a movie, go out to eat, etc. Keeps me rejuvenated."
"What is the most surprising thing you discovered while writing your books?" I asked.
"That edits can make them SO much better, and I'm not talking a tiny bit better, I'm talking HUGELY better. It's one of the reasons I didn't go the self published route. I know a lot of people have had really good success with that, but I wanted someone else just as dedicated to making my books AWESOME as opposed to ho-hum good. I've heard a lot of authors talk about edits being horrible and drudgery, but I've learned so much editing this book that will make my writing better and better. That's so fantastic and I want to kiss my editor right now just talking about it!!!"
She didn't actually want to be a writer, though, when she grew up.  She wanted to be a high-risk obstetrician.
"That's it. No other career path. No other options, just a bee-line from A to Z. One week before my MCAT, I had a life changing epiphany. If I did something that led to the death of a mama or a baby could I live with that? The answer was a resounding no. Funny how close you can get to a goal and the very act of not reaching it can change the rest of your life for the better. If ever something doesn't go as planned this is the experience I always look back to. I remember that an unanswered prayer is sometimes the only answer you need."
I asked her what her favorite and least favorite foods were.
"Favorite food right now is Lemon Bliss ice cream from Blue Bell. That stuff is like crack! I could sit down and eat the entire carton if you left me alone long enough. Umm… Least favorite – cheese. Just typing it turns my stomach. I'm allergic to it and didn't know it for years. When you're feeling sick to your stomach and want something soothing what do you make? Grilled Cheese. When you're having an awesome family meal what do you load up your baked potato with? Cheese. I was literally killing myself one meal at a time. So glad to know what I'm allergic to now. Feel like a new person!!"
"Have you ever eaten a crayon?"
"Ick no! Never eaten paper or glue or any of that stuff. I'm a texture girl over flavor. It's gotta feel right in my mouth before I swallow it…and yes you can take that however you would like," she said with a grin.
Finally, I asked, "How do you keep your writing different from all the others that write in this particular genre?"
"Every author's voice is very unique and I love that. My stories, my characters, my way to tell a story is very different than anyone else's. I think that's why romance is so popular to begin with. The general theme is love and a happily ever after. If you gave 100 different authors the same title they would each write a very different book. It's what keeps readers coming back for more day after day. Plus I really like a lot of sex in books. I'm not an 'oh he caressed her bosom and she swooned' kind of author. I'm more the, 'her breath caught in her throat when they filled her for the first time' girl. I'll tell you exactly how she felt and how many times she felt it." She smiled. "Every author is so different and you just have to find the ones that speak to you."
About the Author: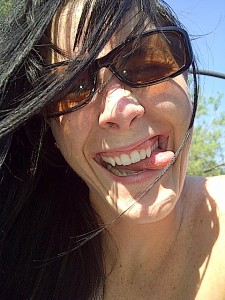 I'm a transplanted Texan who loves books, and sunshine, and crafty things. Writing is an obsession, and I can't believe people are going to read my books. I thank my lucky stars daily at the good fortune that is my life, and vow not to take anything for granted.
Book Page
http://www.jenniferkacey.com/index.php/books/together-in-cyn
My author page on EC
https://www.ellorascave.com/index.php/authors/index/author/slug/jennifer-kacey
Book Trailer Video link
http://www.youtube.com/watch?feature=player_embedded&v=iamccnEVoKc
Facebook – http://www.facebook.com/people/Jennifer-Kacey/100002469553420
Twitter – http://twitter.com/#!/JenniferKacey
Pinterest – http://pinterest.com/jenniferkacey/
Goodreads – http://www.goodreads.com/user/show/16370223-jennifer-kacey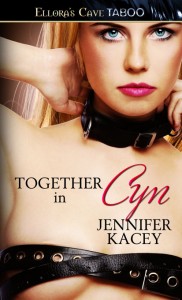 A small book sitting out on a table shouldn't incite fear in anyone.
But what if that book was your diary and you learned your two best friends, men you have ached for your entire life, have just read every last word? Pages and pages filled with dark fantasies and forbidden dreams so explicit they leave nothing to the imagination.
And what if those two friends were included in every last one?
This is exactly where Cyn Andrews now finds herself.
Stuck somewhere between wanting to hate Jared and Chris Kennedy for violating her privacy and just plain wanting to be stuck somewhere between them. She could never choose only one brother, so she's kept her feelings buried for more than a decade, and a past mistake has kept her silent and alone…until now.
Everything she's ever wanted may have just been handed to her in the form of an invitation to The Library. Not just a building filled with books, but a members only BDSM club the brothers own and have kept hidden from her for years.
Is it pity or desire that fueled the invitation?
What other secrets have they been keeping from her?
Can she protect her heart and face her biggest fear while discovering the art of submitting to two Doms?
It'd be a sin not to find out…