Long and Short Reviews welcomes Jeanette Murray, whose latest book in the Semper Fi series, The Officer Breaks the Rules, is due out this month. She also is starting a new series under her other pen name, Kat Murray—contemporary western romance. It's a trilogy called the Roped & Wrangled series and features three sexy cowboys and the women who are willing to get roped into their world—or vice versa. Leave a comment for a chance to win a copy of The Officer Breaks the Rules.
Jeanette began writing three years ago when her daughter was six months old.
"I was 'bored' during her naps," Jeanette remembers, "and because I needed something to keep me busy during one of Hubs' deployments. Bored. Pshaw. I'd love to feel what 'bored' means now!"
In fact now she has to struggle to find the time to write, with a three year old and a husband whose job takes precedence over anything else going on.
The first time Jeanette received an acceptance email from an editor, she decided to start thinking about herself as a writer/author and to treat her writing like a job instead of as a hobby.
"I now had professional responsibilities, which meant it was a business and I needed to start identifying as my professional self!" she explained.
For her, the characters come first, because her stories are mostly character-driven, so the plot revolves around the conflict and baggage they bring to the mix. She likes to steamroll when she's working on the first draft and, if a chapter isn't flowing for her, she'll skip and and move on. She's a plotter, so she knows what's coming next. She will leave notes for herself in the manuscript as a reminder.
"So as I go back through and start editing, I'll find notes like 'FINISH BOINKING.' Yeah. Clearly that meant I wasn't up for writing a sex scene earlier. So…off I go, to finish boink-writing!" she told me. "Writing the sex is one of the hardest things about this job."
"Where are you from," I wondered, "and what do you like best about your hometown?"
"Muncie, Indiana. I'm a Midwestern gal and I love it. And my favorite thing about my hometown is the fact that it revolves around balls…I mean, Ball jars! The Ball family (you know, Ball jars? Canning stuff?) is basically what made Muncie. So Ball this, Ball that…yeah. Lots of humor there. Try telling people outside of Indiana you graduated from Ball U. They assume you're joking. (But I did…)."
Her local library had a huge blowout sale recently and Jeanette was excited to be able to buy a lot of old-school romances. She's recently started reading one of the for the first time ever–The Flame and the Flower.
"Can you believe I hadn't read it yet?" she marveled.
"How do you come up with the titles for your books?" I asked.
"Um…I am horrible at this! No lie, I am terrible. I'm surprised anyone let me name my own daughter, I'm that bad. I come up with names, and then usually the publisher or editor gives me 10 good reasons the title won't work, and so then they fix it for me," she said with a smile.
When Jeanette's not writing, along with spending time with her daughter she loves finding things at thrift stores and repurposing them.
"Furniture, little knick-knacks, etc. If I can get it for cheap and slap paint on it or stencil it or cover it with Mod Podge and fabric, I'm in heaven."
"Could you ever co author a book with someone?" I asked. "If so, who would you choose, and what would you write?"
"Pamela Clare. Her action sequences and scenes leave me breathless. I swear, her action scenes in Breaking Point were some of the best chorographer scenes I've ever read. She can write all that, and I can write the rest."
Other authors she admires: Maya Banks ("[she] really attacks her plots and isn't afraid to make her characters bleed if they 'need' it.") and Jayne Ann Krentz (" I love the intensity of [her] character emotions.")
"What was the scariest moment of your life?" I asked.
"When I was 16, I was driving to after-prom by myself, since my prom date got mono the day before. (Talk about luck, right?) It was 1am, and I was heading to the high school gym, where they were putting on the after-prom party. You know, the thing they host so teens aren't encouraged to go out to parties and drink? I was stone sober, and something darted out in front of me. I swerved (nobody else was on the road), but overcorrected and couldn't figure out how to fix my mistake. New driver! I flipped several times and hit a telephone pole…and a cow. (No joke.) I landed in a cow pasture. The cow, by the way, was fine. And so was I. A few scratches from the broken glass, a really nasty back ache the next day, but otherwise, fine. The fire department thought they were going to have a dead body on their hands when they saw my car (still tilted on its side, I had to crawl out my driver's window to get out). But I was perfectly fine! But those five seconds, which felt like five hours, while I flipped around and had no clue what to do or how this would end, are forever burned in my mind. Now, every time I smell burnt rubber, it takes me straight back to regaining consciousness, hanging sideways from my seatbelt."
Finally, I asked, "How do you keep your writing different from all the others that write in this particular genre?"
"Oh, good question. Well, I'm not sure. I never really thought about actively trying to be different. I just write the story as I know how, as it comes to me. I think everyone has a different voice. And even if we were given the exact same plot outline to write from, we would all tell it differently. So sticking true to what comes naturally to me as far as telling the story goes is my best guess."
About the Author: Jeanette spends her days surrounded by hunky alpha males, at least in her imagination. In real life she's a mother to one unruly three year old, wife to an always on-the-go husband and fur-mommy to one ridiculously stupid Goldendoodle. Jeanette also writes western contemporary romance under the pen name Kat Murray. You can find her on Facebook almost daily, posting stories and pictures about the crazy convos she has with Hubs, funny messes her Tot creates, insane antics the dog pulls, or even sneak peeks from whatever she's writing at the moment!
Find Jeanette online at
Website: www.jeanettemurray.com
Facebook: facebook.com/jeanettemurraybooks
Twitter: @JeanetteMurray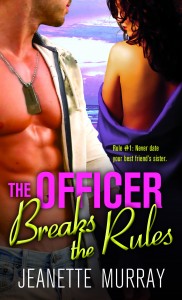 Captain Jeremy Phillips believes in doing his duty, both as a son and as a friend. This means he should obey the "friend code" and stay away from his best friend's little sister. Too bad Madison O'Shay doesn't believe in this code and is ready to break all the rules.

As a Navy nurse, Madison is finally stationed next to the man she's been dreaming about for years. And she's ready to launch a full-scale attack to show this thoughtful, handsome Marine that they belong together.