Long and Short Reviews welcomes James S. Dorr, whose newest book The Tears of Isis is scheduled for release on May 15 by Perpetual Motion Machine Publishing.  The book is already available for pre-order, though, so be sure and check out the links at the bottom of this interview. Also, the publisher is offering five free copies of The Tears of Isis up until May 15 on the book's site on Goodreads.
James told me that the easy answer to "what inspired him to start writing" might be that it was a great way to meet girls–and he did, including meeting the Woman Who Was to Become His Ex-Wife.  Actually, though, he came a bit late to writing–having first been interested in the visual arts.
"In college, for instance, I was art editor on the undergraduate humor magazine, though I read a lot too, and the editorial post sometimes included doing some fill-in writing," he explained.  "Then I was also doing some writing (and meeting girls) for the school science fiction club and, when I went to graduate school, I became a columnist and then an editor on a campus underground magazine, and then editor on a literary newspaper.  At that point I also got an graduate assistantship with the college's academic computing center which ultimately became a full time 'real job' as a technical writer and editor.  This takes us to around the 1980s where, recession times striking the Midwest where I was located, I started freelancing real estate, business, and consumer topics for a series of newsletters.  Eventually I got a new 'real job' outside of writing but that gave me breathing room to get back to the artistic side of writing with short fiction and poetry."
The Tears of Isis is a collection of short stories.  Seventeen stories in all  plus a poem to begin it.  Most of these have been previously published, but some are original, and with one exception none of these are printed in other collections of his work.  This would make this a collection of stories that will probably be new to the reader.
"If my selection does what I hope it will do, both in the stories I picked and in the order of their presentation, once you've finished you may have a feeling of having read something bigger than just the sum of the individual stories themselves," he told me.
James has a series of short stories he's been writing set on a far future, dying Earth in and around a vast necropolis called The Tombs.  Something more than a dozen of these have been published in various places, including three (two reprints and one for the first time) in The Tears of Isis, "The Ice Maiden," "Mara's Room," and "River Red"  (another new one, "Raising the Dead," is also scheduled for later this year in the White Cat Publications steampunk anthology Airships and Automatons).  At one time he had been in discussion with a publisher about a possible novel made up of Tombs stories as a sort of future history, somewhat along the lines of the late Ray Bradbury's The Martian Chronicles, though problems with the economy at large seem to have put that on hold for now — at least for the moment.   He's also being more aggressive in trying to place older stories as reprints in various anthologies, partly to get them back into circulation but also as a response to a weak economy. Also, he published a book of vampire poetry, Vamps (A Retrospective), with Sam's Dot Publishing  two years ago and is thinking about the possibility of a second volume, possibly something like Vamps (And Friends) to allow in some poetry about zombies, werewolves, monsters and the like.
In the "Tombs" stories James began with a map–different areas were defined in terms of the people who lived there. More or less "normal" people lived in the New City and the Tombs; ghouls resided in the Old City;  boat gypsies lived on the river–they were fairly normal, but prone to disease from the river's poisons, thus leading short but more intense lives;  more or less normal people again lived in the Port City but had a higher proportion of mutants.
"I asked myself how people made a living (in the Tombs itself, for instance, in trades related to undertaking: digging graves, guards to protect from corpse robbers, but also tombstone artists and carvers, curators for record keeping), and then what the social structure would tend to (in the New City an exaggerated version of parts of current America with rich getting richer and more privileged and poor getting poorer — and with hierarchies among hierarchies, as in varying levels of respect even among the city's beggars)," he explained. "I asked about male-female relations (in New City, especially among the wealthy, rather 'male chauvenist piggy'; on the river more rigid but also with the sexes more equal; in the Tombs the society in general tending to more individuality but also more collectivist when it comes to meeting mutual threats).  The physical world is a dying Earth with mixed levels of technology (the New City, for instance has electricity, but boats on the river are powered by sail) and with a sun that's gradually swelling, becoming hotter to the point that it's dangerous to go out in daytime, so part of the game is watching people within their various societies adapt themselves to a nocturnal existence,  But the thing is, you start with these strictures, then have to work through them to their logical conclusions (one story, as yet unpublished, shows how the New City can still be electrified; another, 'Mara's Room,' reprinted in The Tears of Isis, alludes to a exodus from Earth at some time in the past, so the people we have now are those who were left behind)."
The names in the "Tombs" stories also follow conventions–arbitrary and somewhat of a whimsicality on James's part, but conventions he feels can be useful to the readers as they become familiar with them. Males in the New City with names ending in "ar" are usually from the more wealthy, higher status classes (but not necessarily always since, after all, a once wealthy family could fall on hard times);  high-status women among the boat people have names that end in "an" (or "ann" or "anne"); ghouls almost always have names that begin with "m."  In one story, a high caste boatwoman refers to herself as "Ana," which, it's explained, is a suffix without an actual name to precede it meaning she's to be taken as "Everywoman".
I asked him to describe his writing space.
"I have a particular room I use as an office with an off-line desk computer, file cabinets, and lots and lots and lots of bookshelves crammed with books, a lot of them reference.  Dictionaries. encyclopedias, atlases, travel guides, you name it.  Plus papers and who knows what else scattered all over when I'm in the middle of a project — I'm a messy worker.  I refer to this sometimes as the 'computer cave,' but there's an outer part of the computer cave too, a second on-line computer on a table (with monitor stuffed onto a bookcase) and hooked to the phone for dial-up internet (I also refer sometimes to myself as the 'caveman of computing') in a corner of what was the dining room, that I use for email and for submissions, doing original writing on floppy disks which I can then switch to the second computer.  A lot of the equipment I use is second hand and cheap, but that's my protection, too, from things like computer viruses:  important files are always backed up, and, should a computer become infected, I just replace it.   But also, as sort of a computer annex, I'll also do work like downloading larger files, or files in more sophisticated form than the home computers are comfortable with, at the public library, thus getting some needed exercise too by usually walking downtown to get there."
Finally I asked, "What advice would you give a new writer just starting out?"
"One word:  perseverance.  Some might even say pigheadedness.   But seriously writing takes time to develop so be prepared for lots of disappointments before the acceptance letters (emails these days) begin to come – and even then there'll be lots of editors who, for one reason or another, may turn you down.  Don't quit your day job.  You've heard that before,  but it's true.  Even fairly steady success, especially if you're into short fiction and poetry, is unlikely to bring in a lot of money, though there can always be exceptions (novels are better, but if you really want to make a living writing, go for nonfiction).  But then, money aside and, I think, most important,  find joy in writing whether you feel successful or not.  I think it's the same with any art – if the joy isn't there it isn't worth doing."
About the Author: 
James Dorr combines the charm of a gentleman born in the US South with the wiles of a near-New York City upbringing, the canniness of a one-time New England resident, and the guile of an outwardly stolid Midwesterner, or so he says.  It is known that he was born in Florida, grew up in New Jersey, went to college in Massachusetts, and currently lives in Indiana where he also harbors a cat named Wednesday.  He is a short story writer and poet working mainly in dark fantasy and horror with forays into science fiction and mystery, and  has previously worked as a technical writer for an academic computing center, associate editor on a city magazine, a nonfiction freelance writer, and a semi-professional Renaissance musician.
Dorr's previous books include two collections from Dark Regions Press, Strange Mistresses: Tales of Wonder and Romance and Darker Loves: Tales of Mystery and Regret; a poetry collection Vamps (A Retrospective), from Sam,'s Dot Publishing (now part of White Cat Publications); and several electronic chapbooks from Untreed Reads and elsewhere, along with nearly four hundred individual appearances from Alfred Hitchcock's Mystery Magazine to Xenophilia.  An active member of SFWA and HWA, Dorr recently wrote the introduction to Telling Tales of Terror: Essays on Writing Horror & Dark Fiction (Damnation Books, Dec. 2012).
http://jamesdorrwriter.wordpress.com
https://www.facebook.com/james.dorr.9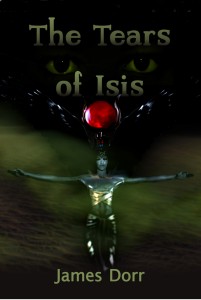 What do Medusa and the goddess Isis have in common?  Are both creatresses through destruction?  And why was Isis oftentimes depicted as weeping?
Herewith are some answers as parts of a journey through art and creation, of sculpture and blood-drinking, crafting musical instruments from bone, revisiting legends of Cinderella and the Golden Fleece, of Sleeping Beauty and Dragons and Snow White — some of these, of course, well disguised.  For is not art both the recasting of what is, as well as the invention of what is not?
The Elizabethan poet Sir Philip Sidney spoke of art as "making things either better than nature bringeth forth, or, quite anew, forms such as never were in nature," so here there be vampires, and ghouls, and insects perhaps from outer space as well as from this Earth, and visions of Saturn and life in the sea, and other wonders "such as never were in nature," but, above all, Isis.  The Weeping Isis.  Isis with vulture wings, breasts bare and smeared with blood as in the earliest forms of her myth.
And of course, as well, Medusa.
PURCHASE THE BOOK