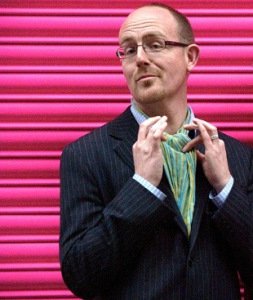 Long and Short Reviews welcomes James Lear whose newest book  The Hardest Thing has recently been released. It's the seventh book penned under the James Lear name.  The hero, Dan Stagg, is  inspired by Jack Reacher in Lee Child's novels, but he's also modelled on a very sexy man that James sees regularly at his gym.
"I've never spoken to him," James told me, "and he has no idea that I've made him do all these dreadful things in a novel."
His work schedule is very regular. He gets up, has breakfast and a walk, puts coffee on and starts working about 9:15. He works through until 4 pm with breaks for lunch and housework.
"Then I go to the gym to clear my head and look at sexually attractive men," he said.
James has been writing since he was in his teens.
"I was probably inspired by the fact that I felt like a misfit and outsider with a secret life, and I needed an outlet for that," he said. "I was a journalist through most of my 20s, 30s and 40s, and I started writing fiction seriously in the late 1990s. My first novel, I Must Confess, was published in 1998."
I Must Confess is published under the name Rupert Smith.
"My second name is James, and Lear is a tribute to Edward Lear and Amanda Lear, two of my favourite people. I had to come up with a nom de porn because when I started writing erotica I was working for the BBC and they would not have taken kindly to an employee doing this kind of thing," he admitted.
I asked him how many books he had written.
"The Hardest Thing is the seventh James Lear novel, and there are four Rupert Smith novels with another on the way in 2014, and two Rupert James novels. Complicated, isn't it?"
He told me that Agatha Christie influenced a lot of the James Lear books, also Robert Louis Stevenson's Kidnapped, Balzac's Le Pere Goriot and Illusions Perdues, and as mentioned before, Lee Child's stuff. His favorite author, however, is Charles Dickens.
"The rest of us are just holding candles in his sunshine," he told me.
"How do you come up with the titles to your books?" I asked.
"I think up some highly suggested reference to the male anatomy, usually, and try and make it sound literary. Hence The Back Passage, A Sticky End, The Secret Tunnel and now, of course, The Hardest Thing."
James plans all his books in great detail so he knows exactly where the book is going and where it will end.
"That's when the creativity comes," he said. "If you can't plan your effects, you're not giving your reader a fair deal. Pantsers aren't real writers."
"Do you ever suffer from writer's block?" I wondered.
"No. I don't believe in it. People just think it makes them sound interesting and artistic."
The most important thing in writing, for James, is being entertaining.
"If you can't entertain the reader, you're not doing your job. Everything else is secondary," he said. "Even the artiest, most 'difficult' novel should be entertainingly difficult."
"How do you do research for your books?"
"I really pissed my husband off by claiming once that I meticulously researched all the sex acts in my books on him. In fact the research I do is usually about very dull stuff – geography, business structures, legal procedures and so on. I've done novels that have required huge amounts of research, eg Man's World which was set in the 50s. But that's unusual. I can't bear novels that scream 'Look at all this research I've done!'. Save it for school."
"How do you personally distinguish between pornography, erotica, and erotic romance?" I asked.
"I don't. The only point of erotica is to arouse. These different names are just ways of disgusing the basic fact that we're trying to get people off. And if we're not doing that, we're not doing our jobs. Horror fiction scares you, crime fiction makes you guess, and erotic fiction makes you come. It's as simple as that."
Finally, I asked, "What advice would you give an author who wants to write erotica?"
"Have a sense of humour. What you're doing is kind of ridiculous, so don't ever take it too seriously. The worst erotic fiction I've read is the very po-faced, literary stuff. Avoid metaphors and similes as much as possible: a cock is a cock is a cock. It's not a throbbing thrill hammer or a pulsating love sword. And if you're writing same-sex stuff, then stick to the first person. Pronouns get very complicated otherwise."
 Killing is easy. Love is… The Hardest Thing

James Lear does Lee Child

Once a major in the U.S. Army, Dan Stagg fell afoul of Don't Ask Don't Tell. In his late 30s, tall, and muscular, Dan is prone to violence, always upholding what he views as justice. He's offered a great deal of money to protect the young male "secretary" of a powerful real estate broker. The vain, shallow—but most of all hot—young man's idea of protection includes sex. Dan quickly realizes something strange is going on: he's being used as a shield for a much more sinister operation and must chose between easy money and sex or the ideals that he embodied in the Army. Why should he do the right thing—particularly when the army betrayed him? The Hardest Thing is a sexy gay mystery as only James Lear can write it: filled with lots of gay sexual encounters, romance, sweat, violence, and conspiracy.