Long and Short Reviews welcomes Elizabeth Fountain whose debut novel An Alien's Guide to World Domination was published this month by Champagne/BURST! Books.  Leave a comment on today's interview telling Liz  why you  love to read science fiction and/or fantasy and you might win a $5 Amazon gift card.
She's working on three more novel-length manuscripts in varioius stages of revision. One is the story of a woman who can write stories that come true . Another is the tale of what happens when Death is looking for early retirement, and meets Guinevere, who is desperate to escape her guilt over inadvertently causing someone to die. And the one she's most excited about right now is her first foray into writing for young people – middle grades. It's the adventure of Amy June Pilgrim and her grandfather as they try to find the mathematical formula for immediate forgiveness. If they find it, they can transform the world for the better – and that's why so many forces are intent on stopping them.
Liz has written stories as long as she can remember. She started out as an arden reader and fell in love with books about Robin Hood and Maid Marian, shy puppies, and "Pickle Chiffon Pie." So, it wasn't long before she tried creating stories of her own–illustrating them as well, mostly with pictures of horses.
"I'm not at all sure the stories were about horses, or even marginally related to horses, but I liked drawing horses, so I included them in all my work. That's the advantage of being a little kid – you don't have to follow any rules!" she said.
"What is it about fantasy/science fiction that attracts you?" I wonder.
Oh boy, this is one that I really could go on forever about. I've written and thought about this a great deal. It comes down to this: as a writer, I can tell truths using the conventions of science fiction and fantasy that are much harder for me to tell if I stay within the bounds of realism. My favorite example of this is time-travel. Science fiction authors did not invent time travel. Human beings experience it all the time (pun intended). Remember the last time you walked into your parents' house? Boom! You were twelve, or sixteen, or three, again. What did you do last night while trying to sleep? You projected yourself into your future, whether it was that annoying work meeting first thing in the morning, or the house you want to live in ten years from now. Our imaginations don't register any of this as 'fiction' – it's just life. That's why I'm trying out a new motto as an author: 'Fiction – the other white lie.' Nothing about science fiction would grab your interest if you hadn't already experienced it somehow. You know what it feels like to land on a strange planet and wonder if you can breathe the air there. You know what it feels like to slip from one universe to another, through some kind of portal, and you know the feeling of panic as that portal closes behind you.  And you know the joy of finding your way back home, to a universe that blessedly makes sense again."
Liz loves the frenzy of National Novel Writing Month, when she commits to writing fifty thousand words in thirty days.
"When I lived in Seattle, a group of us WriMos would meet at a local tavern for what we called 'the drunken write-in.' No one ever got drunk, but I was amazed to find that one beer (usually Redhook), lots of noise, and dodging the tavern regulars who want to play pool or throw darts significantly juiced up my word count," she said. "Some of my best passages were written in that crazy environment, surrounded by bar-goers and other nerdy writers huddled over laptops. Every now and then I try to re-create it; sometimes silence and privacy just don't help me get words on a page."
The job in Seattle paid close to six figures, but she left it and moved herself to the small town of Ellensburg, so she could support herself by teaching university courses while she writes.
"I'm amazed and grateful that it's worked out so well so far," she said.
She pretty well stays within the science fiction-fantasy genre, broadly speaking.  She told me that she's tried many times to write "straight" fiction, but something happens.
"I was writing a really deep piece about a woman trapped in a loveless marriage, while also being in love with her best friend, who was about to marry someone else," she told me. "I'm working on the opening scene where she is in her kitchen, doing dishes, talking to herself, making wishes, like you do when you're doing dishes – at least I do, if there's no one else around – and boom! all of a sudden a genie lands on her faucet. He's about eight inches tall, with a little green cap holding a long feather tucked in the band. He can't hang onto the faucet because it's covered in dish soap, so he slides ungracefully into the sudsy water. Worse yet, he's there to grant the woman's wishes. And all of a sudden I'm writing fantasy again."
I asked, "What books or authors have most influenced your own writing?"
"When I first read Jasper Fforde's Lost in  Good Book, I realized that's what I wanted to write – and that I could do it. I mean, I wanted to write about worlds that are ours, but different: his worlds slip between reality and Bookworld, and people can travel through time, and the Crimean War lasts hundreds of years, and mastodons ravage people's gardens now and then. But as the reader you believe it all, even though it's nonsense. I hope to create those kinds of experiences for readers of my books too – they will know these worlds, and these characters, even though they are aliens, or genies, or talking goats, or Death seeking early retirement."
The worls Liz writes about is our world, but just a little different.  Most of the action in An Alien's Guide takes place in towns and cities Liz has visited, but seen through the eyes of the characters. The aliens, btw, take their names from popular culture–television and movies.
"These are the compelling visions the aliens encounter when they arrive on Earth, so it made sense they'd wind up naming themselves after their favorites. Some central events in the book take place in 1976, and that happens to be the year Charlie's Angels debuted on network television. I scanned the credits and took several character names from that show," Liz explained. "It was also a way to show how the aliens don't really fit in – they take names from the wrong gender, or names that are just silly. They only have the movies and TV shows to go by – they don't have all the cultural context that we take for granted."
Finally I asked, " If you could apologize to someone in your past, who would it be?"
"In junior high, there was a girl who was at the very bottom of the social totem pole. She was so happy anyway, she didn't seem to notice. She invited me to her birthday party my eighth grade year; and I didn't go. I lied when we saw each other in school, and told her I'd been sick. But really, I was scared that once the other kids knew I'd been to her party, they'd ostracize me, too. I was already pretty lonely, so that seemed like a fate worse than death. Now, looking back, I know that girl was likely to be a better friend – and better person – than any of the popular kids I was so afraid of provoking. I can only remember her first name. If I ever find her, I'd apologize for missing her party and for lying about it. And I hope she's still the happiest person around."
About the Author: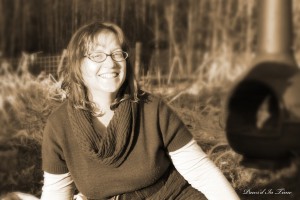 Elizabeth Fountain lives in Ellensburg, Washington, in the heart of the beautiful and diabolically windy Kittitas Valley. She started writing in grade school; fortunately, most of her tortured high school poetry and song lyrics are lost to posterity. She teaches university classes in psychology and leadership, and writes short stories and novels that capture the unintentional humor and weirdness of everyday life; or, as she puts it: "Fiction – the other white lie."
Her work has been published in Randomly Accessed Poetics, a literary magazine, and in Shared Whispers, an anthology of romance and adventure stories. Her first novel, An Alien's Guide to World Domination, was published in April 2013 by Champagne/BURST! Books.
When Earth's future is in the hands of the last person on the planet who thinks humanity is worth saving, it's lucky her dog knows what to do.

Louise Armstrong Holliday is the last person on Earth you'd expect to save the human race. But when she uncovers proof that her boss is an alien the color of lime Jell-O gone horribly wrong, and is at the center of a plot to destroy humanity, Louie decides to do exactly that. She begins a journey from her company's suburban Seattle office park to the old cities and castles of Eastern Europe. Along the way, Louie is attacked by flying books, overly-sensitive bat-crow monsters, and her own self-doubts. She must learn the truth about her closest friend, stand up to her boss, confront her oldest enemy, and make peace with her Aunt Emma, who annoys her in the way only true family can. She also has to rely on Buddy, the little blind mini-Schnauzer who saves her life twice – and really is from Mars.