Long and Short Reviews welcomes Christine S. Feldman whose debut novel Coming Home was recently released.
I asked her to tell us something about the book.
"It's got alien abductions and an Elvis sighting, because, you know, there just aren't enough of those in romance novels today," she said. "Kidding, of course—although it does give me an idea for my next book…heh, heh.  Actually, Coming Home deals with some serious themes but also ties in moments of lightheartedness to balance them out.  While the book is primarily about the developing romance between the heroine, Callie, and the hero, Danny, there's also a lot about the nature of family relationships that ties into it, and the different ways that loss can affect people."
Christine has just started the editing process for her second book, The Bargain, another contemporary romace that is due to be released July 22, also from Crimson Romance. The heroine is an awkward tomboy named Shannon who is a lot more comfortable with power tools than she is with high heels or lipstick.  Sometimes she wishes she could reinvent herself and finally catch the eye of her perfect boss, who happens to be the same guy she had a crush on throughout high school.  But when his ladykiller older brother comes back to town—a former bad boy looking for redemption—Shannon realizes that love might not be about reinventing yourself after all.  It's about finding your perfect match.
Most of the storylines Christine dreams up are for stand-alone books, but she does have a fantasy series planned.
"It's a heroes-for-hire concept, but it features the most unlikely heroes and is a mixture of adventure and light comedy," she shared with me.  "Most adventure fantasies are about the A-list heroes, but I figured it might be a lot more fun and interesting to write about the B-listers who are too stubborn to give up despite not being taken very seriously in their line of work.  My screenplay version of the first book planned was a semi-finalist in the 2012 All Access Screenwriting Competition."
Christine has loved writing since she was seven or eight years old and would writing paragraph-long stories based on books she loved and her favorite characters. As she got older, her stories got longer, and she began dreaming up characters and worlds that were all her own.
"Storytelling is just so much fun!" she told me. "Somewhere my parents probably still have a one-page story or two that I wrote as a young child, most likely about the Black Stallion since I was obsessed with horses as a kid.  A few years later—ta da!—hormones kicked in, and suddenly horses weren't nearly as interesting as the opposite sex, so gradually I lost interest in horse stories and started writing pieces that featured more romance and adventure and less hay and manure.  I sent out a few queries to publishers when I was in my twenties, but I gave up after a while and decided that I should probably pursue a 'real' job that could pay my bills.  I told myself that I would get back into writing some day when I had more time, but it slowly dawned on me that if it was ever going to happen, I would need to make time for writing.  So I did.  Evenings and weekends.  And it felt so good to do it again!"
For Christine, both plot and character kind of build on each other. She usually starts with an idea of a particular situation that sparks her interest and then she slowly fleshes it out with a few plot details here and a character quirk there…and then pieces start falling into place until the plot and characters are so closely intertwined she can't remember how it first got started.
"I'll be the first to admit that I'm a type A personality who likes structure and order, so I do like a good outline when it comes to story plotting.  But sometimes during the research I do for a story, I may stumble onto something that makes me take the story or the character in a different direction," she said.  "Uptight as I am, I do realize that a writer needs to be at least a little bit flexible about these kinds of things!"
She does like to know exactly where her story is headed, because she feels more confident that the story has enough meat to get there.
"I don't stick to an outline just for the outline's sake.  If halfway through the story it seems like things are heading in a different direction that I originally intended, I take a step back and try to be objective as possible about which direction feels more natural to the story and truer to the characters.  And I've been known to go back in a rewrite and trim out a character or two.  Hurts sometimes, but it's—hopefully—for the best."
Christine teaches kindergarten full-time, so her writing is mostly done in the evenings and weekends.
"Some days the teaching takes a lot out of me, and it can be a challenge to be consistent in my writing habits, but I keep plugging away at it," she told me.  "You have to think long-term, you know?  Because even if you only manage one page a night, you can still get an entire book written in a year if you're just persistent enough."
"If you had to do your journey to getting published all over again, what would you do differently?" I asked.
"I wish I could go back and tell my twenty-something self not to give up so soon on manuscript submissions, because back then I sent queries to only a handful of publishers and then figured if I didn't get published right away, a contract must not be in the cards for me.  Silly, silly girl!  I've since learned that that attitude toward publishing is very unrealistic and impractical.  You have to write, submit what you wrote, write some more, submit some more, go write again…and I'm sure you see where this is going. "
When Christine isn't writing or teaching, she loves to curl up with a good book and get lost in it. Sometimes she'll bit the bullet and do some work around the yard–or do some housework, if she has to. She admits that under the bottom of her bed there are lots and lots of dust bunnies.
"Hey, come on!" she said. "I work full time and I write, so something's gotta give.  At least, that's my rationale, and it works quite nicely for me, thank you very much.  At least I still clean the bathroom.  Occasionally."
She also enjoys ballroom dancing quite a bit–that's how she and her husband met.
"We don't do any fancy over-the-shoulder lifts like you see on Dancing with the Stars, but we do have a good time out on the dance floor,:" she told me.  I highly recommend it!  I am also a novice bellydancer.  I haven't done much bellydancing lately—been too busy with teaching and writing—but I used to take lessons, and I'd practice at home, too, with DVDs.  It's really a lot of fun, and it's also surprisingly good exercise.  You feel it afterwards in thigh and ab muscles you never knew you had before.  Wild horses couldn't get me to dance in front of anybody else, of course, but all by myself and in the privacy of my living room…absolutely!"
"Do you have a favorite quote or saying?" I asked.
"I love quotes.  I have a journal that I started when I was a teenager in which I wrote quotes, poems, scriptures, anecdotes—you name it.  So it would be hard to pick just one and say it was my favorite, but there is one quote that has been on my mind a lot the past couple of years, and it was actually instrumental in getting me back into writing.  You know that Wayne Gretzky quote about how you miss one hundred percent of the shots you don't take?  It got me thinking that if I actually wanted to be a writer, I had to make time for it and DO it.  Because your chances of getting published improve quite a bit if you actually write your book and send it out there, you know?  Funny how it took so long for something so simple to sink in…"
About the Author: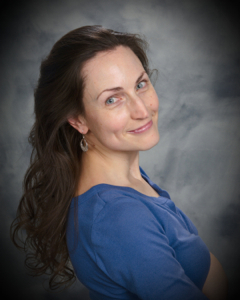 Christine S. Feldman writes both novels and feature-length screenplays, and, to her great delight, she has placed in screenwriting competitions on both coasts—and has even won a couple of them.  In 2012 one of her screenplays was featured as a staged reading in New York City at the Gotham Screen International Film Festival, and later that same year she signed her first publishing contract for her debut novel, Coming Home, with a second one to follow this summer.  When she is not writing, she is teaching kindergarten, puttering around in her garden, ballroom dancing with her husband, or doing research for her next project.  Please visit her at her website http://christinesfeldman.com or on Facebook at https://www.facebook.com/ChristineSFeldman.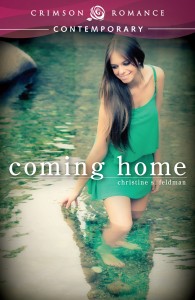 No woman ever really forgets her first love. Callie Sorenson is no exception. Hers was tall, tanned, and—as her older brother's best friend—completely off limits.
Danny McCutcheon.
It's a name that Callie hasn't spoken in years, even if the man to whom it belongs has never really been all that far from her thoughts. Or her heart. But now a twist of fate will bring her back to the childhood home she left behind years ago, and to the hometown boy for whom she secretly longed.
When her mother takes a bad fall and breaks her hip, Callie leaves the bright lights of New York City to fly back west and help with the rehabilitation. It's a tense homecoming due to a long time estrangement between mother and daughter, and it drives Callie to confront both a painful personal loss and her unanswered questions about the father who abandoned her when she was just a child.
It also brings her face to face with Danny again, and Callie quickly realizes that old feelings die hard.
But for Danny, it's new feelings that are a problem. Callie is not the young girl he remembers but a woman now, and a very desirable one. They both have reasons to fight the growing attraction between them, but the temptation may just prove to be too much to resist, despite some very real risk to their hearts. The past casts a long shadow over the future, though, and Callie will have to overcome it or else face losing the one man who means the most to her.