Long and Short Reviews welcomes Catherine Bybee, whose newest release Not Quite Mine was released on May 7.  Catherine is having a special giveaway celebrating the release–see the Rafflecopter at the bottom of this post.
It's a love story first, but it's also a book about mothers–all kinds of mothers. Good mothers, mothers who give their babies up, women who can't have children of their own–and mothers who shouldn't have been given the title.
She's currently finishing the final edits for Fiancé by Friday, which will be released in August 2013. And she's also in edits for Not Quite Enough scheduled to release in October 2013.
Catherine told me that she writes under a pen name and that Bybee is a family name on her grandmother's side.
"In her life, Nana wanted to be famous, so I'm hoping she can enjoy my ride spiritually," Catherine said.
She's been seriously writing for about five years.  As a kid, she jotted down short stories, but never finished anything until five years ago.  She told me she started because "all the stories in my head needed a place to go. They were seriously clogging up my brain."
She started out writing time travel/paranormal romance and is now writing contempoary, but she still has time travel stories in the works.
When she's writing series books, she often knows who her next characters are going to be based on her WIP.  If she just starting a new series or a new book, though, often a plot will trickle around in her had and she words on the characters as she goes.
"What's your writing space like?" I asked.
"Messy, messy, messy. I do have a home office that is ONLY an office. Which is super cool. I do love a clean desk and try and clear in every two weeks, but it never stays that way for long. My 'deadline' desk is always a mess!"
She admitted she would love to have more hours to just write.
"There is so much more to writing than getting words on a page," she explained. "I've hired an assistant and that has taken some of the promo and prep work for tours and conventions off my desk. So that helps a ton!"
"If you had to do your journey to getting published all over again, what would you do differently?" I wondered.
"I had one publisher who shall remain nameless who I wish I'd never dealt with, but I learned lessons from that experience so I can't say I wouldn't do it again." She sighed. "So probably nothing."
Finally, I asked, "What is something you'd like to accomplish in your writing career next year?"
"I'd like to see my name BACK on the NYT's and USA Today Bestseller List. That would take some structural changes within their policy at the NYT's and USA Today. But you never know. My sales, and the sales of many of my fellow Montlake Authors exceed some of those on those Bestseller list, but until these lists loosen their rules, we don't make the list," she told me with a sigh.
ABOUT THE AUTHOR: Winner of the More Than Magic Award for Paranormal romance 2011
Catherine Bybee has been addicted to books for as long as she can remember. With the love of reading romance novels came the desire to write them as well. Creating worlds where passion and intrigue collide and where werewolves fall in love gives Catherine the perfect balance. And what young woman hasn't fantasized of traveling through time to find the perfect man? Catherine currently lives in Southern California with her supportive and patient husband and two growing sons. If she isn't busy at her computer or with her family, she's volunteering for any number of organizations or working as a RN in a busy Emergency Room.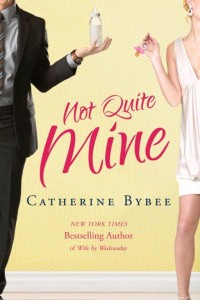 Gorgeous hotel heiress Katelyn "Katie" Morrison seems to have it all. But when she crosses paths with Dean Prescott—the only man she's ever loved—at her brother's wedding, Katie realizes there's a gaping hole in her life. After the ceremony she gets an even bigger surprise: a baby girl left on her doorstep. Determined to keep the newborn until she learns who her mother is, Katie has her hands full and doesn't need Dean snooping around…especially when his presence stirs feelings she thought were long gone..
Dean Prescott knows Katie is lying to him about the baby. He shouldn't care what the woman who broke his heart is up to…and he most certainly shouldn't still be aching for her. Yet Dean can't ignore the need to protect Katie—or the desire to be near her every chance he gets. But when he and Katie solve the mystery surrounding the baby, their second chance for happiness could be shattered forever.