Long and Short Reviews welcomes Iain Thomas whose latest book Intentional Dissonance is available. Leave a comment and you will have a chance to win one of two ebook copies of Intentional Dissonance.
Iain is currently working on three different books: a revised version of his first book I Wrote This For You, a second book due the end of this year that's still untitled, and How to Be Happy, which isn't due until the start of 2014.
"I can't seem to stop myself from writing it," he admitted, "even though I shouldn't even be thinking about it right now."
"When did you first consider yourself a writer?" I asked.
"My first book, I Wrote This For You, has spent a year on the Amazon and iTunes poetry bestseller lists and frequently finds itself at #1, and I still don't know if I'm actually a writer. I think when I'm writing, I'm a writer and when I stop, I become something else. I still have trouble introducing myself at a dinner table as a writer."
He's been writing since he started keeping a diary when he was around 13; he stared writing prose a couple of years later. He told me he's always found writing to be cathartic—a way to get rid of whatever demons were in his head.
"They've always seemed easier to face and defeat when they're put down on paper," he said.
He's written professionally since he was 19, mainly for the design industry.
Unlike many authors, neither plot nor characters comes first in Iain's books—instead scenes and dialogue come to him. Moments within the book that could happen inspire him and then he builds the characters and plot to serve those moments.
"How do you develop your plot and characters?" I asked.
"All my characters are amalgamations of people I've encountered in my life and the plot is something that serves my own purpose, which is to create beautiful, surreal moments and environments that draw the reader in. I believe the most important elements of writing are having an original idea, the ability to tell the truth about what you're saying and the desire not to waste the reader's time."
Iain usually comes up with his titles first, and then the book follows. Intentional Dissonance was a name that floated around in his head for a while. It described a feeling of being disconnected, of not wanting to play by the rules. It's a cyclical book, much of it has to do with the repeating patterns we fall into as human beings. I Wrote This For You defined itself and How To Be Happy is doing the same thing.
I wondered, "What would you say is your most interesting writing quirk?"
"I think the strangest thing I've ever done literary wise is the entire I Wrote This For You project. I wrote more than a thousand poems that all have titles that start with the word 'The' and every single one has the word 'You' in it. I think constructing your own rules around what you're writing gives you something to play with and can lead to really creative, interesting solutions."
Iain writes poetry and science fiction, but he believes that both fit only loosely into their respective genres. In fact, he tries to defy genre.
"Originality is important to me and I do my best to break literary conventions as much as possible to achieve that, with varying degrees of success," he said. "I'd rather fail while attempting to be original than succeed at obeying a convention."
He admits that I Wrote This for You was an incredibly bizarre literary debut. It was a real struggle for him to find a publisher who could see why it was as popular as it was and the potential behind it.
"I wrote I Wrote This For You under the pen name 'pleasefindthis' as I believed that every part of a story, including the name of the person writing the story, can be an entry point into that story. I chose the name because it invited people to find out more," he told me. "A young girl discovered I Wrote This For You while she was undergoing treatment for a tumour in her brain and she wrote me a letter telling me how strong it made her feel. She wrote the words 'I Wrote This For You' on the paper bracelet the hospital put on her and sent a picture along with her mail. I don't even know how I managed to respond to that. Another person wrote me a message saying that my words had inspired her to get off the streets as a prostitute and go back to studying. I still speak to her about once a year. She's doing well."
Iain believes that the more input you have, the more output you have. So he works in chaos, surrounded by comic books, antiques, paintings, old books and whatever else he's picked up along the way. He also creates procedurally generated music to listen to while he works.
"I'll load up a relaxation application on my iPad that plays the sound of the rain, load a YouTube video of someone whispering for 45 minutes, then load an ambient music album at the same time and have all three playing at once," he explained. "It's familiar yet new music every time I listen."
Finally, I asked, "What advice would you give a new writer just starting out?"
"Writers write. Every word you write makes you a better writer, and there are a lot of bad words that you need to get through before you can get to the good ones."
About the Author: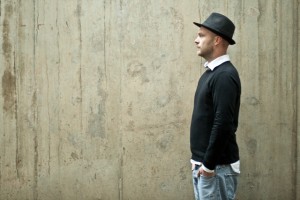 Iain S. Thomas is a new media artist and author. As an author, his most famous work is I Wrote This For You, which he writes under the pseudonym 'pleasefindthis' – a blog then book that's been on both the Amazon and iTunes poetry bestseller lists since its launch in December 2011.
As a writer for the design and new media industry, he's won numerous local and international awards for his work. Amongst other things, he created a never-ending sentence for a monument for South Africa's Jazz Artists and recently collaborated with musical phenomena BT on the packaging design for his last album. He wrote his first book, Ignite, at the age of 23 for the Markham clothing company. It won the Grand Prix at the First Paper House Art of Design Awards and a gold individual craft award at the Loeries. He currently lives in Cape Town, South Africa.
Find the author online:
Twitter @iwrotethisforu
It's been 10 years since the world officially ended. In the last city on Earth, Jon Salt is addicted to Sadness, a drug that invokes its name, and obsessed with his lover, Michelle; both of which threaten to drive him insane.

Strange creatures and new technologies appeared in the last days of humanity and the widespread adoption of teleportation technology sundered the fabric of time and space, leaving a smattering of looping ghosts. It is a sad, monotone world, but the remaining populace is happy, thanks to the anti-depressants in the water supply.

The last government on Earth has taken a special interest in a gift that Jon possesses: the ability to make his thoughts real. Jon must rely on that gift and the help of a few unlikely friends to stay one step ahead of those who desperately want to use him for something far more sinister than even he could dream…