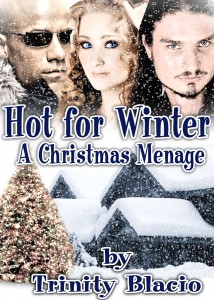 Long and Short Reviews welcomes Trinity Blacio, whose latest book Hot for Winter is now available. Hot for Winter is not only categorized as fantasy; it also has a little sci-fi in it.
"I love putting different elements in my stories," Trinity told me. "I think it adds so much more to the tale. I'm also hoping maybe one day to expand on it, we'll see."
"Do you use a pen name?" I wondered.
"Actually, I have three pen names. My kids helped with each one. I'll be slowly dropping Selene Noreen. I won't be writing any more books by her. I'm going to concentrate on Maria MoonStar and Trinity Blacio. The kids picked out the Trinity and the MoonStar part of the names. I would have used my real name, but there is a famous soccer player in England with the same name. So I didn't want the hassle. "
She has many projects going on for both her Maria and Trinity personas, but the one she's really excited about is the Valentine's Day Hurricane Sandy Anthology We Love New York for Riverdale Avenue Books. Part of the proceeds will go to helping Hurricane Sandy victims. The projected release date is Valentine's Day.
Most of Trinity's works are erotic romance, so I asked her how she personally distinguished between pornography, erotica, and erotic romance.
"There are many different views on what Porn is and what it's not. My personal belief, pornography doesn't contain a plot at all. It's all sex. Whereas, Erotica, would be in-between Porn and Erotic Romance. There is a story, but the story leans more towards a sexual orientation. Most of my stories are erotic romance stories. I have a few that could be considered borderline."
She has many authors she enjoys, but the erotic authors she's read recently she enjoy include Jaid Black, Dixie Lynn Dwyer, Leah Brooke, Cherise Sinclair and Emma Holly, to name just a few. Her favorite—Cherise Sinclair and her series Club Shadowlands.
"Every book I've read by her, she has placed me inside the story. I want to be that woman in her stories," Trinity explained. "I'm so engrossed in her stories I don't want them to end."
In her own writing, Trinity aims for unusual, fast paced, and plenty of sex in her own writing.
"I love to keep the reader guessing," she said. "I don't know how many times I've picked up a story and knew what was going to happen. That can get rather boring."
Trinity always wrote in high school and college, but never took it seriously. In fact, she was going to college to be a criminal profiler, until she learned she had to have a PhD. Sadly, she couldn't take out any more student loans and got her BA in Psychology. Her mother read something Trinity had written for class and encouraged her to write for a living.
"I had several things published in our local paper, along with several research papers on the web," she said. "She never thought I would write erotic romance, but now she makes sure she shows off all my print books on her shelves."
I asked her about her writing space.
"I have to laugh at this. We recently moved into a large home and I have an office all set up, but the only problem is that I can't stand the chair I have for the desk. So right now my writing area is in the living room in my rocker with my laptop on my lap. A small stand with a light on it sits next to me. Of course, you'll always find either coffee or diet Pepsi beside me. Sometimes I do work in the kitchen at the table; it just all depends what kind of mood I'm in."
Writing itself is easy for Triniy.
"I can whip up stories right and left. I have so many story plots running around in my head that sometimes it gets annoying. But the hardest thing for me is the editing. I fear it and it makes me sick every time I have to try and edit," she told me. "I like to compare myself to Mark Twain, (not that I can write like him), but when I write I don't concentrate on rules: commas, passive voice, telling and so on; he too hated to edit. I write what comes from the heart. So when I have to go back, reread, and put in all that other stuff, I go crazy. My kids would say the witch comes out in me. My kids know to stay away when I'm editing. I HATE IT and I'm not good at it. So I bow down to my editors who help me, because without them my stories would still be sitting on the computer. "
"Where are you from and what do you love best about your hometown?" I wondered.
"I have lived all over, from Ohio to Detroit, California to Florida. I was born in Ohio, but with divorced parents we moved often. I remember one year moving three times. Talk about screwing up school. Now, I'm once more in Ohio. My husband, kids and I were all born in the same hospital too. Want to hear something else weird? My daughter was born in the same room I was some thirty years later. We now live in the small town of Wellington, Ohio, and I love it. The people here are so nice and down to Earth compared to other places I have lived. Example, last Halloween the kids did their first trick-or-treating here. The whole town went way out. They were giving out hot dogs, pop, chips, school supplies and candy. The firemen tossed candy to the kids from their trucks. Every weekend there is something new going on in our town. Our neighbors are the best!! I actually almost cried the other day because they are so nice. We have this long driveway now and no snow blower, just me. We got our first major snow last week. Where it would have taken me hours to shovel, our neighbor came over and used his snow blower on my driveway for me. Not only had that he done our sidewalks too. "
I asked her to tell us about her family.
" Ha, this is going to be fun! Let's see where to start. My parents were divorced when I was six. My mom had five sisters and three brothers. My father only had a sister. My mom's family are very close and we do many things together. My father's is not so close. He lives in Pompano Beach, Florida with my step-mom Kathy. His sister, my aunt in Chicago, I believe, has two children, whom I haven't seen in over thirty years. Oh, they have been in Ohio and could have stopped to see us, but I get the impression we are far below them. I have a sister who lives close. I've been married for seventeen years. We have two children, Cheyenne and Rudy. Cheyenne will be a senior next year. Son will be in ninth grade. Daughter is just like me, quiet and has the same problems in school as I did. My son is a carbon copy of my sister's personality. Popular, loves sports, and has girls following him around all the time. When he was six he used to hide in the house because two high school girls liked him and followed him. Finally, I had to tell them to get lost. Both of my kids look just like their father. Mom had nothing to do with their births. All three of them have the Native American features. Husband is half Chippewa/Cree. His mother was born on the reservation, Rocky Boy, in Montana. The family homestead is still in the family. Sitting Bull use to take his men up the mountain behind their property and head to Canada. Found that out doing my genealogy. My husband is the baby of three brothers. When they say the Horner brothers are coming, everyone steps aside in Elyria, Ohio. As you can tell, they were also the troublemakers growing up. The three brothers are very close and live in the same area we do."
Finally, I asked, "What advice would you give an author who wants to write erotica? "
"Two important things. The first, the most important, never give up on your dream. Many others will try to discourage you, but take it with a grain of salt. Second, research each house to find what is right for you. What might be right for someone else might not be for you."
Leave a comment for a chance to win a download of one of Trinity's books.
About the Author: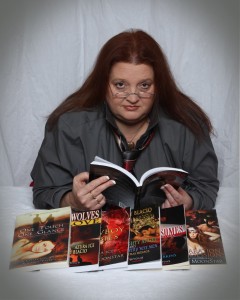 Trinity Blacio has been writing professionally for ten years. Currently she has available titles from Freya's Bower, Ravenous Romance, and Riverdale Avenue Books with more to come. She is always excited to be writing, hearing from readers, and helping fellow authors. She lives in Wellington, Ohio with her two children and two cats.
Find Trinity online at
Facebook Twitter Pinterest