Long and Short Reviews welcomes Susana Ellis, whose debut novel Treasuring Theresa was released last week. I asked her to tell us a little bit about it.
Although the daughter of an earl, Lady Theresa is country bred and born, she would like nothing more than to live her life in the village in which she was raised, managing her father's (or husband's) estate and continuing her active role in community affairs.

It's bad enough when the neighbor she's always expected to marry becomes betrothed to another girl, and the whole village knows of her disappointment. But when her father becomes seriously ill and she knows she will have to leave when the new heir takes possession of the estate, it's the end of enough. Especially since the gentleman in question, Damian Ashby, is a useless London fribble who will probably drain the estate dry in order to finance his extravagant lifestyle.

Damian, Viscount Clinton, takes Lady Theresa for a mannerless country bumpkin. She might have the most tantalizing cerulean blue eyes he's ever seen, but he'd never choose such a rough-hewn young lady to be his wife, no matter how guilty he feels about displacing her at her father's death. No indeed. His conscience will not sway him on that score.

But what if their first impressions of each other are completely off the mark? Will these seemingly opposite characters find happiness together after all?
She's currently working on a Regency she started during NaNoWriMo about a young widow haunted by the illegitimate daughter stolen from her years ago. One day she spots a girl on the street who could have been her own twin at that age. It turns out that the girl is the daughter of a widowed marquess, but the heroine can't seem to let go of the idea that this child is hers. Befriending the child leads to a growing appreciation of the girl's eligible and devastatingly handsome father. While it might appear to be a dream-come-true, the heroine knows it could all come down on her like a house of cards when the truth about her deception and her past comes to light.
"The book still has three chapters to go and will then go through the revision process, but I"m hoping to submit it in February or March of 2013. Fingers crossed!" she told me.
"Do you write in multiple genres or just one?" I asked her.
"At the moment I'm concentrating on Regencies. I might branch out in other periods someday, or even into other sub-genres, such as paranormal or futuristic. After all, I used to tell my baby sisters stories about soap bubbles. Wouldn't they love it if I created a whole soap bubble world, full of soap bubble romances and even—maybe—soap bubble werewolves or vampires? There's no end of fascinating stories in my imagination!"
Along with her vivid imagination, from the time she first learned to read voracious reading opened up an infinite number of new worlds, characters, plots, scenarios, etc.
"Oftentimes I'll be reading a story and think to myself that I would have handled things differently if I were writing it. So…why not?"
She considers her serious (that is, full-time) writing career to have started in November 2011 when she was able to quit her teaching job and apply herself to writing and learning about the craft of writing as well as the publishing world. She gets up very early and writes about 1000-2000 words a day. If she's on a roll, she writes more. Once her word count for the day is completed, she gets out of her chair, has breakfast, exercises, makes plans for lunch, and does a few things around the house. In the afternoon, she works on revising other projects, writing blog posts, studying craft books, etc.
"In between I check my email and social media way too much," she admitted with a smile.
"What did you want to be when you grew up?" I wondered.
"Alternately a writer and teacher. In fourth grade I wrote plays for my classmates and me to act out. I didn't really think of writing as a career choice until high school, when I checked out a book on freelance writing from the school library. After that, writing was my dream job, but it seemed unlikely that I could make a living that way, so I became a teacher instead. I can't tell you how awesome it feels to be finally living my dream life after all these years!"
Susana realized, once she started writing full-time, that she's mostly a plotter. She tried it both ways and it because obvious that she does much better when she has a detailed plot in mind before starting.
"It's true that things may take an unexpected turn after my characters take charge," she admitted, "but for the most part, just sitting down and writing something without a specific plan ends up in frustration for me."
"Do you ever suffer from writer's block?"I asked. "If so, what do you do about it?"
"If it's a case of not being 'in the mood' to write, I read over my goals for the week or month and reflect on my reasons for setting them in the first place. If my goal is to prepare a story for my critique partners so that I can hopefully submit it at the end of the month, then I have to face the fact that if I don't work on it today, my submission may be delayed a month or two. That nearly always gets me back into the story, and once I'm there, my enthusiasm returns.
"If it's a case of having written myself into a corner and need to brainstorm ideas for getting out of it, consulting author friends can be very helpful, even if it means I have to go back and rewrite a scene or two. Meditating on the problem while walking or vacuuming helps too. Sometimes I'll put away that project and work on another one for a day or two until I can look at the first one with a fresh mind."
The plot normally comes first for Susana. She'll start her thinking with What if…?. Then she adds details until the plot emerges. Once she has the plot, she creates a character sketch, beginning with the personality, of each character followed by the physical appearance.
"I love this resource: Complete Writer's Guide to Heroes and Heroines: Sixteen Master Archetypes by Tami D. Cowden," she shared with me.
"What books or authors have most influenced your own writing?"
"Many! I've been a historical fan since discovering Georgette Heyer in ninth grade…love her characters and witty dialogue! Kathleen Woodiwiss's early historicals captivated me, and from then on I was hooked. I love all of the Signet and Zebra Regency authors, such as Mary Balogh, Barbara Hazard, Candice Hern, April Kihlstrom, and many, many more, all levels, from sweet to erotic. I also enjoy historical fiction, such as books by Joan Plaidy and Elizabeth Chadwick. On my recent trip to England, it was awesome to visit places mentioned in books I've read and visualize real historical characters walking where I was, breathing the same air I was! I can't wait to go back!"
Finally, I asked, "What advice would you give writers just starting out?"
"Read. A lot. And write. A lot. Join a local writers' group. Save your pennies and attend writers' conferences when you can. Make a serious study of the craft of writing.
And don't give up when you run into hurdles. Ernest Hemingway wrote the ending of A Farewell to Arms 39 times before he was satisfied. Why should any beginning novelist be able to turn out a polished manuscript in one or two go-rounds? It's all part of the process!
At the same time, don't let anyone—including yourself—convince you that as a beginner you have to "pay your dues" by plugging away for years accumulating enough rejection slips to paper the wall of your office (who would do that?). You may find—as I did—that your first submission gets snapped up by a reputable publisher in FOUR DAYS!
An author friend of mine said once that she is so grateful for all the aspiring authors who don't get their act together because that leaves the field wide open for her. While I agree with her on a certain level, I can also identify with the aspiring authors who let too many years go by before seriously pursuing their dreams. Why should you make it easy for us? I happen to think that healthy competition is a wonderful thing!"
Win a $20 Amazon Gift Card!
To celebrate the release of Treasuring Theresa,I am hosting a series of contests on my web site (http://www.susanaellis.com) for the month of January. All you have to do is answer a question about the Regency period and your name will be entered for the next drawing. Winners will be chosen on January 16, 23, and 31.
About the Author: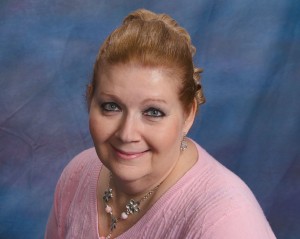 A former teacher, Susana is finally living her dream of being a full-time writer. She loves all genres of romance, but historical—Regency in particular—is her favorite. There's just something about dashing heroes and spunky heroines waltzing in ballrooms and driving through Hyde Park that appeals to her imagination.
In real life, Susana is a lifelong resident of northwest Ohio, although she has lived in Ecuador and studied in Spain, France and Mexico. More recently, she was able to travel around England and visit many of the places she's read about for years, and it was awesome! She is a member of the Maumee Valley chapter of Romance Writers of America.
Find Susana online at:
www.SusanaEllis.com
Susana's Parlour (blog): http://susanaellisauthor.wordpress.com/
Facebook: susana.ellis.5
Twitter: @susanaauthor
Pinterest: http://pinterest.com/susanaauthor/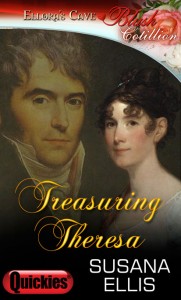 At the betrothal ball of the man she had expected to marry herself, Lady Theresa latches on to the most dashing gentleman present, hoping to divert attention from her own humiliation. That gentleman happens to be her father's distant cousin and heir, Damian Ashby, a useless London fribble in her opinion. He is not favorably impressed with her either.
But when her father becomes mortally ill and Damian is obligated to spend time with her at the Earl's country estate, the two of them unexpectedly find admirable qualities in each other and discover a mutual attraction. But can a London swell and a country lady ever make their diverse lives and interests work together?