Long and Short Reviews welcomes Susan Mac Nicol, who is offering two copies of the first book of her Starlight trilogy, Cassandra by Starlight, for giveaway. Just leave a comment on this interview along with which format you would like (pdf, epub or mobi format).
Susan has been writing since she was about ten years old and still has some of the material from that time. But she's been writing seriously for publication since she started writing Cassandra by Starlight in February 2012. She ended up with a trilogy to finish Cassie and Bennett's story. She has also written five other full-length novels and is waiting for publication dates.
Even though she's a relative newbie as far as writing goes, she's a voracious reader and has been reading since she was old enough to hold a book.
"I know what I look for in a good read and I would like that to reflect in my writing as well," she said. "The elements I'd look for are a well established story line, a realistic and gripping plot, wonderful characters who feel as if they can walk into my living room and simply interact, and a well edited manuscript that has been proof read and polished so that it reads easily on the eyes. There's nothing worse that constantly picking up grammatical and spelling mistakes as you read. It distracts the reader from the story."
Susan told me she's always been able to write the first line of her manuscript, sometimes without even really knowing what she's writing about, and then letting it flow to a natural conclusion.
"I have no idea when I start what's going to happen," she admitted. "I have a basic plot – boy meets girl, they develop the relationship, things happen along the way, characters are drawn in and the finally, there's an ending which always has to be a happy one. I'm not one for cliff hangers or deep, dark broody endings which may or may not be happy. I'm an incurable romantic."
"When did you first consider yourself a writer?" I wondered.
"I truly thought I was a writer when I started Cassandra by Starlight. It was a story that I had a passion for, with a story that was very close to my heart. I knew I was a writer when I finished it because I immediately started another one, unable to stop until their story was finished."
She wrote all three of the Starlight Trilogy books to the music of Noel Gallagher's High Flying Birds album.
"I played it over and over again, put some of the songs in the book and one of them 'If I Had a Gun' is Cassie and Bennett's song. Other than that, when I write I listen ad nauseum to Kasbian, Foo Fighters, Muse, Incubus, The Killers and White Lies. And lots of Eminem."
Susan has found the internet and Google to be wonderful tools in her research for most of her books, from female on male rape, schizophrenia, celebrity stalkers, serial killers, gay sex, cults, BDSM, sex positions, gay rights and various aspects of psychology.
"I like to search the live forums and get involved in real conversations with real people," she said. "As all my books are set in London and the surrounding counties, I'm fortunate enough to actually be able to go to the places I quote and make sure that I get it right. So for the Starlight Series, I went to Trafalgar Square, Westminster, and the Dutch pub, De Hems, in Soho, which is a main watering hold for my characters. For my upcoming paranormal series, Double Alchemy I went to Hampstead Heath, which is a large part of where the book is based, Manningtree, Mistley and pats of my home county of Essex. I take photos when I get there so I have a visual record of where I've been and these shots can then be used on social networks like Pinterest.
"But I've also been fortunate to have friends who have helped too. For my book Saving Alexandria which deals with a woman with some deep seated psychological problems due to sexual abuse in a cult, I was fortunate enough to have an online buddy who is a psychologist. She read my book, sense checked my characters and their reactions and psychologies and pronounced it 'very believable and realistic." I have a gay friend, an author, who is currently reading my detective thriller, Born Human to sense check my male sex scenes. He's my beta reader too. So all of this contributes to my research as I have a passion to ensure that my stories are factually correct."
The writing of Cassandra by Starlight, and the research she did for it, has led to her involvement in the issue of female on male rape.
"I wrote a fairly disturbing rape scene in this book, based on the experiences of a man called James Landrith. When the book was published and I started promoting it, he got in touch with me and said he liked the way I tackled the subject in my book and did I know he'd had the same experience. Imagine his surprise when I told him it was actually his experience I'd based mine on. It was an amazing moment," she said. "Since then I've got a lot more involved in the subject. I follow blogs, watch TV documentaries, some of which James participates in as he's a major advocate for civil rights and male rape survivors in the US. It's become a bit of a passion of mine to try and educate people that this is not a taboo subject and men deserve the same rights as a woman if they've been raped. There's a lot of ignorance out there."
"What is something that you absolutely can't live without?" I wondered.
"Uhhm, this is going to sound so terribly sad but it's the truth. I have a Galaxy Note smart phone and it's my lifeline to the world. I am very seldom off this phone and in fact my husband calls it my boyfriend as he says I'm on it more than I am him. He said if it vibrated too I wouldn't need him. I haven't had the heart to tell him there's an app you can get which does just that. It might destroy him altogether."
About the Author: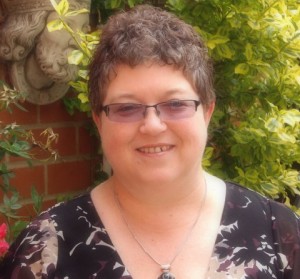 Sue Mac Nicol was born in Leeds, Yorkshire, in the United Kingdom. At the age of eight, her family moved to Johannesburg, South Africa where she stayed for nearly thirty years before arriving back in the UK in December 2000.
Sue works full time in the field of regulatory compliance. But she still finds time to work until the small hours of the night doing what she loves best – writing. Since her first novel, Cassandra by Starlight, was penned, Sue has since written the other two books in her Starlight trilogy, four other novels and two short stories as well as a screen play. Her passion is keeping herself busy creating worlds and characters for her readers to enjoy.
Sue is a member of Romance Writers of America and Romantic Novelists Association in the UK. She lives in the rural village of Bocking, in Essex, with her family.
Her plan is to keep writing as long as her muse sits upon her shoulder. Her dream is to one day get that big old house in the English countryside overlooking a river, where she can write all day and continue to indulge her passion for telling stories.
Find Sue online at
Website
http://www.boroughspublishinggroup.com/books/
Twitter – @SusanMacnicol7
Facebook 
Cassandra by Starlight Facebook page
http://pinterest.com/susiemax777/
Blog 
Book trailer 
A London woman is swept off her feet into the glamorous yet surprisingly dangerous world of an up-and-coming star of stage and screen.

Unconventional though she may be, Cassandra Wallace leads the life of an average Londoner, from blind dates to rush hour traffic. Then, along comes Bennett Saville. Sensitive, charming, erudite, the up-and-coming actor is like the hero of a romantic movie. He counteracts the tragedy that brought them together, and from the tips of his Armani loafers to that scorching hot kiss he seems absolutely perfect. Only, he's ten years younger and from the upper class, and those emerald eyes beget dangerous secrets. The world is a stage, full of hungry leading ladies, and how long can any fairy tale last before a villain appears? Yet, on Bennett's arm each new day is an adventure, and a true romance will always find its happy ending.