Long and Short Reviews welcomes Silence O'Shea whose latest book UK Kink was released last month. Leave a comment on today's interview and you might win a copy of UK Kink.
"UK Kink is about a troupe of British male dancers and one very lucky lady," Silence told me with a wink. "The guys are turning out to be pretty full of personality. I might just have my first series on my hands."
Silence's debut His Right Hand was was actually started in 2011, but she quit writing for a while. Two years after she began it, she dragged it out, dusted it off, and realized it was time to finish it.
"I did so in less than three days, and it was self-published less than three weeks later.  I knew I was a speedy writer, but I surprised even myself," she told me. "I don't believe in setting unrealistic goals, in any area of life. There's no point in setting a grand, unattainable goal that might have the power to defeat me when I don't meet it. I believe in setting small goals that are like steps to the grand one. So I set a very simple goal of 250 words the first time I sat down to write. I kind of got in the proverbial groove and ended completing more than a third of my 22K novella in just a few hours. That kind of groove might not last, but I'll take it while I can!"
The hardest part of writing for Silence is the discipline required to do it.
"I can do anything you ask me to do, or my parents ask me to do, or my boss asks me to do," she said, "and do that task for hours with no complaint. But writing is something I do for myself, and I have a hard time doing anything just for me. I'm working on it."
"How do you develop your plot and characters?" I asked.
"I sit down and write," she said with a laugh. "That's literally it. I start with a plot reasonably developed in my brain and I write starting with line one. I always keep an extra page after the one I'm presently on for ideas that pop into my head, dialogue or devices I want to employ later, when the time is right. But otherwise, the story develops and the characters grow very much as I'm writing them."
She admits to being very typical in her leisure pursuits. Reading, spending significant time with family and friends, traveling, playing with her pets, and enjoying the outside are all things she enjoys doing.
"I'm not typical in regards to shopping; I'd rather poke my own eyes out," she assured me, laughing. "But that said, a good bookstore or antique shop will always lure me in."
"Ebook or print?" I wondered. "And why?"
"Ebook, for practical reasons. I'll always love print books; I have pretty impressive e- and print libraries. But in regards to self-publishing, there are significant costs involved, and of the publishing options, e-publishing not only will get your book into the hands of readers faster, but it's the more economical option. I'm also conscious of the fact many readers might appreciate the fact they can hide any racy covers behind that Kindle or nook or tablet screen."
About the Author:  Silence O'Shea lives in a tiny woodland town in the extreme Northern U.S., where the lusty locals generate enough heat to melt the polar ice caps. Some people love to share their exploits—and Silence is a superb and trusted listener. She'll never spill secrets, but that doesn't mean she can't use the naughtiest bits and most colorful characters as inspiration for her work.
A lifelong reader and newbie author, Silence is open to any and all input from fellow booklovers. Advice, suggestions, support, compliments, angry fists of rage raised to the sky…any feedback is appreciate, so please drop her a line. She's a friendly sort who wants to hear from everyone. And again…a great listener. 😉
Facebook: https://www.facebook.com/silence.oshea
Twitter: https://twitter.com/SilenceOShea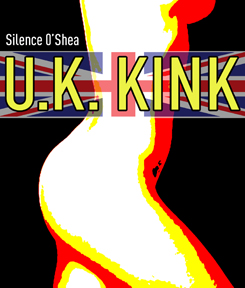 Babysitting a British dance troupe isn't one of Caitlin's career aspirations, but before she can say "male strippers", she finds herself the newly appointed caretaker for the Fire from Lancashire. Keeping five gorgeous guys on task is hard enough; living under the same roof with the luscious lads is near torture, especially when one begins starring in her naughtiest fantasies. Too bad about that "no fraternization" clause in her contract…
With a single kiss, Cait went from sweet caretaker to must-have sexual conquest. Oliver wants the voluptuous beauty badly, contracts and clauses be damned. Then one of his mates comes up with a way for Oliver to get his cake while the rest eat too. Their employer might fire one man for ravishing Cait…but certainly not all of them. Right? After one taste, Oliver knows she's definitely worth the risk of finding out.