<a href="http://www.shadowflesh.com">Shawn Martin</a> is visiting with us here at Long and Short Reviews. His debut novel Shadowflesh is the first book in a series and was released in February by Vinspire Publishing.   The second book, Forget-Me-Not, will be released soon.   Leave a comment on today's interview for an autographed copy of Shadowflesh.
Shadowflesh tells the story of Aileen, a sad girl who feels she can't make it through another day.  After her family moves her halfway across the country, she finds herself an outcast in a new school.  When a group of bullies shoves her, she falls into the arms of Addison Wake.  And her world changes.  Addison is a seventeen year old who had been killed three hundred years ago, and his spirit was imprisoned by the enchantress who took his life.  When the enchantress hungers, she releases Addison into the mortal world to gather souls for her to consume.  Aileen falls for the handsome stranger, who confesses his dark secret to her.  When dead bodies start popping up throughout the town, Aileen begins to fear for her own life.  She has to decide if her love for Addison is worth the risk of possibly becoming his next victim.
"I'm currently working on the third book in the series, following Aileen on an adventure which takes her to a faraway place in another time, where she's forced to run for her life and into the arms of someone who will love her forever," he told me.
In addition to writing, Shawn is a firefighter. Part of the regulations of his job is that he has to fill out paperwork for a secondary job, so when Vinspire offered him the contract for Shadowflesh, he picked up the form from HR. One of the lines asked for the secondary job title.
"Immediately after I scribbled in the word 'writer,' it hit me.  I actually considered myself a writer and had the dinky little form to prove it," he said.
Shawn began writing when he was a child. The winters were harsh, and there were times he found himself stuck inside and desperately seeking a creative outlet.
"One winter, I lost myself in writing a short story called 'Corky the Killer Whale.'  It was a tale about a killer whale who had fallen in love with a submarine, and when those annoying Soviets launched an attack on the amorous vessel, Corky sacrificed himself to save his beloved," he told me.  "My youthful heart tore in half, and I was hooked."
Even though he enjoyed writing, he wanted to be a trial attorney when he grew up.
"I imagined myself wearing a suit, having a decent parking space, and saving the little guy against the big corporations.  I carried that ripening little dream with me into college, where I double-majored in Political Science and Economics," he said.  "To further prepare me for a litigious life, I clerked for a law firm my last year of undergraduate school.  That's when my dream dried up like a prune.  I wanted more out of life, and it took me a few years to find out exactly what that was."
Between college and becoming a firefighter, Shawn worked as an inventory analyst for a large, very conservative company in Chicago.
"Halloween occurred on a Sunday, and a memo came out saying that employees could dress up for work.  On Monday, not Friday," he said.  "I showed up Friday dressed as a pirate with a thin mustache and beard inked onto my face, a stuffed parrot on my shoulder, and cap and ball pistols at my side.  Yeah, that was embarrassing, but then I had to give a presentation to a group of clients that morning and didn't have time to change.  I wasn't exactly a jolly Roger."
In Shawn's opinion, good writing must have three basic elements. First, the characters have to be real, with the hero or heroine having some flaws and weaknesses, and the villain some virtues. Second, the research must be sound—if the story is set in London, the author must know if Big Ben has numbers or Roman numerals.  He also must know the smell of spring, the sound of birds, and the taste of soda bread. Finally, the style. The words and paragraphs are the picture frame in which the masterpiece is placed and should be crafted carefully.
I asked Shawn to describe his writing space.
"I write at an old ugly desk in a quiet corner of my house.  To my left is a skull with runic symbols carved into it, identical to Bob from the television series The Dresden Files.  A battered dictionary, stained thesaurus, and dog-eared baby name book sit behind my computer.  To the right, a few melted candles and incense box nag me for a light.  A sloppy stack of papers filled with research notes and one-liners hovers to my right.  Every once in a while a cup of tea or a can of Coke graces my writing space, but it's rare."
The hardest part of writing for Shawn is forcing himself to ignore interruptions, because if he answers every phone call, every email, and every tweet, he loses his rhythm and slips away from his character's voice. He slips in ear-buds when he writes, listens to music, and shuts everything out. He also slips a heating pad behind his back—seven years ago while he was on a fire, he fell from a balcony and broke his back. Even though he recovered, the injury still pains him to the point of distraction.
The scariest moment of Shawn's life didn't happen when he fell off that balcony, though. When his wife was eight months pregnant, she called him at work and told him she was in labor.
"Like the good father I hoped to be, I dropped everything and rushed to my aspiring family's side.  After several hours of huffing and pushing, my son was born.  But he didn't cry.  The umbilical cord had been wrapped around his neck, leaving his face a heart-stopping shade of gray.  The doctor and nurses worked to resuscitate him.  I stood by my wife's side, feeling completely helpless.  I couldn't breathe, couldn't move, couldn't think.  I could do nothing but give my wife meaningless assurance.  What felt like hours, but probably was a minute or so, my son wailed out his first cry.  And he's been vocal ever since."
"What's the weirdest thing you've ever done in the name of research?" I wondered.
"While working on Forget-Me-Not, I needed to get a good perspective on palm reading.  I read up on palmistry and even had my own palm read.  But what I really needed was to see what a palm reader saw in the subject's eyes and felt in her hands.  I met a young lady one evening and struck up a conversation.  I asked her if she had ever had her palm read, and she said no but always wanted to.  I told her I was a pro and she bought it, letting me bumble my way through the lines in her hands.  I remember the skepticism on her face, the way her brows knit when I stumbled onto her secrets, the way her lips hinted at a smile when I told her of a bright future."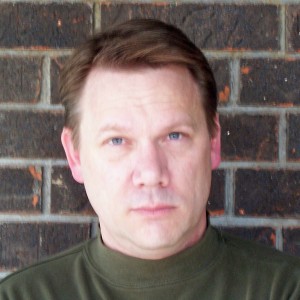 About the Author  Shawn Martin lives with his unconventional wife, two amazing sons, and a clowder of cats in Missouri. After graduating from Missouri State University with mostly harmless majors in Economics and Political Science, he took to the road rather than enrolling in law school.
When he finally settled down in 1995, he became a firefighter. Aside from rescuing cats in trees and removing burnt pot roasts from ovens, he spends his time finding the hardest way to do the simplest of things. The rest of his time is spent working on the next book in the Shadowflesh Series.
Death and darkness lurk in the shadows, awakening the flesh and forbidden love. Torn from her home and fighting bouts of suicidal depression, seventeen year old Aileen McCormick lands in the small coastal town of Redcliff, North Carolina. Her first day of school promises to be the worst day of her life when a menacing group of boys target the new girl. Shoved into the arms of arms of Addison Wake, she knows she'll never be the same. Addison's otherworldly charm and drop-dead gorgeous face leave her breathless, but only for a moment. Grim and painful secrets lurk in his dark soul.

Addison Wake isn't exactly like other boys. Far from it. He's dead and has been for 300 years, locked in an ethereal prison by a lethal enchantress named Donelle. When she hungers, she blesses Addison's tortured spirit with moments of freedom, allowing him to roam the mortal world as Shadowflesh. But that dark blessing comes at a price. He must deliver the souls of five unsuspecting humans to Donelle. Knowing he's here only for a short amount of time, Addison refuses to let himself fall in love and break Aileen's already fractured heart. He pushes her into the arms of another, but destiny throws the two shadowy lovers back together. In the darkness of her room, Addison confesses his love and his deadly secret to Aileen.

When four dead bodies pop up in Redcliff, Aileen asks herself is her love for the mysterious boy unconditional? Is the love worth the risk? And will she be the next victim?