Long and Short Reviews welcomes R.C. Ryan, whose latest book Jake, the last book in the Conway Family trilogy is now available. Please leave a comment for a chance to win a copy of Jake, US only please—no P.O. boxes.
R.C. originally conceived Jake as the younger sister to Quinn and Josh—a veterinarian who would fall for a hard-driving lawyer. However, she changed Jake to a brother, and the lawyer became his love interest.
"I'm so glad I made that change. I just love Jake," she told me. "I know my readers will, too."
R.C. is currently writing the first book of her next three-book series for Grand Central's Forever Imprint—three sons of a prominent Montana rancher.
"If you think it sounds familiar, think again. There will be so many twists and turns, you won't recognize this from anything I wrote before," she assured me.
R.C.'s first book was published in 1981. She'd been writing seriously for about five years, and had completed three novels, before the first was published. With this next series, she will hit the 100 mark.
R.C. was an avid reader and had an almost overwhelming feeling she could do better.
"I know that sounds vain, " she admitted, "but I was constantly changing the story in my mind, and often I was mentally making the ending more satisfying. Finally, I just knew I had to give writing a shot."
She was born and raised in Michigan and now lives just a few miles from where she started out.
"I truly love Michigan. It has everything: 4 distinct seasons, which I find so stimulating. Big cities and small rural towns and villages. Highways and forests. Great stretches of farmland, and wooded hills. Cars and Motown and too many lakes to count, which means water skiing and snow skiing. I could go on and on, but you get the picture," she said.
"Do you hear from your readers much?" I asked. "What do they say?"
"With my website, Facebook and Twitter, it's so much easier for readers to contact me now. I love hearing from them. Most of them want to tell me how much they love certain books or characters, and want to actually chat about them. A few contact me about errors they find in my books. I always thank them for their vigilance. Even after all our system of checks and balances between myself and my editors, we sometimes manage to miss a typo or a factual error. But someone somewhere will find it and point it out.
My best fan letter, though, came from a woman once wrote to say I'd saved her life. She then explained that she'd been suffering from agoraphobia for years and hadn't left her house. A neighbor brought her groceries and supplies, and one day brought her one of my books. She read it and wanted more, and the neighbor, who'd been waiting for such a request, told her she'd have to walk to the store and buy it herself. She said she wanted another book of mine so badly she faced her terror and did just that. After that, she began going out a bit more each week, until she said she had completely overcome her phobia and was now leading a normal life. That touched me so deeply. A writer of popular fiction doesn't expect to hear the words 'You saved my life'. In case you're interested, we continued corresponding, and this woman continued leaving her house until the day she passed away. I love knowing I made a difference in her life."
R.C. has an office in her home—one wall of windows, the other three custom-fitted with cabinets and bookshelves. She has a desk in the middle of the room with two computers—a laptop and a desk top. She also has a phone, a fax machine, two printers, and a copier.
"It looks like a professional office, but the truth is, I could probably write anywhere," she told me. "All a writer really needs is a vivid imagination, the discipline to stay with the story until it's told, and a few tools, either a computer, or someone who is computer savvy to transcribe the work and convey it electronically to the publisher."
She's usually at her computer by 9 AM and takes occasional breaks to make a cup of tea, eat, fold laundry, etc. and works until around 5.
She also loves gardening; she told me it relaxes her and gets her mind working overtime on book ideas.
Finally, I asked, " What advice would you give a new writer just starting out?"
"Just do it. Put that story that's playing in your head down on paper or better, on your computer, and don't worry about anything except getting it all out there. And then, remember that all writing is really re-writing. You'll re-write that story half a dozen times or more before you're satisfied with it."
About the Author: New York Times bestselling author R.C. Ryan has written more than ninety fiction novels, both contemporary and historical. Quite an accomplishment for someone who, after her fifth child started school, gave herself the gift of an hour a day to follow her dream to become a writer.
In a career spanning more than twenty years, Ms. Ryan has given dozens of radio, television, and print interviews across the country and Canada, and has been quoted in such diverse publications as the Wall Street Journal and Cosmopolitan. She also has appeared on CNN News, as well as Good Morning America.
http://www.ryanlangan.com/
Twitter: @RuthRyanLangan
FB: https://www.facebook.com/ruth.langan.3?fref=ts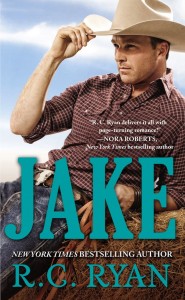 Wild at heart…

Jake Conway is good with his hands. A veterinarian known for his gentle touch, he's also the most eligible bachelor in Wyoming. But like any wild animal, Jake longs to roam free…until a sultry redhead with a smile from here to heaven turns up in town. When her estranged father dies, Meg Stanford inherits his rustic ranch—and all the painful memories that come with it. She's determined to settle the estate and face down the ghosts of her past. But a series of midnight break-ins have Meg running from the ranch—and into the arms of the sexy cowboy next door. As their passion grows hotter, the attacks grow bolder. Can Jake keep her safe, or will he lose the only woman he's ever loved?