Long and Short Reviews welcomes Lois Gresh, whose latest book Nightfall has recently been released. Lois describes this book as Paranormal Romance Gone Wild and will give one commenter a free copy of the book.
"There's a reason I say that Nightfall is Paranormal Romance Gone Wild. Not only do we have a liberal dose of Forbidden Love — in this case, between an ancient voodoo priestess and a sexy vampire — but I also think we have some new, very unusual twists," Lois explained. "These twists are what made the book fun for me to write, and I would love to immerse myself in this world again and again (and again, etc.) because I really enjoy spinning these tales. When you read Nightfall, you'll probably realize right away that I was enjoying myself while writing it.
"For one thing, writing about a voodoo priestess is a tremendous blast, not to mention writing about her best friend, Skipp the poetic ghost, her anorexic always-drunk girlfriend, the sexy vampire Vadim and his incredibly odd father, and the gargoyle familiar who helps Alex (the voodoo heroine) in all of her exploits. Oh, and lest I forget, the lovely Venus de Milo is also in Nightfall."
Nightfall takes place in an ordinary town that could be most anywhere. It's bleak and quiet there, tucked away in the countryside. But little do people know that also living in this quiet corner of the world are paranormals who seek solitude and isolation. When several local old folks die in mysterious ways, all friends of Alex's Uncle Frenchie, she's determined to help save the lives of other elderly citizens in town. Along the way, she falls in love with sexy Vadim, who falls in love with her. Problem is, they come from clans that have been feuding for centuries. Their love is forbidden. Not just because their clans will object, but also because their actual blood cannot be allowed to fuse in any way. It could spell death and destruction. But they love each other, and so, they must find a way to overcome this problem and be together.
Lois has recently finished the draft of The Mortal Instruments Companion, which is available for pre-order at Amazon.
Lois Gresh instantly loved books as soon as she learned to read—telling me she actually remembers the moment. At an early age, she started writing stories and never stopped. In fact, her mother would tell her to go read the dictionary when she got bored; that it would give her something to do. Lois loved the rhythm of words and became very fond of the thesaurus. She spent a lot of time at the library and reading a 1930s set of encyclopedia her mother kept in the hallway outside Lois' bedroom.
"At 9, I wrote a 55-page science fiction story; at 12, a 220-page 'report' about ancient Egypt; at 16, a 250-page book about poverty; at 22, a 500-page novel; at 23, a 400-page novel; and during college classes, I wrote horror stories featuring my professors," she told me.
Apart from those books, she has written 27 books, with several "favorites": Nightfall because it's her first erotic paranormal romance; The Termination Node because it was her first book; The Science of Superheroes because it was the first in a great pop science series she had a lot of fun writing; and Eldritch Evolutions because it includes her favorite stories up until a few years ago.
"Do you hear from your readers much?" I wondered. "What do they say?"
"I do get a lot of email from readers. For one children's book, I received close to 2,000 emails, and most of them were from teens who told me that the book was a lot of fun — they laughed while reading it, and read it over and over again. This made me very happy, as you might imagine. I get a lot of email from teenagers, who ask me questions about The Hunger Games and Twilight. I think that I've become a reference person for school projects," she answered with a smile. "I honestly hope that romance readers find something to like with Nightfull. I hope to hear from some of you soon!"
The best fan letter Lois received was from a young girl who had read Lois' guide to Dragonball Z at least six times. "We corresponded for awhile, exchanging letters over the course of several weeks," Lois said. "She told me that she read my book every day as often as she could, even during classes. She described her life in an abusive home where she was beaten and chastised constantly. Her teachers disliked her, and she was miserable at school, too. She told me that my book was funny, that it cheered her up and made her laugh. She supplied sufficient details to totally break my heart. I don't know what happened to her — I've wondered over the years — and I hope she ended up okay. That I had written a book that brought someone this much relief and happiness from her otherwise dismal daily existence really meant a lot to me."
About the Author: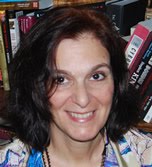 LOIS GRESH is the New York Times Best-Selling Author (6 times), Publishers Weekly Best-Selling Paperback Author, Publishers Weekly Best-Selling Paperback Children's Author, and editor of 27 books and 50 short stories. Her books have been published in approximately 20 languages. Current books are NIGHTFALL – paranormal romantic fantasy with a ZING! , dark short story collection ELDRITCH EVOLUTIONS, DARK FUSIONS, THE HUNGER GAMES COMPANION, and THE MORTAL INSTRUMENTS COMPANION. Lois has received Bram Stoker Award, Nebula Award, Theodore Sturgeon Award, and International Horror Guild Award nominations for her work.
Blog: http://loisgresh.blogspot.com
Facebook: http://www.facebook.com/lois.gresh
Facebook (overflow) Author's Page: http://www.facebook.com/LoisHGresh
Twitter: @lois_gresh
Pinterest: http://pinterest.com/loisgresh/
Tumblr: http://www.tumblr.com/blog/loisgresh
PARANORMAL ROMANTIC FANTASY WITH A ZING! – Stuffed with fun action and wild characters, this is Forbidden Love at its best. Born from an ancient voodoo priestess clan, Alexandra Leveau falls in love with sexy vampire Vadim Blerinc. But these two are a dangerous match, and making love could literally kill them. Can 22-year-old Alexandra and Vadim overcome the curse that has hung over their families for centuries to save their friends from modern evil?