Long and Short Reviews welcomes Liz Harris, whose latest book A Bargain Struck was recently released from Choc Lit. Leave a comment for a chance to win a paperback copy of the book.
While writing A Bargain Struck, Liz really enjoyed living in her head in America of the mid-1800s. She wanted to read more novels set in the same period, so bought a few in the western genre. However, she found that most of them tended to be modern westerns. She's still looking for books actually set in the mid-1800s (except for mail-order bride novels), so feel free to leave recommendations in the comments. In the meantime, she's writing a western set in that time period herself.
"I have the setting; I have my three main characters, and now I'm working out their story," she told me. "This will be my next e-novel for Choc Lit Lite, and like Evie Undercover and The Art of Deception, it will be woven with the fantasy of romance."
Liz has always loved reading: Jane Austen, Charles Dickens, Mickey Spillane, Jackie Collins, Penny Vincenzi, Elizabeth Gaskell–"all kinds of books, in other words," she explained. "And I have always loved writing: essays at school, letters to friends, shopping lists, exam answers – all kinds of writing, in other words. But it was a long time before I realised that these two interests could come together, and that I would derive the greatest satisfaction of all by writing the sort of novel I so enjoyed reading.
"Despite the fact that I devoured every book I could get hold of, it never occurred to me to write a novel until a friend, clearly tired of receiving the massive letters I used to send her, suggested out of desperation that I write a book. I did, and I've never looked back!"
Her favorite author is Jane Austen; Liz has loved all Austen's novels since she first started reading them when she was twelve. The only thing that's changed over the years has been the order of her favorites. Pride and Prejudice has always been at the top and Northanger Abbey has always been her least favorite, but in the middle there's been some changes.
"Persuasion has crept up over the years as I find the change in the way she depicts the gentry in Persuasion, compared with the way that she presents them in the much earlier Pride and Prejudice, very interesting," she explained. "The Jane Austen who wrote Persuasion had seen her brothers come back from the Napoleonic Wars, and this had made her look differently at those involved in both trade and the Services, and at the gentry.
"I like Jane Austen's novels because they're wonderful. OK, that's not a good answer. I'll mention her characterization, therefore, as a specific detail. I love the way that Jane Austen doesn't condemn her characters – she allows them to open their mouths and condemn themselves. You only have to think of Mr Collins!"
Liz admitted that her work area becomes increasingly untidy as the work progresses. She has a wide pale gray desk–normal length with an added unit at each end. She likes the extra length because she likes to be able to see research notes, books, files, her lists of things to do, etc., as she writes.
"I've several white mesh trays on the back of my desk – for example, one for letters and forms that need answering at some point, one for paper and envelopes of different sizes, one for things I don't know where else to put," she said. "On the far right of the desk is a printer and on the far left a television. There's a double sofa bed in the room so my study becomes a bedroom at times.
"Most of the wall on my right is a large window – I like to watch the world go by when I'm thinking. On the other side of my desk, I've a white bookcase against the wall, and there are white shelves on the wall above the desk (you'll notice that I like pale grey and white – my magazines, books, maps, etc, are so colourful that I don't need colourful furniture.)
"My bookcase and bookshelves are lined with books (yes, there's a surprise!), but the closest books to hand are the three books that have become my best writing friends: Cassell's Dictionary of Slang (I like to check the origin of my words and idioms to make sure that they were in use at the time at which my novel's set); Roget's Thesaurus (a must for alternatives to a word that you're at risk of over-using) and the Chambers Dictionary. A keen Scrabble player, this is the official Scrabble dictionary, and it's my favorite.
"The desk gets increasingly disordered as I write my book, and by the end of the book it's a total mess. In fact, it's amazing that I can find anything on it, but I can.
"One of the first things I do when I reach the end of the novel is tidy up the desk and put everything back in its home. In a way, the clear ups become a ritual good bye to one set of characters, who are leaving, and a welcome to another set of characters, who are about to come in."
"How do you come up with the titles to your books?" I wondered.
"With great difficulty! After much loud vocal agonizing, my husband in desperation got involved He suggested The Road Back as a title. Aha, I thought; that works on several different levels, all of which fit the story, and quiet descended.
"A Bargain Struck came easily. The moment I read a 1979 quote in a book about the American West, I knew I'd found my title. This is the quote: 'In popular opinion a good marriage was a bargain struck between two strong-willed characters for an equitable and advantageous division of labour.' Spot on, I thought, the moment I read that.
"Evie Undercover was originally Evie on the Job. It's a fun romance, and I liked the two meanings contained in the original title. However, after Fifty Shades of Grey, there's a greater sensitivity over title implications, and my publisher came up with Evie Undercover.
"The Art of Deception suggested itself as a title. It's about a young woman who goes to Umbria to teach an Art course on an estate owned by dishy Max Castanien, which is ostensibly the only reason why she answered Max's ad for a teacher. In reality, she wants to learn about the part he played in the death of her father. There's Art there, and there's Deception, and I like the play on 'Art'.
"As for the western e-novel I'm about to start writing, and the book that I'll be starting on in the New Year, I haven't a clue!! The loud vocal agonizing begins!"
Finally, I asked, "What advice would you give a new writer just starting out?"
"Don't worry about getting published: just write. Write what is crying out in you to be written, and don't think about anything other than your story and your characters. And write what you want to write – not what you think is most likely to get published. You're going to live with you characters and their story for a long time – you need to enjoy being with them.
"In the end, it's a matter of luck whether or not an author gets traditionally published. Hopefully, everyone will be as lucky as I've been, but giving birth to people who didn't exist before you put finger to keyboard – people with real emotions and motivations, who live and breathe in a world that didn't exist before you created it – that's the real thrill of being an author. Getting published is only the icing on the (chocolate) cake."
About the Author: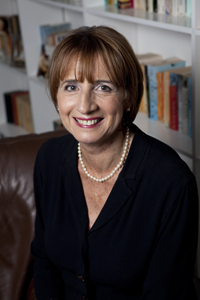 Liz was born in London. After graduating from university with a Law degree, she decided to see the world and moved to California. It seemed a pretty good place to start, she thought. She went there for one year, but stayed for six! She had a brilliant time there, leading a very varied life, from waitressing on Sunset Strip to a stint as 'resident starlet' at MGM to working as secretary to the CEO of a large Japanese trading company.
Eventually, though, real life intervened, and Liz returned to Britain, did a London University degree in English and taught for a number of years, during which she contributed weekly articles on education to a local newspaper.
By way of hobbies, she loves reading – naturally – and is nuts about Daily Telegraph Cryptic crosswords. She also likes language, travel and theatre.
In her non-writing hours, of which there are few, she's the organiser of the RNA's Oxford Chapter, a member of the Oxford Writers' Group, and also of the HNS.
Liz's two sons live in London, while she and her husband now live in South Oxfordshire.
Blog: www.lizharrisauthor.com
Twitter: @lizharrisauthor
Facebook: Liz Harris
Does a good deal make a marriage?

Widower Connor Maguire advertises for a wife to raise his young daughter, Bridget, work the homestead and bear him a son.

Ellen O'Sullivan longs for a home, a husband and a family. On paper, she is everything Connor needs in a wife. However, it soon becomes clear that Ellen has not been entirely truthful.

Will Connor be able to overlook Ellen's dishonesty and keep to his side of the bargain? Or will Bridget's resentment, the attentions of the beautiful Miss Quinn, and the arrival of an unwelcome visitor, combine to prevent the couple from starting anew.

As their personal feelings blur the boundaries of their deal, they begin to wonder if a bargain struck makes a marriage worth keeping.

Set in Wyoming in 1887, a story of a man and a woman brought together through need, not love …