Long and Short Reviews welcomes Leslie Lehr whose latest book What a Mother Knows was recently released.  Leave a comment on this interview and you might win an autographed print copy of What a Mother Knows.
Leslie published a poem in fourth grade and had a newspaper column in junior high.
"I was a bit of a bookworm until high school," she admitted. "Even then, I wrote newspaper columns and TV scripts for school projects, but only as a way to vent or have an opinion."
Leslie wanted to be a surgeon for a while and even wore a white lab coat to work for a while.
"That's embarrassing to think about now, but I wanted to know how people work," she explained. "Then I got involved with the school TV station in high school and wanted to produce music videos. After film school, when I was actually making music videos, I realized it was a horrible job – long hours and low money. I worked on staff at a big commercial movie production company like Michelle does in this book, then I hit the glass ceiling, making 30% of what men were making, so I left to work freelance on TV shows and movies. I still wanted to know how people worked, but in their minds rather than their bodies.  So I explored that while writing scripts between jobs in Hollywood. Then, when I had my first baby, motherhood was such a shocker that I stayed home and took my writing more seriously. I didn't consider myself a writer until I sold my first book to Random House. Then I was brave enough to claim an entire bedroom as my office. I shared it with my daughter's school desk, but still. There was no bed in it."
She's a beach girl, but loves her current office so much she's hesitating on making a move closer to the ocean. I asked her to describe it.
"Almost the entire wall is a window facing out over a yard that looks like a park with towering trees and flower bushes and the blue sky beyond. I work at a huge white desk with antique glass knobs and dozens of photos of my daughters beneath a piece of glass that covers the desktop. Behind me are overstuffed white-slipcovered chairs, plus more photographs and images of mermaids and crates of scrapbooks. There is too much stuff in one room, but I'm always looking at my computer and the yard beyond. The only better view would be the ocean."
Leslie lives in Santa Monica, but grew up in Upper Arlington, a suburb of Columbus, Ohio.  I asked her what the best part of growing up there was.
"The Fourth of July. Every neighborhood has a float for the parade and a van goes around in the morning with a loud speaker waking everyone up in time. Then there are neighborhood BBQs and town swimming races and ice cream socials, and, of course, fireworks. When my dad was in charge of our neighborhood float and party, my sister and I used to walk door to door for hours, handing our flyers. I always wanted to move to LA, but I'm sorry my daughters missed that small town experience of growing up."
What A Mother Knows is Leslie's sixth and favorite book.
"It's the culmination of all my work, in terms of writing about women and being a mom and daughter and both how scary it can be and how fun," she said. "You can see it in the progression of some of the titles: Welcome to Club Mom, Nesting, Mommy Wars, Wife Goes On, What A Mother Knows."
Leslie's characters drive the plot, so first she starts out with someone like herself and how she might respond to a certain situation. She calls it the "what ifs."
"What if this happened, then what would I do?" she explained. "Real life is challenging in its random-ness, but in fiction you get a chance to solve problems in a more exciting manner.  Since the character's reaction to events, and her backstory causes her to take action – well, that's just like real life. Except in fiction, the character can do things I might not dare to do. For instance, like in What A Mother Knows, if my daughter was missing, would I go to the ends of the earth to find her? Yes.  But I might not be as brave."
When Leslie's not writing, she enjoys collecting sand dollars.
"I don't like getting up at dawn, but when you walk on the beach in the quiet morning and find a whole sand dollar just sitting there after being whirled about in the tides from who knows where, no matter what bad things are happening in the world, it feels like the there is even more goodness. Sand dollars are proof.  Sometimes I find them on beach walks in the middle of the day, like a special gift. I have sand dollars all over the house, in crystal bowls and straw baskets and in picture frames and on the counters. I love them."
"Do you hear from your readers much?" I asked. "What do they say?"
"I hear from readers often and out of the blue. I still get letters from my essay in Mommy Wars, called 'I Hate Everybody' about how hard it is to be a working-at-home mom. And the letters about my last novel, Wife Goes On, are truly heartfelt, about how the book made them laugh and cry and get through a really rough time and how they appreciate that friends can help  — and they consider me a friend.  I love that. As much as I like to entertain, I love knowing that my words touch people,  that I can help. That we are not alone. We are friends."
When it comes to research for her books, Leslie travels, reads a lot, and calls experts. She visited her aunt's Curry Mansion Inn in Key West and knew she had to use it.
"A family vacation, snorkeling with turtles in Hawaii, inspired another scene," she said.  "Being a writer also gives you the excuse to ask anyone anything, so I always make a note of what my creative writing students in the Writers Program at UCLA Extension do for a living. They are usually professionals, with an abundance of lawyers. When I started this book, one was a psychiatrist at the UCLA Medical Center.  I asked him for a referral to a neurologist and ended up having long telephone conversations with this brilliant doctor who runs the entire center for Traumatic Brain Injury. Fortunately, consulting with a novelist was unusual enough to make it fun for him. For me it was an honor."
"What are the best and worst pieces of writing advice you ever received?" I wondered.
"'Write every day'" is the worst, because it's impossible. I wrote a blog about that on my website called 'Why I Hate Stephen King.'  The best advice was instead of writing what you know, write what you want to know. That's what I do: I write to answer a question I have about real life."
Leslie's favorite book is A Wrinkle In Time.
"It had this wonderful adventure and a misfit daughter searching for her little brother  – plus a cute boyfriend, brilliant parents, friendly witches, and flying unicorns. When she finds her brother on the dark planet in the clutches of the evil It, only love can break the spell," she explained. "I read it to my daughter's classes in middle school, one chapter per week. When I read that line, 'I love you Charles Wallace!' I could barely get out the words, because I was crying so hard. My daughter was horrified. I tried to do better with my younger daughter's class, but the same thing happened. Fortunately, she knew what was coming and warned her classmates. I cried right on cue. They laughed, but they all wanted me to go on and read the end. Who doesn't want to be loved? And save the world?"
Her own most embarrassing moment didn't have to do with her mom crying in front of classmates; she fell down the stairs in her new mini-dress and platform heels in front of her first date's hunky big brother–who was driving them to the freshman dance.
The scariest moment of her life, aside from family illness, was the Northridge earthquake. Leslie was alone with a baby and a toddler.  This, as well, was included in this novel.
About the Author:  
Leslie Lehr is the award-winning author of the novels 66 Laps and Wife Goes On. Her essays about mothering and parenthood have been featured on The Today Show and were excerpted in Arianna Huffington's bestseller, On Becoming Fearless. A screenwriter and graduate of the USC School of Cinematic Arts, Lehr teaches creative writing at the UCLA Extension Writers' Program. She lives in Santa Monica with her husband and two daughters.
https://www.facebook.com/authorleslielehr
https://twitter.com/LeslieLehr1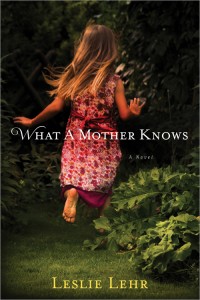 Michelle Mason can't remember the day that changed her life: that drive, that horrible crash that left her in a coma for months. All she knows is that she's being held responsible for killing the other person in her car: Noah Butler, a rising rock star who she barely knew. Not only has Michelle lost her memory, her daughter, 16-year-old Nikki, has disappeared since the accident.
Michelle throws herself into searching for Nikki. But she deeper she digs, the more she begins to question the innocence of everyone, even herself. Who was Noah, and why was he in her car? What caused the crash? Where is Nikki—and could she hold the key to what really happened that day?
Recalling S. J. Watson's Before I Go to Sleep and Juliette Fay's Shelter Me, What a Mother Knows is a thrilling portrayal of the fragile skin of memory. Set against the glittering lights of Hollywood, it hurtles toward a shattering revelation that reflects just how far we go to protect the ones we love.
"Dark and unsettling, but with a ray of hope like a splash of light, and a knockout ending you won't see coming"
– Caroline Leavitt, New York Times bestselling author of Pictures of You
"A fast-paced and gripping exploration of a mother's love. A powerfully affecting novel."
– Heather Gudenkauf, author of The Weight of Silence and One Breath Away