Long and Short Reviews is happy to welcome Joanne Kennedy, whose newest book Cowboy Tough was released this month from Sourcebooks—who is giving one lucky commenter a print copy of the book (US and Canada only please).
Joanne started writing because of boredom—and a backache. She worked in retail bookselling for many years and decided, at the age of 45, that it was time to give her body a break and get a sit-down job…so she decided that medical transcription would be fun.
"Fun. Medical transcription. What was I thinking?" she asked rhetorically. "Sure, I like to type, and I loved having an excuse to use big words like borborygmi and verbigeration. But when I got to the part where you listen to actual doctors droning on and on about these things (borborygmi is rumblies in the tumbly, and verbigeration is 'senseless repetition of the same words,' an ailment that seems to afflict all doctors during dictation), my mind wandered. And wandered.
"Finally, one day, I stared up at the screen and realized I had typed an entire nonsensical paragraph that began 'A chicken will never break your heart.' I liked it, so I took off the headphones and kept going. That paragraph grew to become Cowboy Trouble. So a chicken might not be able to break your heart, but it can make you flunk out of medical transcription school."
She has since had six books published (with a few extras she wrote along the way that are still waiting their turn at the spotlight). Cowboy Trouble was her first book, and Joanne believes it's still her funniest one. One Fine Cowboy earned her a RITA nomination and she thinks it's main character, Nate, might be her favorite cowboy hero ever. Cowboy Fever is about therapy riding and has one of her favorite characters in it—Troy, the hero's brother, who has Downs Syndrome, but is as 'cowboy tough' as they come. Joanne admitted she learned a lot by seeing the world through his eyes. Tall, Dark, and Cowboy is her sexiest book, and Cowboy Crazy is the most touching one. It makes Joanne cry about six times every time she reads it. Her newest book, Cowboy Tough, has another favorite hero, Mack Boyd, who is a good father as well as a great cowboy.
"The real favorite is always the one I'm working on now," she told me. "Except for the part where I have the nervous breakdown. Then it's my least favorite."
There's a serious side to Cowboy Tough that took Joanne by surprise. The heroine, Cat Crandall, is an artist who quits her safe, stable advertising job to guide aspiring painters through the scenic backcountry of the Boyd Ranch. Her sister's death from breast cancer has made her realize she needs to make the most of her time and talent.
"I finished the book in August 2012. In September, I myself was diagnosed with breast cancer," Joanne told me. "I'm going through chemotherapy now, and I'm going to be okay. But there was a point where I wondered if I'd done enough, and if I could be proud of what I was leaving behind. Happily, the answer is yes – if Cowboy Tough turned out to be my last book, I'd be proud of my accomplishments, and I'd feel like I left something valuable with the world."
Thankfully, Cowboy Tough will not be Joanne's last book. She's nearly finished with the first draft of the first volume in a new series, The Cowboys of Decker Ranch.
The new series is about three men who were adopted as teenagers by the same old rancher. He taught them about roping and riding, love and loyalty, and being a family. But trust doesn't come easily to them, especially when it comes to women.
In the first volume, the foster home where they lived as boys reopens. Social worker Sierra Dunn knows she can't give the boys in her care a real home, with a mother and father, so she decides she'll give them a real hometown. She enlists the help of the middle brother, Ridge Cooper, in bringing the dusty, sorrowful town of Wynott, Wyoming, together to give a bunch of misfit kids the kind of childhood they deserve. Ridge doesn't have anything else to do, since his march to the national bronc riding championship was just derailed by a career-ending injury. But he's hardly an expert on happy childhoods.
"How do you develop your plot and characters?" I wondered.
"In an incredibly disorganized fashion. I start with the characters and the trouble they're heading for. Then I work out a rough plot, which loosely follows the screen writing template from Blake Snyder's Save the Cat. I follow my outline until the characters rebel and pull me off-course. Then I stop, rework the plot until they're happy, and write some more.
"This goes on until very close to the end, when I have a total nervous breakdown and cry because nothing's working right. Then I go back and rewrite. That's when everything falls into place and I realize what the book's really about. The ending becomes clear, and I sail on to the last page.
"Miraculously, the finished product usually follows the template pretty closely, even though I've totally chucked my original outline. So the book is done, I'm happy, my characters are happy, and my husband is really, really happy because the nervous breakdown is over."
Joanne has met a lot of cowboys in the course of writing, promoting, and researching her books, and the most surprising thing she's discovered is the true nature of the men she writes about.
"I always thought 'cowboy tough' meant riding a bucking horse for eight seconds, but it means so much more than that. Being 'cowboy tough' is the kind of toughness that makes that same rodeo cowboy ride a hundred miles over rough roads with a broken pelvis and a busted rib because he doesn't want his friends to miss their chance at the next rodeo. It's the kind of toughness that lets you patiently nurse foolish mama cows who scorn the warmth of the barn and insist on having their babies out on the windy plains of Wyoming every year, without fail. 'Cowboy tough' means sacrificing for your loved ones, doing a hard job and doing it right, and taking care of the land even when it means a smaller paycheck come fall. It's being tough enough to hold onto history, to value the traditions that built the West, and to keep them alive for coming generations." She paused, "Okay, now you've made me cry."
I pass her a tissue and ask her if she's ever eaten a crayon.
"No, but I have eaten a stick of butter. I was a toddler, and my mother took me grocery shopping and put me in the little seat in front of the grocery cart. While she was picking out produce, I got hungry and leaned back to check out the contents of the cart so far. Mmm. Butter. I opened the box, shook out a stick, peeled it, and ate it like a banana. She didn't catch me until it was almost gone."
"Speaking of your mother, what's the most embarrassing thing she's ever done to you?"
"Let's see—tell the butter-eating story at swanky dinner parties, tell the butter story to my first date, and tell the butter-eating story to my husband."
"What's the weirdest thing you've ever done in the name of research?"
"I went horse shopping in prison. Is that weird enough for you?" she replied. "Seriously, I went to the Colorado State Prison to see the BLM Wild Horse facility. The lands that support our wild mustangs are dwindling, and the homeless horses end up in holding facilities. At the prison, inmates train the horses, which are then sold to the public at auction. I suspect the horses train the inmates, too. There's no better teacher than a horse if you want to learn about cooperation and true partnership."
About the Author: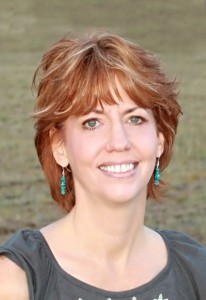 Joanne Kennedy's lifelong fascination with Wyoming's unique blend of past and present inspires her to write contemporary Western romances with traditional ranch settings. In 2010 she was nominated for a RITA award for One Fine Cowboy. At various times, Joanne has dabbled in horse training, chicken farming, and bridezilla wrangling at a department store wedding registry. Her fascination with literature led to careers in bookselling and writing. She lives with two dogs and a retired fighter pilot in Cheyenne, Wyoming. For more information, please visit http://joannekennedybooks.com/ and on Facebook.
She's hardly a cowgirl…
Cat Crendall left a successful advertising job in New York to teach art workshops in the Wild West. The Boyd Ranch is hardly her dream destination, but if the outing's a success, the company will send her to more exotic locations.

But once a cowboy…
Mack Boyd was in the middle of the best bronc-riding season of his life when his mother asked for help with an artists' retreat at the ranch. Mack might be able to ride a wild stallion to a standstill but he can't say no to his family.

Cat and Mack are complete opposites…but when the ranch is threatened financially, can they set aside their differences and work together?