Long and Short Reviews welcomes Elizabeth Black who has two new erotic fairy tales out. Leave a comment to win a copy of either "Climbing Her Tower" (erotic Rapunzel) or "Trouble In Thigh High Boots" (erotic Puss In Boots).
"There are fetishes in both of my erotic fairy tales," Elizabeth told me. "Rapunzel has a shaving fetish, which is natural since she's all about hair. Puss In Boots has a lactation fetish, which is natural since Tita (Puss) is a cat shifter. Cats like milk." She smiled, then added, "If you want more detail, you'll have to read the books to find out."
She's currently working on "Riding Little Red," a combination of Red Riding Hood and The Three Little Pigs—a natural merging since both stories include the Big Bad Wolf. She's hoping to have it finished this month. She is also working on a novel, Sharon Craig Has a Threesome, abot a young woman who finds the dream job and dream lover of a lifetime. She shared a taste of it with us:
Sharon Craig looked at the women who sat with her in the waiting room. She had heard a few of them speak. One came from as far away as California. Sharon hoped she had an edge over the out-of-towners because she was a Boston native. She also wondered if any of them suspected what she wore beneath her staid business suit. A jelly rubber butterfly nestled against her pussy, its silent vibrations arousing her so much her nipples hardened against the lace fabric of her bra. I'm going to walk into that interview horny as hell. It's only fitting, considering what kind of company this is.

Men who were obviously employees walked back and forth, up and down the hallway, and each one of them looked so scrumptious she wanted to devour a few for an early lunch. One of them approached the office where the interviews were being held. He took one look at Sharon and stopped dead in his tracks. He stared at her as if he couldn't quite believe what he saw. Has he guessed I'm masturbating in a room full of unsuspecting women?

"Miss, are you here for the interview?"

"Yes, I am."

His smile creased the sexiest bedroom eyes she had ever seen. "Good luck."

His face was chiseled perfection, most likely acquired under a knife. His shoulders cut into his tailored Italian suit. Piercing almond-shaped brown eyes topped with angular black eyebrows stared hard at her face, her breasts, her legs, and her skirt where her pussy was – where that butterfly worked its magic on her. Thick black hair covered his head, and his skin was the color of mocha. He has some Japanese in him somewhere… God, I love Asian men… His voice was like honey running over her skin. Warm and sticky. She wanted to lick him off, slowly.

He opened the door to the office and walked inside.
"What inspired you to start writing?" I asked.
"Believe it or not, a priest. His poetry had been published in The New Yorker and I was an aspiring writer when I was a kid. He sent one of my poems to The New Yorker but it wasn't published. The guy was mental. He had an active fantasy life including an invisible dog named Frederick. Sadly, he was also an alcoholic which is not a good thing when you're a priest because the changing-the-water-into-wine thing doesn't work. It's still wine and it's hard to quit cold turkey when you have to drink and serve it at mass all day long. He was sent to a special rehab for priests in Florida. We wrote to each other all the time. That man had a great influence on my life. I also was part of the Gifted and Talented Program in high school, which resulted in my taking a creative writing class at Johns Hopkins University. It was my first time in a college and I loved it. The class was supposed to last only the summer but it went on for two years."
She's been writing professionally as a fiction writer for four years, but she began writing as a non-fiction sex writer for ten years. Before taking the sex and erotica route, she was a political and feminist writer for a total of fifteen years.
"The sex writing and political/feminist writing blended together since I grew out of the latter and fell into the former," she explained. "I worked for a British sex toys company for nearly a decade writing articles, blog posts, and sex toys descriptions. I do all of this from home. I love working from home."
Elizabeth grew up in Baltimore and her favorite author is Edgar Allan Poe, who lived and died in Baltimore.
"He was a great influence on me. I've been to the Poe House and his grave at Westminster Church. I even dated the curator of the Poe House for a time. Poe was more than merely a writer to me. He was bigger than life," she told me. "When I was in high school I was working on a Poe stage play with a writer colleague of mine. He was writing the script and I was writing the music. It never got off the ground but it was a wonderful experience. I liked Poe's poetry and horror and mystery tales but I especially liked his satirical comedies. My favorite is "Never Bet The Devil Your Head". The guy had a wicked sense of humor."
"What do you like to do when you are not writing?" I wondered.
"I love horror movies! Not just any horror movie, either (since so many are terrible), but only the stellar ones. The next one I want to see is "Mama", a Spanish movie being promoted by Guillermo del Toro. He produced "Hellboy" and he wrote the new "Hobbit" series. The short film that inspired "Mama" really creeped me out. I highly recommend watching it even if you aren't into horror because this is some fine filmmaking.
"I also love to garden. I grow my own herbs and other edibles. This year, I grew basil, thyme, rosemary, chamomile, lemon verbena, several varieties of mint, scallions, and bay. I use these herbs in my own cooking. I mostly bake sweets such as cookies, brownies, chocolate mousse, English toffee, and creme brûlée as well as quick breads like pumpkin bread and banana nut bread. My husband is the gourmet cook in the household and he always uses my herbs."
Finally, I asked, "What advice would you give an author who wants to write erotica?"
"Don't listen to anyone who may judge you negatively or mock you because of what you've chosen to write. You can't please everyone. In some ways you need a thick skin to write erotica and erotic romance because so many people ridicule it and the people who read and write it. Let them. When your books sell well you can giggle to yourself. Read good literature, including classics, to hone your writing skills. Don't read only modern erotic literature. Also, learn to accept rejection. It's a normal part of a writer's life. Once you get a rejection, send out the manuscript again immediately so you don't let dejection run you down. If you think the story needs a bit more work, do it but send it out again as quickly as you can. Always have stories out there waiting for acceptance while you're writing. Also, the best advice for writing is to keep doing it. The best publicity is a new story."
About the Author: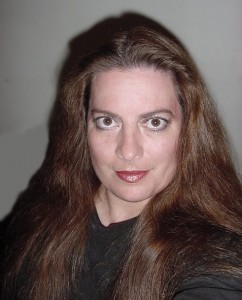 Elizabeth Black writes erotica, erotic romance, speculative fiction, fantasy, and horror. Born and bred in Baltimore, she grew up under the influence of Edgar Allan Poe. Her erotic fiction has been published by Xcite Books (U. K.), Circlet Press, Ravenous Romance, Scarlet Magazine (U. K.), and other publishers. Her horror fiction has appeared in "Kizuna: Fiction For Japan", "Stupefying Stories", and "Mirages: Tales From Authors Of The Macabre". An accomplished essayist, her articles about sex, erotica, and relationships have appeared in nuts4chic magazine, Good Vibrations Magazine, Alternet, CarnalNation, the Ms. Magazine Blog, Sexis Magazine, On The Issues, Sexy Mama Magazine, and Circlet blog. She also writes sex toys reviews for several sex toys companies.
In addition to writing, she has also worked as a gaffer (lighting), scenic artist, and make-up artist (including prosthetics) for movies, television, stage, and concerts. She worked as a gaffer for "Die Hard With A Vengeance" and "12 Monkeys" and as a makeup artist for "Homicide: Life On The Street".
She lives in Lovecraft country on the Massachusetts coast with her husband, son, and four cats. The ocean calls her every day, and she always listens. She has yet to run into Cthulhu.
Blog and Website Facebook Twitter Amazon Author Page
CLIMBING HER TOWER – Rapunzel has never known life outside her tower. She has never felt the company of a human being other than Mother, and she has never been in close contact with a man – until Prince Richard of Norwich climbs into her tower one dark night and sweeps her off her feet. Prince Richard introduces Rapunzel to erotic pleasures beyond her wildest dreams, and she wants more! In order to make her both his wife and his sex slave, Prince Richard needs to spirit her away from that tower, but Mother stands in his way. Prince Richard and Rapunzel begin a tantalizing and dangerous adventure in order to be together as one. And "let down your hair" takes on an entirely new meaning in their fevered embraces.
TROUBLE IN THIGH HIGH BOOTS – Tita is a Puss In Boots with a little something extra. Being a magical creature, she shifts from a kitty into the form of an alluring, ginger-haired woman when the situation demands it. And what a situation she finds herself in! Her new master Dylan is a poor man who needs a boost in the world. Sly Tita uses her seductive wiles to pass him off to the villagers and the king as the Marquis of Carabas in order to help both of them gain their fortunes. Her plan is not without its problems. Dylan's malicious brother, Zane, lusts after Tita, and he wants her all to himself, but she refuses to succumb to his treachery. Being a cat first and foremost, she purrs in the arms of her many lovers but her heart belongs to only one man – the king. She hopes that in ensuring Dylan his lofty place in the world the king finds a place in his heart for her. Her life becomes an erotic adventure in reaching her goals.