Long and Short Reviews welcomes Cassandra Carr whose latest book Should Have Known Better was recently released. Although it's new to the public, it's not new to Cassandra.  In fact, it's the first book she wrote and there have been some significant changes from that first manuscript.
The heroine, Sarah,  was originally a CIA agent. Much of her character arc revolved around her former work on an anti-terrorism task force. "Unfortunately, she wasn't coming off as bad-ass CIA agent I wanted her to be," Cassandra explained. "She sounded whiny, and no matter how many times I revised it just wasn't working with her in that profession. I started thinking about what other professions would use the skills she'd need working for the hockey team and came up with mathematician."
Leave a comment on this interview and you might win a copy of the book!
Cassandra is currently working on the second book in her male/male series–following the first book, See the Light. Readers will get to find out more about Jason and Patrick, but she's keeping the rest of the storyline under wraps for now.  She's about halfway into it and, if all goes well, it will release late summer.
She wants to have new releases every few months and writing, for her, just comes down to sitting down and pounding away at the keyboard. Even she, though, was surprised to discover how quickly she can write.  Momentum, the third book in her Buckin' Bull Riders series went from concept to submittal in thirty days.
She is fortunate to be a full-time writer. She was laid off from her part-time day job in March 2010 and, rather than look for another job, just devoted herself to her writing. She had already joined RWA in March 2009 and went to a writer's conference a month or so later.   Her mother is also a writer–Cynthia Racette– and, on Fridays, she and her mom go to a cafe to write that makes Cassandra's favorite food–NY-style pizza.
"If I could have NY-style (thin crust) pizza and Pepsi every day it still wouldn't be enough," she admitted. "I'm trying to break my Pepsi habit, as I've lost about 15-20 pounds in the past six months, but it isn't easy. The cafe makes the most delicious cheese pizza. I'm not a big fan of tons of stuff on my thin crust pizza. Just give me plain cheese and I'm a happy girl."
Cassandra uses a pen name and I asked her how it came about.
"Cassandra is one of the names my hubs and I considered for our daughter. I was doing my pen name right around the same time as I was pregnant and then taking care of an infant so using one of the names we liked but didn't use seemed natural. Carr is my mother's maiden name chopped off. I liked the way it sounded together – Cassandra Carr."
"How do you come up with the titles to your books?" I asked.
"Oftentimes the title just comes to me. I don't like writing without a title, even if it gets changed later. For the Buffalo Intimidators series, readers who are paying attention might see that all three titles are Foreigner songs. Why on earth would I do that? Actually, it wasn't intentional. I was listening to the song 'Head Games' as I was writing the opening for the first one. It made me giggle to have one of my heroes say 'I can't take it anymore!' as the first line of the book, since, of course, that's one of the lines in the song. Then I decided to name the book Head Games, I suppose partially because it did fit the plot and partially as a private joke. Cold As Ice and Double Vision are the other two and both titles do work for their respective stories."
I asked Cassandra to describe her writing space for us. "My writing space is anywhere I have time to write. At home I sometimes write on the couch sometimes. I also have a lovely desk, but when my neck and shoulders are bugging me it's not as comfortable as the couch," she said with a wink. "Sometimes I write at a local grocery store which has a huge cafe attached to it. I write at Panera, Starbucks, Barnes and Noble – the list goes on.
"As far as my desk goes, I have a twenty-three inch monitor that my hubs (an IT guy) bought for me a couple of months ago. He also built me a mouse shelf. Right above my monitor is a large area where I keep some of my swag, plus address labels, stamps, and the like. I've got a couple of pictures that I bought in Hawaii on other shelves, as well as print copies of Buckin' Bull Riders book 1, Impact, and both 2013 and 2014 Ellora's Cave Cavemen calendars. To the side of me there are two stuffed bookshelves and piles of larger swag, as well as a bunch of bags I use when going to conferences and the like. Hubs isn't thrilled about the piles, but there's nowhere else I can put all this stuff. That's my story and I'm sticking to it!"
Finally, I asked, "What advice would you give a new writer just starting out?"
"Finish the book. Don't start another one until you've finished your current book. There are tons of writers with two chapters of this and five chapters of that. You can't sell chapters," she assured me with a wink. "And then after you finish the book, revise and revise and revise until the story shines. Then ask somebody with no emotional attachment to you to read it. Your mom might be a huge romance reader, but will she tell you if the story isn't working? Maybe, maybe not. Mine would, but remember– she's a writer too."
About the Author: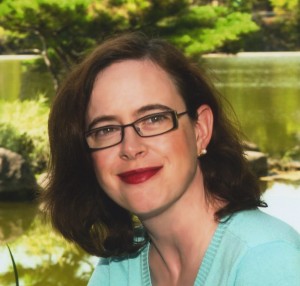 Cassandra Carr is a multi-award winning erotic romance writer with Ellora's Cave, Siren Publishing, Sybarite Seductions, Decadent Publishing, and Loose Id. She lives in Western New York with her husband, Inspiration, and her daughter, Too Cute for Words. When not writing she enjoys watching hockey and hanging out online. Cassandra is the co-founder of two successful group blogs, Romancing the Jock and Dirty Birdies, and participates in several others as a contributor. Recently she was re-elected president of Western New York Romance Writers.
For more information about Cassandra, check out her website at http://www. booksbycassandracarr.com, "like" her Facebook fan page at http://www.facebook.com/ AuthorCassandraCarr or follow her on Twitter at http://www.twitter.com/ Cassandra_Carr.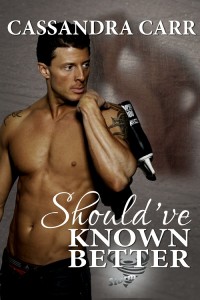 Sarah Jenkins, a math geek and hockey fanatic, is thrilled when the NHL hires her as an advisor for  the Buffalo Storm. She gets to marry her two loves in this perfect job.
Sebastian St. Amant is a young hockey player looking to make the jump from the minors to the big leagues. His lifelong dream is within reach, but he needs to convince the Storm's management and coaches he's ready.
When Sarah and Sebastian meet, sparks immediately fly. Both want to succeed, but neither can ignore the growing attraction and a relationship is out of the question—Sarah's an influential staff member and Sebastian's a player, not to mention over ten years her junior. But the impossible becomes the necessary when they can no longer fight their attraction. As everything crashes around them, the strength of their relationship is tested. Will it weather the storm, or should they have known better?