Long and Short Reviews welcomes Bridget Midway, whose latest book Licorice Whips was recently released. Bridget is giving away an autographed book–the first reader to email her at Contest@BridgetMidway.com with an answer to this question will win: "Name her first published release that featured BDSM characters."
Licorice Whips is the second book in the Decadent series. Yvette Hines' novel Red Hots is the first in the series. Initially both stories were supposed to be novellas and released through another publisher. Unfortunately, that publisher folded right after they contracted the stories. So Yvette and Bridget decided to make our stories full-length. The thing they both wanted for both stories was to make them both BDSM, make the romances interracial, and to have it set in a candy store that the two brothers own.
"Even though both of our books are published differently, my book is published through Phaze Books, and Yvette is self publishing her book, Yvette made sure to make her cover relate to mine in its appearance," Bridget told me. "In doing that, both novels definitely look like their part of a series. Aside from that, there's a pretty interesting scene in my novel, Licorice Whips, where the hero disciplines the heroine using nothing but the candies he finds in his store. That was an absolutely fun scene to write. I hope readers enjoy it, too, when they read it."
Bridget has a lot of irons in the fire–she's working on a couple of contemporary interracial BDSM stories. She loves writing BDSM stories because it allows her to get deep inside the characters, plus it pushes her as an author.
"Unfortunately, I have had a couple of publishing houses close. So I have a lot of stories without a home" she said. "Because I always think that an author is a better writer each day, I want to go through each story and improve them, expand them, hopefully, improve them. I want to put out only the best for readers."
Bridget has loved books as long as she can remember. Even before she could read, she loved the look and feel of a book.
"I loved seeing words on a page. I love the way the old pages smelled. I really loved the idea that someone else would read these words on a page and be informed or entertained or maybe even changed somehow," she remembered. "For that reason, I've always wanted to write. I wanted to be able to entertain someone else with my weird thoughts. As soon as I could start writing and could compose a story, I started writing. I remember my first story was called 'Trudy.' I wrote it when I was 11 years old. I guess it was my one and only foray into writing YA. After that, I wrote nothing but romance, even in junior high and high school. I love love. And I love writing. Writing romance is a perfect fit for me."
"Do you ever suffer from writer's block?" I asked. "If so, what do you do about it?"
"Oh absolutely, I get writer's block. It's the worst to get to a point in your story and you stop and can't keep going. When I got to graduate school, a professor of mine talked about writer's block. What she said is that the reason you stop at a point in your story is because your conflict is not strong enough. Ouch! That was hard to hear. When I stop taking her words so personally and actually looked at my work, I realized she was right. I got stalled because my conflict wasn't strong enough to push my work through to the end. So to combat that, before I write a full-length novel, I lay out my hero and heroine's internal and external conflicts. So now when I get stuck, I'll refer to the conflicts and it brings me back to where I need to go to keep my story moving. Another trick I do is I'll read my story from the beginning or, if I'm further along in the book, maybe the chapter or two before, to get me back into the rhythm and pacing of my story. By the time I get to the part where I'm stopped, I'm able to push through to keep going."
Whether Bridget starts with the plot or with the characters depends on the story. In her novel Fascination Street, a story about a couple that moves to a neighborhood where everyone swaps partners, the plot came to her first. All she knew was that she wanted to have three other couples already in the neighborhood when the new couple moves in. However, for Licorice Whips, the characters were in the forefront, because it was part of the Decadent series, along with Yvette's Red Hots. Yvette wrote about the older brother, while Bridget wrote about the younger one.
"Neither process is right or wrong for me. It just is," she said. "I work with whatever my muse throws at me."
Before Bridget writes a full-length novel, she will always write out her characters' profiles.
"I'll lay out the characters' full names, even if I don't use it," she explained. "I'll describe the characters and will relate their looks to a certain celebrity. For example, in Licorice Whips, I imagined my hero looking like Bradley Cooper and my heroine looking like Paula Patton. After I get my characters' looks down, I'll detail the characters' internal and external conflicts, which helps with the plot. Once I figure out what will keep these characters apart, and what motivates the characters to figure out their own problems, I know I can start writing. If all of that doesn't work, I'll hit that dreaded 'muddle in the middle' or writer's block that a lot of authors often hit. With the right preparation, I can avoid that and, hopefully, have a great plot with wonderful characters."
In addition to her own writing, Bridget spends a lot of time working on her craft. Her desire is to put out quality fiction, so she's always trying to figure out how to make her stories compelling. One book she was reading is Getting the Words Right: 39 Ways to Improve Your Writing by Theodore Cheney.
"In reading that book, it's great to see that I'm doing a lot of things right," she told me. "I'm also learning what I've been doing wrong and what I can improve on in my stories. I'm learning a lot. I would strongly suggest authors read this book and other nonfiction books like this to help them in their writing."
"What is something you'd like to accomplish in your writing career next year?" I wondered.
"I've already have it in my head that I want to make it with one of the bigger New York publishers, which is why I'm working to hard at tightening and improving my writing. I've submitted some stories recently that have gotten some rejections. The rejections that aren't form letters are the ones I use to help me see where I need to make improvements to my work. That is my goal. 2014 will, hopefully, be my comeback year."
About the Author: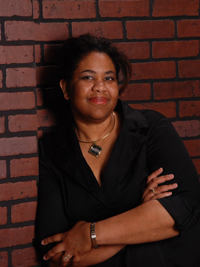 Best-selling author of interracial BDSM erotic romance, Bridget Midway has been published since 2005 with more than over four different small press and electronic publishers including Phaze Books, Parker Publishing, Loose Id, and Liquid Silver Books. The multi-award winning and award-nominated author has found her niche with readers with her scintillating interracial BDSM erotic romance including the EPPIE Award finalist, Love My Way, and Romance Slam Jam Steamy Novel of the Year finalist, Corporate Needs. With more than 21 published short stories, novellas, and novels under her belt, she shows no signs of stopping. For more information on Bridget Midway, go to her website at www.BridgetMidway.com.
Swithin "Sweet" Hawkes doesn't want love, but does want the business space that Nikla Dearwood wants for her business.

Nikla doesn't want to give up the spot but loves what BDSM Dominant Sweet does with her body.

Will Nikla give up one dream for another? Can Sweet open his heart to let the right woman in?