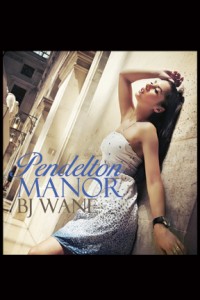 Long and Short Reviews welcomes BJ Wane. Leave a comment and you will have a chance to win either a copy of Pendelton Manor or the set of Freeing Kira & its sequel,Trust Me.
BJ has been writing for over fifteen years. Her first book, a contemporary romance sat in her drawer for years because she didn't have the nerve to do anything with it! She eventually threw it away, but later found out her husband had pulled all 250 typewritten pages out of the trash!
"I am now contemplating looking at that manuscript again, and if I still feel it has possibilities, rewriting it," she told me.
BJ's interest in erotica came when she read The Crowd Pleasers by Rosemary Rogers, a book she picked up at a garage sale. From there she researched where to find other eroticas, but at the time the only publishers she could find were Black Lace and Nexus out of the UK. A few years later, she found Pink Flamingo Publications and her interest in spanking erotica grew.
"Although Pink Flamingo was known for publishing the harder core erotica, they had quite a few titles of the softer erotica that I liked," she said, "but I got so tired of reading about 'bratty women' and spanking scenes only done for punishing them instead as highly erotic foreplay. That inspired me to write my first book, Susie's Awakening. I sent it to Pink Flamingo never dreaming it would be accepted. That was almost seven years and eleven books ago! That book is straight erotica and will appeal to only a small audience. The rest of my titles are erotic romances and all of them end with a HEA for the main characters."
BJ admitted that she often suffers from writer's block, sometimes more than once while writing. When that happens she simply has to put the book aside and try to not even think about it. Eventually, some little thing will give her an idea and she can pick it up again.
"That happened big time when I was about a third of the way through my seventh book, Amy's Redemption," she admitted. "I was so frustrated I put that book aside for over a month and was even contemplating scratching it entirely. Then an idea just came to me, I was able to finish it with no problem and, as of now, that title remains Pink Flamingo's #1 selling novel. It also received a five star review as well as a Best Book Nomination from Long & Short Reviews in 2011. Until I wrote my newest title, Pendelton Manor, it was my favorite book. Now it's tied with Pendelton."
Her favorite part of Pendelton Manor is the 'cliffhanger' scene near the end where Sophie sees how much Adrian cares for her and needs her and she finally realizes her beloved daughter is in a good place and it was okay for her to wait and join her when it was her time.
"I can relate to Sophie's pain and constant struggle with her grief because my husband and I lost our oldest daughter unexpectedly four years ago and dealing with that tragedy has been an ongoing trial for me," BJ said. "Putting some of my emotions in this book was hard, sometimes I had to set it aside until I got myself under control again, but I feel my personal experience help make Sophie a unique character."
Her books usually start with a simple plot or a character with a problem. Pendelton Manor came from a love of gothic mysteries. BJ's a big fan of Eve Silver's historical gothics and always wanted to try her hand at writing one, because they are so rarely written anymore.
Dialogue comes very hard for BJ because she's a very quiet person. When there are more than 2 or 3 people together, she tends to revert to her shy teenage years and remain quiet. She's definitely more of a listener than a talker.
"Can you tell us about your writing space?" I wondered.
"I have a mini laptop that I absolutely love and carry it all over the house with me. My favorite place to write is my sunroom as I am definitely a warm weather person. In spring and summer I spend hours out on my deck with my laptop or reading baking in the heat. I love it! Most of my books are written in places I have lived or visited and I rely on the internet to fill in the blanks for me. My house is littered with post-it notes and scraps of paper with ideas, dialog and scenes. I jot things down as they occur to me, then every few days, gather up all the notes and add them to my outline."
BJ is currently finishing part three in a trilogy she hopes to have to her publisher within the next month.
"This book is quite the endeavor for me as it will be over 120,000 words," she told me. "The stories are connected, yet each couple has a unique set of obstacles to overcome."
BJ admitted to me she is an anti-eBook reader.
"I know, I live in the dark ages. I don't have a website or do any social networking simply because I am computer illiterate," she told me. "I love my paperbacks and much prefer to have the whole book, carry it around, dog ear it and be able to simply flip through it at will. If a book comes out in eBook only, I will pass. One of my all-time favorite books is Chasing Rainbows by Esther Sager published in 1981. I still have that book, yellow pages and all and, because I'm a big re-reader, have read it several times."
BJ started out writing straight erotica, but soon found she preferred to develop more of a relationship between her main characters– one of the main things that separate an erotica from an erotic romance. There are a lot of sex scenes in her books which usually involve several characters. She told me she likes variety, but she also likes some type of commitment between her characters which was lacking until the end in her first few books. Some of her readers weren't happy when she started leaning toward lighter erotica, but most of them as well as new ones like these better. In her opinion, Anything in the SM category falls in the strictly erotica category and, even though she likes reading books with BD (bondage & domination), she finds that too often authors cross that fine line between the two so she will generally stay away from those and rarely writes in that genre.
"Because I read very little erotica, I don't have a favorite author, but right now I love Sarah McCarty's Hell's Eight series!" she said.
About the Author: I live in the Midwest with my husband and two dogs. My favorite past times are reading and working both jigsaw and crossword puzzles and babysitting my 'granddogs'! I have traveled extensively, first as an Air Force brat and later with my husband and daughters. Even though we traveled abroad to both France and Canada, I much prefer the scenery and the people in my country. I have been published with Pink Flamingo for almost seven years. Prior to that I wrote articles for a local builder's magazine and free-lanced as a transcriptionist of legal depositions as well as other legal papers and personal resumes.
Haunted by memories of her beloved daughter, Sophie leaves Arizona for a new position as housekeeper at Pendelton Manor in Maine. After walking in on a ménage between friends and family of her new boss, she stands transfixed in embarrassment and arousal, which only worsens when her new boss catches her unaware. Her immediate attraction and empathy for widower, Adrian Pendelton, coupled with the open sexual activities of the other members in the household made her question whether to stay or not. But soon Sophie finds herself drawn into their friendships, and the sexual activities. Adrian tries to stay clear of Sophie even though he finds himself attracted to her. Since his wife's suspicious death a year ago, he hasn't let anything deter him from finding who was responsible, even if that meant someone close to him was guilty. When strange occurrences seemingly named at Sophie begin to occur, Adrian is more determined than ever to find out who had betrayed him, especially since his little housekeeper had managed to worm her way into his heart with her sorrowful eyes and responsive body.