Long and Short Reviews welcomes Anthony Diesso, whose debut novel The Haunted Spring was released last fall. Leave a comment for a chance to win a download of the book.
The Haunted Spring is a tragical-comical novel that came out of Anthony and his wife's experiences when their son was born nearly three months premature. Anthony had driven her to the emergency room, thinking her stomach pains were nothing significant. However, when he returned from parking the car, he found her lying in a bed, pale, with nurses bustling around her. Her water had broken and the surgeon was preparing to deliver the baby.
"Less than forty five minutes later, my son was brought to the NICU ward, while I sat waiting for news. The doctor from the NICU finally came to meet me and reported, 'He's stable, and we expect him to survive.' Her words were meant to be reassuring, but I've never been so frightened as I was by the word "survive", the one word I had to put my hope in. That was the scariest moment of my life," he told me. "By the way, my boy is almost five now, and so spunky that it's sometimes easy to forget how he fought his way into  the world and how he fought to stay there.  But opening an old box and picking up an extra pair of diapers we had but never used, seeing how they fit snugly around three of my fingers, reminds me of where he was, where my wife and I were, and where so many people–parents, doctors, nurses–were fighting and are still fighting. "
For titles, Anthony tries for something short and evocative. He's usually well into the writing process before he starts seriously thinking about a title that will eventually stick.  The title for The Haunted Spring came to him when he was almost finished with the first draft and was suggested by a childhood memory.
"When I was young, my folks took me to the movies to see a revival of Bambi, and the death of Bambi's mother affected me deeply: I remember that his suddenly being without her in the snowfall was followed by an efflorescent view of spring, so that the two moods merged in a peculiar but poignant way. To be in mourning while all the world was indifferently filled with beauty and new life, suggested to me the title of The Haunted Spring."
"What inspired you to start writing?" I asked.
"Music, like the kind I heard sitting in the choir loft at church when I was small: the swell of the organ, the fervent and almost harmonious voices. I wanted somehow to imbue my writing with that intensity of feeling. This may seem counterproductive, but I think good writing begins with the need to express something that can't be put into words. The day you're able to find the right word or phrase for every circumstance is the day your technique has probably outstripped your capacity to feel."
I wondered what, in Anthony's opinion, are the most important elements of good writing.
"Okay, here goes. Good writing is like stuffing sausage, with the filling as inspiration, and the casing representing technical ability. If the filling is too bitter or sweet, or if it's gritty, or if there's not enough of it, then the casing really won't help much. However, if the casing is too thin, then the filling will never hold together; or if it's too thick, calling too much attention to itself, you won't be able to appreciate the inner quality. So good writing is about sensitively matching the right filling with the right casing. It's also nicely complimented with a dry wine that…what were we talking about again?"
Anthony told me that the best way for him to deal with writer's block–in fact, most things relative to writing– is in an irrational way. He finds being lazy a big help in getting the job done.
"If I'm struggling to make plot points meet, or trying to come up with a good way to describe a character, I'll go take a nap, and while drifting off to sleep, my thoughts will unloosen, and ideas will often start suggesting themselves," he said. "Outside of that, it can help to read something in a genre completely different from the one you're working on, since the contrast can stir you out of a more linear frame of mind. I also think that writer's block can be beneficial, in spite of its frustration: writing is often improved and intensified in the face of resistance, and it sometimes happens that writers are at their best fighting for their freedom and not as good once they get it."
"How do you develop your plot and character?"
"I think the term that most accurately describes the process would be schizophrenia. One me is coming up with all sorts of ideas, while the other me is telling the first me how they're not any good and won't work. It's all about struggle. Outside of that, I think most of the characters and plots I come up with have had an unconscious gestation, so that by the time I'm actually writing them, they've been going through a process of solidification, often for a number of years."
Anthony's writing space can best be described, he said, as messy, disorganized, and full of books, papers, and little plastic animals his children have left scattered about.
"Now, that's the den, the external space," he explained. "If you're referring to the internal, mental space, then it's…messy, disorganized, full of books, papers, and more plastic animals."
Finally, I asked, "What is the most surprising thing you discovered while writing your book?"
"Strangely enough, I find certain places and events from my childhood crop into my thoughts while I'm writing. There doesn't seem to be an immediate connection: I could be writing about King Arthur, and suddenly a yellow toolshed and a sandbox from the house I lived in when I was small will appear in my imagination. Even more strangely, it doesn't usually interfere with what I'm doing; instead, it's an impression lingering behind the scene. So I guess you can regain your childhood, as long as you're thinking of something else."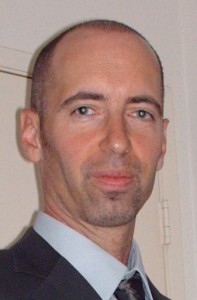 About the Author: My name is Anthony Diesso, and I live in Northern California with my wife, Robin, our son, Christopher, who's almost five, and our daughter, Aria, who's two and a half now. As far as my favorite pastimes go, I enjoy writing (because I can talk with my mouth full), playing the piano (because I'm usually guaranteed a place to sit at gatherings), reading (because I like the word "effulgent" and am always on the lookout), and spending time with my family (because they're my kind of people).
Website: anthonydeaso.webs.com
Facebook: http://www.facebook.com/anthony.diesso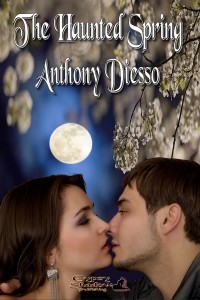 Jay Bennett, a comfortably maladjusted man in his early 20's, finds Anna LaMonica knocking on his apartment door, looking for a friend in a nearby apartment. The more he sees Anna, her shy but earnest glances, the way she listens and smiles, and the delicate emotion in her voice, the more he finds himself falling in love. Charmed by his humor and the child-like warmth beneath his stabs at good behavior, she follows suit. And after overcoming hostile family and friends, they marry and begin a new life together.
Anna's sudden death during childbirth leave Jay to watch over their infant, born premature and requiring an extensive hospital stay. Grief-stricken, helpless, and alone, he is tormented by apparitions of her, recalling his love and ruined hopes. These apparitions, at times horrifying, at others pathetic, yet others darkly alluring, drive him to the edge of madness. Attempting to overcome the terrifying occurrences, he struggles to piece together his life, to pull some sanity and hope out of the world around him, and to become a good father to his newborn son.