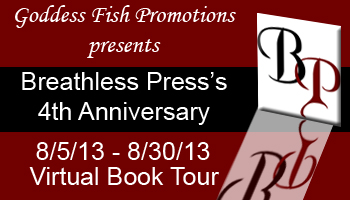 This post is part of a virtual book tour organized by
Goddess Fish Promotions
celebrating the 4th Anniversary of Breathless Press. Breathless Press will be giving away the following prizes to randomly drawn commenters during the tour:
Grand Prize: 1 Kindle Fire
Second Prize: $25.00 Gift Card for Breathless Press
Third Prize: $10.00 Gift Card for Breathless Press
Fourth Prize: 10 x $5.00 Gift Cards for Breathless Press (individual gift cards, 1 per person)
See the Rafflecopter at the end of this post.
What inspired you to start writing?
There was no specific inspiration – I've always written. I loved reading from being very young and it was just a natural progression to write. I won a prize in a national newspaper short story competition after entering via my primary school, and then wrote my first novel when I was twelve. The great feedback (despite my being oblivious to every rule about how to submit) from a major publisher encouraged me to keep scribbling. My grandfather always insisted that we were related to the author Elizabeth Gaskell, so maybe it is in the genes.
What advice would you give a new writer just starting out?
I think the most important thing is to find your own voice and develop it. Don't mimic other people because you will never write genuinely, from the heart if you do, and readers are looking for emotion, for honesty, for characters they can relate to and sympathise with. And that has to come from the heart. I'd also say don't follow the bandwagon – if you're chasing, you're already too late! Read lots, read variety, read how-to books and learn the craft – but don't get bogged down. It's the story and the characters that have to grab people. Anyone can learn rules, learn grammar – but there has to be a story you believe in and that you want to tell your way – you need to want to make people laugh, make them cry, make them want to find out more.
Do you ever suffer from writer's block? If so, what do you do about it?
I do sometimes get stuck and the worst thing is to just sit and stare. Getting out and a change of scene can help, otherwise I go back to the drawing board and examine my characters and their motivations – usually things grind to a halt because I'm missing something, don't understand the characters and what they're doing – or I'm trying to force the story in one direction when it needs to go somewhere completely different.
What, in your opinion, are the most important elements of good writing?
Believable characters that I can relate to, a plot that stems from the characters and doesn't feel fabricated (I hate lucky coincidences) and good pace. If I start getting a bit bored I skip whole paragraphs (or chapters!). I do get pulled out of the story if there are too many errors, but if the plot is good enough then I can ignore them to a certain extent.
How do you develop your plot and characters?
The main character and a very vague plot come first – the opening and the end. I then have lots of pieces of paper with character details on. Physical outlines (appearance is important to me for my characters so I can picture them), then GMC sheets, along with details about the worst thing that could happen to them and what will test them out, and how they react etc. I then jot down the opening scene, the turning points and the black moment which gives me some structure. I plot the first quarter in more detail, brief scene outlines plus the character growth for the scene, and a hook. I write the first quarter (which generally turns out differently to what I expected and impacts my plot!), expand on my character outlines and plan the next quarter in more detail. I try not to be too fixed as things always change as I get to know my characters, and how they react to things, better.
Are you working on anything at the present you would like to tell us about?
I'm working on the third book in the Good Enough series, 'Making It Good Enough' which spills the beans about what has happened to Charlie and Anna – have they really made up and do they have a future? And we catch up with Dane and Holly, when his ex-wife turns up does it spell the end of their relationship – or the start of something even better?
I've also just finished 'Surrender Your Soul', which is an erotic romance about Kezia who wants some security in her life, James who wants to be left in peace and the type of passionate sex that steams up the windows! Check out my website for updates.
How do you come up with the titles to your books?
The title is really important to me. If I've not got the title sorted I find it hard to write the book – it needs to sum the whole thing up – summarize the core story. I must admit, titles usually come to me when I'm in bed so I have to get up and make a note – I've convinced myself that I can remember something in the past (because I've been too lazy and half asleep to get up), fallen asleep and woken up without the foggiest idea what my brilliant title had been!
Describe your writing space.
Anywhere! I use the dining table in the winter, because it's cosy, the kitchen table on sunny mornings because it's bright, the sofa in the evenings so I can keep my son company, the patio when we get the weather and bed if I suddenly wake up with a brilliant idea I can't ignore. My only proviso is it has to be quiet.
What is your work schedule like when you are writing?
I have a part time job so I do a stint at that in the morning, get home, have coffee and settle down to writing. Then I have to go out again mid-afternoon and usually do more writing in the evening. I like to do all my planning on a Friday or Monday and then have a few days of uninterrupted writing, and I always aim to write about 12k a week. Having a strict routine and self-imposed deadlines is the only way I can get things done.
How do you personally distinguish between pornography, erotica, and erotic romance?
Porn is just about being turned on – the plot and characters don't matter, I think porn is usually visual i.e. pictures, rather than words.
With erotica the characters are on a sexual journey and there must be character growth and emotional development, not just a plot involving sex. There often isn't any romance or HEA (although there can be). Erotica shows the impact that the sex has on the characters, which porn doesn't, but it doesn't show a developing romance.
An erotic romance goes a step further – it isn't just about the individuals and the impact that the erotic elements have on them, it describes how a relationship develops as a result of the sexual interaction. It is similar to any other romance, but if you took the sex out the story wouldn't work as the erotic elements are an integral part of the plot and how the characters and romance develop.
How do you judge what makes a good erotic story when writing your own fiction?
How the sex affects the character, every sex scene must be there for a reason and lead to character growth. I think too often a sex scene is just thrown in there because the characters are hot for each other (and the author wants a certain number of sex scenes!). It's also important that a good erotic story must 'take you there', clichés and purple prose are out – it has to be real. I think this is one of the reasons that erotic fiction is often written in first person.
What are the biggest public misconceptions about erotic romance?
That it's easier to write than other genres! Some people still think of erotic romance as being the same as porn – and often this judgment is made without reading any books in the genre.
What research books do you recommend for authors starting out in writing erotica?
The best way to research is to read erotica/erotic romance. Lots. Read a variety – including books from smaller publishers, but also read ones that are bestsellers and published by the larger players. It's important to see for yourself what works and what doesn't – and like in any genre you will find that you can't please all the people all the time – some people like mildly erotic romances with a strong romantic content and will criticize books for containing too much sex, other people will lean more towards erotica with the relationship being of little importance and cannot understand characters who won't just jump into bed with anyone and everyone! Similarly the type of sex, from hard core BDSM to the fairly vanilla varies tremendously. Read a lot, see what you are comfortable with. You can only write what you enjoy.
About the Author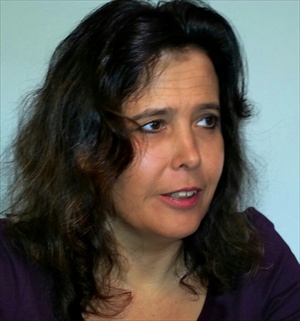 Zara Stoneley has been writing stories for as long as she's been reading them. She submitted her first novel, a thriller, to a UK publisher when she was twelve years old.
After moving on to romance, she started off writing contemporary romance with a bit of sizzle, and then discovered she liked hot and erotic too. Her erotic work has been published by Xcite Books and Breathless Press, and she has self-published two novels (the 'Good Enough' series). She also writes contemporary romance under the name Susie Medwell, and has been published by Lyrical Press.
Zara loves her family, sunshine, wine, good food, caffeine, cats, music, writing and reading – but not necessarily in that order!
Website – http://www.zarastoneley.com
Blog – http://zarastoneley.blogspot.com
Twitter – @zarastoneley
Facebook – http://www.facebook.com/zarastoneley
Amazon author page – http://amazon.com/author/zarastoneley
Mike Sands knows that loving a soldier can lead to heartache, so when he falls hard for his best mate's little sister he knows he has to walk away.

But can Jade let him, when one taste has left her desperate for more? Or dare she take command of the situation and prove to both of them that maybe what they have is worth taking a risk over?

Sometimes one night of passion is not enough, sometimes you just have to stop thinking about the future and live in the present.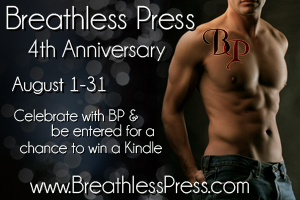 Breathless Press is an e-book publisher specializing in Romance and Erotic(a) stories.
Our mission statement is simple: To provide the opportunity for readers to connect with romance authors through the purchasing of quality e-books at a low price.
Starting in the summer of 2009, Breathless Press came into existence. Since then, we have been producing top end romance and erotic stories for valued readers to enjoy.
a Rafflecopter giveaway