Long and Short Reviews welcomes Nicky Peacock, whose latest book Bad Blood has recently been released. Bad Blood is, in essence, a vampires vs. zombies YA horror novel with a strong undertone of romance. It's written in first person from the main character's point of view.
"To be honest, Britannia is a little dense when it comes to the men in her life who love her," Nicky told me. "Although she is well over 400 years old, she'd never really been in a relationship and is blinkered to the feelings and even the actions of those around her.  She's a bit of a stone hearted so-and-so, but the cracks eventually do start to show."
Even though Britannia is the main character in Bad Blood, Nicky told me that her favorite character is Nicholas–her enemy turned reluctant comrade.
"He gives as good as he gets," she explained. "I make sure he gets some funny lines in there and is a stand-up kind of guy. I'm not sure how far I trust him, even as the author, but if zombies started descending on my house, I think I'd like him on my side.  He also has that old fashioned sense of chivalry that seems to have now died out amongst modern men."
Since she writes about zombies and vampires, very little of her own childhood makes it into her books–except when it comes to the characters. They all have some facet of Nicky in them.  For example, Britannia finds it hard to think beyond her fantasy for the relationships in her life – which is something Nicky had in common with her when she was a teen.
"Day dreaming and fantasies can be a dangerous thing for teens – reality will never live up to them and I know that I certainly missed out on a number of opportunities because I lived too much in my head," she said.
"What challenges do you think teens face today that you did not?" I asked.
She laughed. "Blimey, I'm not that old! I can still remember what it was like being that age. Technology is probably the fastest growing problem, and gift, to youngsters today. The Internet has opened a whole new world for them – but also many dangers too. Social media can connect you to people all over the world – but will it hamper social interaction and development? The education reform in the UK is certainly something that would have affected me back then.  I do worry about how it'll damage the hunger for knowledge, when the journey now is so expensive."
When it comes to research for her books, Nicky–since she tends to write paranormal themed books– starts off learning the basics on the characters she wants to write about.
"If lore is open to suggestion – such as vampires, every author has their own rules with these guys– I settle on what I want them to be like and how they'll fit into my book. For example, the vampires in Bad Blood can only be killed by decapitation; there are no issues with sunlight – if there had been, my story would have been limited to the night," she explained.  "Places are a big part of writing, and although it's not commercially viable to visit everywhere you write about, Google- maps street view is an excellent way round this. Using this wonderful online tool, you can visit anywhere in the world, without paying out on airline fees.  Using tourist websites, you can even take virtual tours of cities and tourist attractions. Bad Blood is set mostly in London and being a UK based author I had visited there quite a few times in the past, so the feel and information were born of memory, then enhanced with online research."
"What is the hardest part about writing for you?"
"Two things spring to mind: Finding the time to write and getting through the first 10 minutes. There never seems to be enough hours in the day to do all the things I want to do, and some days I'm literally dead on my feet by over-loading myself.  The career of an author has dramatically changed over the last decade and although there are many more opportunities for writers to get their work out there with Indie authors going straight through Amazon with eBooks  (of course there's now their Print on Demand service too) there has never been so much work for a writer to do. You've got: blogs, Facebook, Twitter, Pinterest (I actually find this one quite therapeutic and inspirational) along with sorting out promotional tours, interviews, reviews and guest posts to drum up interest for your book – It all takes time. Fortunately with Bad Blood I was brought into the fold of an excellent publisher, Noble & Young (an imprint of Noble Romance) and they've given me lots of marketing support, editorial assistance and a kick ass front cover.  When it comes to the actually writing, I have the attention span of a sugar crazed monkey. If I'm not careful, I end up opening a blank word document, then wandering off online to do some internet shopping, check up on my friends on Facebook or on Amazon checking out the latest releases. I find if I can stay focused for the first 10 minutes, I get into a groove, and then can't stop!"
Finally, I asked,  "What advice would you give a new writer just starting out?"
"To go down the short story market first. I wish someone had given me this advice when I was started writing. By starting with the popular anthologies market you can hone your craft as a writer and gain publishing credits. Once you start writing stories from 2,000 to 10,000 – suddenly the 90,000 + word novel isn't such a marathon. Learn to sprint first. Another great piece of advice is 'You can't please everyone'. There will be some people who will reject you and hate your work, but equally there will be some who will love it and snap you up. Don't let rejection get you down – it's not a personal reflection on you and what you can do.
"Also, join a group. I run a local writers' group in my town and it's a wonderful place to meet new friends and to motivate you to keep writing. In the right group you can put your manuscripts forward and really learn what works. A supportive group of like-minded individuals will help you. And if there are no groups in your area – start one!"
About the Author: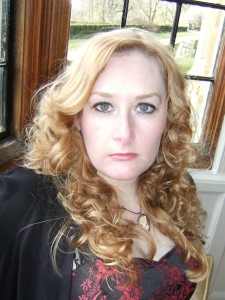 I'm an English author living in the UK. I write mainly horror, urban fantasy and paranormal romance for both YA and adult markets. I run a local writers' group in my home town called Creative Minds. I guess I've always been a storyteller, not in a 'liar liar pants on fire' kind of way, although I do work full time in advertising! When I was little, kids would crowd around me in the playground and I'd tell them tales of blood soaked horror filled with vampires, werewolves, ghosts and more. Yes, most would consider me a disturbed child, but my playmates couldn't help themselves, they'd huddle around me every break time like an ancient tribe feeding off the fear; and that's how I learned that horror stories hold a certain power, no matter what some might say, everyone is addicted to a good scare, especially if it is somewhat rooted safely in unrealistic beings… or are they unrealistic?
Twitter: @nickyp_author
Writers' Group www.creativemindswriting.co.uk
Publishers: https://www.nobleyoungadult.com/
Blog: http://nickypeacockauthor.wordpress.com/
Pinterest: https://pinterest.com/nickypauthor/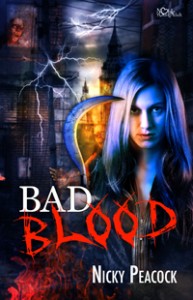 "I am Britannia. I am your protector. I will fend off the hungry hordes of undead hands that reach toward you. I am your steadfast defender. I will stand between you and the zombie masses as they try to taste your flesh. I am strong, unyielding, and dedicated to your survival. All I ask from you… is your blood."
A five-hundred-year-old bloody game of vengeance will need to be put on hold if vampires are to survive the zombie uprising. Britannia and Nicholas, bitter enemies and the only two surviving vampires left in London, have to work together to save un-infected humans and deliver them safely to a vampire stronghold in the Scottish Highlands. Unable to drink the zombie 'bad blood', the remaining vampires need the humans to stay alive. But will the vampires tell the survivors who they are and what they want from them? Will Britannia be able to hold back her vengeance for the greater good? Is survivor Josh the reincarnation of Britannia's murdered true love? And can she bring herself to deliver him to the 'safe' hold? Survival instincts run deep, but bad blood can run deeper.