Long and Short Reviews welcomes Fallon Blake whose latest book, <i>A Firm Hand</i>, was recently released by Ellora's Cave.  It's the second book in the Bound to You series and is on the harder side of BDSM compared to her last book, <i>Wrapped Around Your Finger</i>, and is deeply emotional. The characters are flawed and  have difficult issues to overcome–so difficult that some days spending time with them took a lot out of Fallon.
"I wouldn't change it though," she assured me. "I'm very proud of this one."
She's currently working on the next book in the series, <i>Bait and Switch</i>, which will be Jared and Sophia's story.
"I really have my work cut out for me. Writing a relationship between two dominants won't be easy," she admitted. "Sometimes I think I'm crazy for even thinking it can work. They keep telling me they're supposed to be together. Who am I to argue?"
During this next year, she'd like to finish the next two books in the series, publish a paranormal, and finally get to a convention.
Fallon has always wanted to write… over the years, she'd get ideas for stories and write them down on legal pads.
"I had stacks of them," she confessed. "My husband convinced me to pick one and start writing. I figured why not? What did I have to lose? I'm so glad I took that leap."
"What books or authors have most influenced your own writing?" I asked.
"There are so many. Carrie's Story by Molly Weatherfield was one of the first books that made me decide I wanted to write BDSM. It's such a powerful book. Morgan Hawke's Interstellar Service and Discipline is another. I love her talent for world-building. More recently, Annabel Joseph. Her ability to write flawed emotional characters makes me take a good hard look at my own."
Fallon has two girls (ages 7 and 5), so spends a good part of her day chasing them around–during the summer, she writes mostly at night, but during the school year she treats her writing like a regular job–writing Monday through Friday during the day. She writes on her netbook, so her writing space can be anywhere she can find a quiet spot–sometimes outside by the pool. Other days, she will lock herself in her bedroom while her husband takes over family duty.
"Do you ever suffer from writer's block?" I wondered. "If so, what do you do about it?"
"Yes, I do and it can be difficult to work through. Music works wonders when I find myself staring at a blank page. I like to create playlists for each book I'm working on. Hearing a song I associate with my characters or a scene really helps get me in the right headspace when I'm feeling less than inspired."
When she's not writing, she's usually in the kitchen because she loves to cook. She also likes taking her kids to the beach and curling up with her husband on the couch to watch a good, scary, horror movie.
"What's the weirdest thing you've ever done in the name of research?" I asked.
"I bought a paddle. When I was researching handcrafted paddles for Wrapped Around Your Finger I ended up buying one from the craftswoman who helped me learn about the different woods and styles. I won't tell you whether or not I got to try it out. I'll leave that up to your imagination."
Finally, I asked, "What advice would you give a new writer just starting out?"
"Learn as much as you can about your craft, decide what you want to write then park your behind in a chair and put your heart into it. Also, commit to your story and your characters. You can't publish what you don't finish."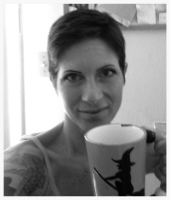 About the Author:   Fallon Blake loves to spin stories that explore the romance of dominance and submission or venture into the realms of the paranormal. When she's not glued to her netbook writing away, you can usually find her in the kitchen whipping up something healthy, in the gym or playing outside with her kids. She loves horror movies, has a soft spot for zombies and cupcakes, and reads everything she can get her grubby hands on.Fallon resides in Florida with her family and loves to hear from her fans.