Long and Short Review welcomes Elisabeth Staab, whose second book in the Chronicles of Yavn, Prince of Power, is now available.
Elisabeth started writing professionally while she was still recovering from the delivery of her youngest child, who will be four in June. They went to visit the first book of the series, King of Darkness, at Barnes and Noble the day it hit the shelves, while his older brother was in preschool.
"It's been a challenge maintaining a writing career with growing toddlers," Elisabeth confessed, "but it's exciting to see the books 'grow' as they do."
She's currently working on the next book in the series, Hunter by Night, which will be Lee and Alexia's book.
The first piece of advice she got (and the best) was that if she wanted to write romance as a career, she should join the Romance Writers of America and, from day one, treat her writing like a job. She joined RWA before she even finished writing her first novel and started finding out about workshops she could take to improve her writing and meeting other authors.
"I think it made a huge difference," she said.
"What comes first," I asked, "the plot or characters?"
"Almost always the characters, but sometimes it's a little of each, in fits and starts. When I started King of Darkness,/i>, I saw the hero, Thad, standing in a warehouse full of peole. I had to figure out who he was and why he was there. For Prince of Power, Tyra and Anton had already met and I knew what the end of their story was going to be, but I hadn't yet seen how they got there. I knew the moment I saw Anton that he was an unusual hero. He would leave his kind for the sake of his heroine's safety, fall in love with her…she would be the one who would take time to come around. So I knew their stories, I just didn't know the connective tissue that got them there. That part took longer. So it depends," she said with a laugh.
She told me that she started writing as a pantser, but about midway through Prince of Power her critique buddy sat her down and made her plot the story.
"I don't plot to the degree that some authors do," she said, "but I've found that I really do write a stronger book when I outline in advance."
Elisabeth admits that there have been times she's suffered from a sort of mental paralysis or anxiety-type thing in writing that makes an author freak out, spin her wheels, and procrastinate, but she's never suffered from the true kind of writer's block where the voices stop all together. She believes the first kind is very common and the worse thing a writer can do is give into it.
"If I let myself take a break because I'm struggling it takes me days, weeks, even longer to start again," she told me. "So I try doing something mindless for awhile, something that de-stresses me like exercise, or I try just writing through it, whether that's a free-writing exercise or working on a different project for a short time. Worst-case, I do my best to push through and get whatever words I can onto the page. Rough drafts are allowed to suck. You can always edit."
Elisabeth admitted to me that titles are not her strong point…in fact, she told me, "I am AWFUL at titles. My original titles almost always get changed by my editor or someone else who is much better at coming up with snazzy titles than I am. My big goal is to someday come up with a really awesome title for one of my books that sticks!"
I asked Elisabeth to describe her writing space for us.
"Two words: Post-it notes. They're everywhere. It's the only way to be sure I remember stuff. I also have a set of turntables left over from my DJ-ing days, a lot of inspirational pictures, cards and books that people have sent to me, and a fun goodie drawer where I stock swag for when I go to cons. I'm already stockpiling for the Olde City, New Blood paranormal con in February and Romantic Times in May!"
Just for fun, I asked Elisabeth, "Have you ever eaten a crayon?"
"I don't know, but I think I once tried Play-doh. Word got around in the playroom that it was salty, and I've always loved salty stuff."
About the Author: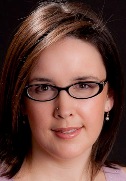 Elisabeth Staab still lives with her nose in a book and at least one foot in an imaginary world. She believes that all kinds of safe and sane love should be celebrated but she adores the fantasy-filled realm of paranormal romance the best. She lives in Northern Virginia with her family and one big scaredy cat, where she loves to spend time with good friends, go dancing, collect coffee mugs, and sing off-key in her kitchen (when she isn't making characters fall in love, that is).
Find Elisabeth online at
Web: http://elisabethstaab.com
Facebook: www.facebook.com/ElisabethStaabRomance
Twitter: https://twitter.com/ElisabethStaab
Goodreads: http://www.goodreads.com/ElisabethStaab
G+: https://plus.google.com/u/0/115495970841282334338/posts/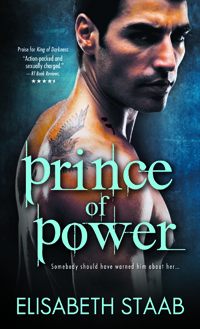 This Fight Is Personal…

Wizards and vampires have been mortal enemies since the beginning. Now Anton, son of the Wizard Master, has one last chance to steal the unique powers of the vampire king's beautiful sister, Tyra…and then kill her. But when he meets Tyra face-to-face, everything changes…

Tyra will stop at nothing to defeat the wizards, until Anton saves her life and she suddenly sees an opportunity she never could have imagined…

As the sparks ignite between them, together they could bring an end to the war that's decimating their people, but only if they can find a way to trust each other…