Long and Short Reviews welcomes Brenda Margriet, whose debut novel Mountain Fire was released this year. Leave a comment for a chance to win a digital copy of Mountain Fire.
Mountain Fire is set in and around Brenda's home town of Prince George, British Columbia. The hero and heroine, Alex and June, meet on top of Longworth Mountain.
"There is a mountain that locals called 'Longworth Mountain', because is sits above a village of the same name. But that is not its formal name (if it even has one) so you won't find it on a map," Brenda told me. "I chose that setting partly because my aunt and uncle have a cabin in that area, and we used to visit them when I was a teenager, so I'm familiar with it. There is an old fire lookout on the mountain, and my family even climbed it once. Note I said my family, not me. I stayed back at the cabin reading (what else) when they did the hike. My aunt has read my book, and says I did a great job describing the mountain, so I must have absorbed something!
"Another interesting fact (but one I am not particularly proud of) about MOUNTAIN FIRE is it took 10 years or more to write. I can't actually remember when I started the manuscript, but the very first scene was written before digital cameras became popular, because I had to revise it to move with the times! My only excuse is that I had three small children and a distinct lack of sleep in those days. I am definitely NOT a night owl, and by the time the kids were in bed every evening I could barely function, let alone write. That's my story, and I'm sticking to it."
Brenda has a second book that she's completed. She sent it to her critique partner, made some revisions, and she's now letting it simmer before submitting it for publication. RESERVATIONS OF THE HEART calls on her background in television production. Her heroine, Jemma, badly needs a job and becomes a Production Assistant on a television reality show–a cross between "Iron Chef" and "The Bachelor." The hero, Paul,
recently opened a restaurant, and he takes on the role of the single man surrounded by a baker's dozen romantic hopefuls in order to promote his new business. It is completely against the rules for these two to have a relationship…but guess what happens?
She's also working on a third manuscript, which doesn't have a title as yet. It's set in the Azores, a
tiny archipelago in the middle of the Atlantic, which is where her husband's family is from.
"We visited the largest of the islands, San Miguel, in July, and it is the perfect settling for an international love story!" she said.
She writes using the name "Brenda Margriet", her first and middle name. Her married name is of Portuguese origin and often throws people for a loop, so she wanted something a bit more accessible, yet unique. There are many, many reasons to use a pen name, some of them very valid, but when she started this road to publishing she wanted to make sure people knew it was HEr book, so she didn't want to hide behind a completely made up name. She also has her full name listed on the copyright page.
"I wanted no arguments when it came to proving it was mine!" she stated.
I asked her to describe her writing space.
"I have a corner of the couch in our living room. That isn't where the TV is, so I'm not right in the middle of the action, but I am certainly not cut off from what is going on around the house. I don't think I could write locked away in a quiet room anyway…in my day job I am in an open room with seven other people, the radio is always going, and colleagues are popping in and out all the time, so I'm used to writing in near chaos. I'm too cheap to buy a proper lap desk, so I use an old plastic serving tray upside down on a pillow to support my laptop and that works just fine. Every once in a while I dream about the perfect work space: an elegant antique desk in front of a wide bay front window overlooking water (the ocean would be nice, but I would be okay with a lake). Shelves of books surround me, the coffee is always fresh and my fingers know exactly what word to type next. But if I waited for that to become reality I'd probably die before it materialized, so I'll take what I can get."
Because of her full-time job, Brenda has to squeeze her writing time into evenings and weekends. When her children were younger, they were very busy with sports, piano, and school, so it was almost impossible for her to have any sort of regular schedule. However, now that her daughters are older and can drive themselves (as well as being coerced into driving their younger brother), she's able to be much more consistent.
"I am absolutely useless past nine o'clock, so writing late into the night has never been an option for me, but I'm usually the first one up in the morning on weekends, so I can get my quota done before other commitments take over," she told me. "Speaking of quotas, I found my output really increased once I set a minimum daily quota. It's pretty low (only 500 words) but that makes it relatively easy to achieve. Even if that's all I get done, I feel good because I've achieve my goal, and if I write past that limit, I feel great! I also give myself one day off a week. It's usually a week night (generally when 'So You Think You Can Dance' or 'The Voice' is on). But even with that break, I write at least 3000 words a week, which means I can have a fairly substantial manuscript written in six months or so. Considering I'm only spending about 10 hours a week writing, I'm pretty happy with that!"
When Brenda's not writing, she enjoys reading–a lot. She told me if she didn't read so much she might get more writing done, but almost everything she reads inspires her to write. Some of her favorites include Lee Child, Nero Wolfe (Archie Goodwin was probably her first literary crush), Robert B. Parker, Dick Francis, Diana Gabaldon, Dorothy L. Sayers, and Jane Austin–among others. When it comes to hobbies that don't involve reading or writing, she enjoys spending time in her garden, playing card games with the family, boating, and watching The Big Bang Theory. She also likes cooking, but not baking, and swimming, but not running.
"What is your most embarrassing moment?" I wondered.
"Wow, that's going to be tough to narrow down. I'm pretty clutzy in general, and my mouth is very accustomed to having both feet in it. One of my boyfriends actually gave me a desk plaque that said 'Put brain in gear before engaging mouth.; Oddly enough, that boyfriend has been my husband for more than 22 years!
"One particularly shining moment I do remember was giving myself a black eye while brushing my teeth. I bent over to spit and bash the bridge of my nose on the faucet. I didn't even have the excuse that it was an unfamiliar sink, as it was in my own bathroom."
She also once poured a packet of salt into her mouth thinking it was sugar when she was having a sweet craving and spent the next hour spitting.
I asked her, "If you had to do your journey to getting published all over again, what would you do differently?"
"I would certainly finish my first book sooner. Balancing a young family and a job is tough, but I'm sure I could have done it sooner with a bit more dedication. I was incredibly lucky when it came to the actual publishing of my book. Ebooks are an amazing opportunity for new writers. The demand is so high that I think it is easier than ever for new writers to find a publisher, and that isn't even touching the whole self-publishing industry. When I finished MOUNTAIN FIRE I happily submitted it via an online site to a large publisher that had just introduced an e-imprint. After three months I'd heard nothing, so I decided to try a smaller publisher. The Wild Rose Press liked my query letter enough to ask for the first 3 chapters, but because of POV issues they did not request a full. I rewrote the book, focusing on POV, and resubmitted…and they accepted! I never dreamed it would be contracted to only the second publisher I tried, so I was very excited (to say the least!) when I was offered the opportunity."
Brenda avoided getting an e-reader for a long time, however, swearing she was a traditional gal who would never switch. The ability to have thousands of books available in one small device lured her, though, especially for traveling. She now has a Kobo Aura and loves it.
"I do still love 'real' books, and getting new ones is always a treat – the crisp smell of new paper, the smoothness of an uncracked spine," she admitted. "I always put a few on my Christmas list, and then I ration them out over the next month or so. When I've looked forward to reading a book for months, the last thing I want to do is finish it the day I receive it. Also, I love the look of a library. My husband gave me a print with 'A room without books is like a body without a soul.' I really believe that, and an e-reader just isn't the same thing."
Finally, I asked Brenda, "What is something you'd like to accomplish in your writing career next year?"
"I would love to get my second and third novels contracted. I really want to make writing a successful career, and now that I've had some experience with publishing I'm hoping to grow my readership, and make more money. I know it sounds a bit mercenary, but at least I'm honest. I want to make money writing, and I'm interested in exploring all the options in order to do so. But even if more money isn't in the cards, I'm am definitely going to keep on writing. It's good for me, no matter what — keeps me out of trouble and my brain sharp.
"I'm pretty sure my third manuscript will be finished by the end of the 2013, so another goal for 2014 would be to continue writing. I'm getting more efficient, as well as more disciplined, which is increasing my output. MOUNTAIN FIRE took more than 10 years to finish writing, RESERVATIONS OF THE HEART less than a year all together, and I'm aiming for about nine months for my third manuscript. I'd love to be able to complete at least 2 novels a year (including revisions and editing)."
About the Author: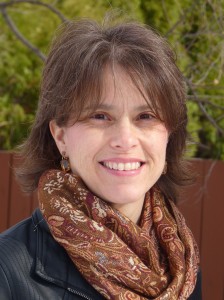 Brenda's love of books began as a child. She ran into the living room holding "Old Hat, New Hat", tripped and smashed into the corner of the coffee table. The book sustained a deep gouge in its cover, and Brenda has never forgotten its sacrifice.
As a teenager, she saved babysitting money to buy a typewriter. It had an electric keyboard with manual return, and cost more than $300. She clacked away at that for hours.
Her first finished novel was still decades away, even though many others died on the page in the intervening years. It wasn't until her husband bought her her very own laptop for Christmas 2010 that she managed to type "The End" on what would eventually be MOUNTAIN FIRE.
Brenda lives in Northern British Columbia with her husband, three children (all of whom are taller than her) and various finny and furry pets. By day she is Creative Director at the local television station, and by night she pecks away at her works in progress.
A mountaintop mystery leads two conservationists to dangerous obsessions and violent passions.

Natural resources student June Brandt climbs Longworth Mountain for some alone time. But when Conservation Officer Alex Weaver arrives to look into the death of a grizzly bear, June is caught up in the investigation—and fascinated by Alex.

Alex is attracted by June's competence and coolness under fire—as well as her lithe body and honey-blonde hair. Although their mutual interest in protecting the natural wonders of the area brings them together, they soon realize they view love from very different angles. He offers passion and pleasure, but June wants more.

When one of Alex's colleagues is murdered, June and Alex must work together to find the poacher before other lives are lost. And Alex must look deep inside to discover if he can give June what she deserves.