Long and Short Reviews welcomes Zana Bell whose newest book Close to the Wind is available from Choc Lit. Leave a comment for a chance to win a paperback copy of the book.
Close to the Wind came to Zana from a fabulous holiday driving around the South Island–you may have seen it in the Lord of the Rings films. On the driving tour, Zana learned there had been a gold rush in the 1860s with adventurers coming from all over the world and from all walks of life.
"I just knew I'd have to write about it," she told me. "In those class-ridden days, the gold rushes gave those at the bottom of the heap a chance to escape – and not just by finding gold. The canny found other ways to create new and more satisfying lives for themselves and their families. As for the women of that time – they had to be pretty damned feisty and courageous to survive and they made the most of the tiniest opportunities."
Growing up in Harare, Zimbabwe, Zana wanted to be a foreign correspondent or do research for BBC documentaries, especially the historical ones.
"Unfortunately, I didn't hold onto these dreams nearly hard enough," she confessed. "I still watch some documentaries and have a pang, thinking how much fun it would have been to make them. When I discovered Geraldine Brooks, I experienced a deep wave of envy. She not only had an eventful first career as a journalist in the Middle East, she then went on to write fantastic books, both fiction and non-fiction. And still be a wife and mother! She's mega cool and it's worth listening to her Boyer Lectures on podcast.
On the plus side, I love teaching English to migrants and overseas students. We laugh a lot together and I learn from them all every day. It is indeed a wonderful job."
In fact, she thinks of herself more as a teacher, wife, and mother more than as a writer, even though Close to the Wind is her fifth book and despite the fact that her books have come out in a number of countries.
Zana now lives in New Zealand and told me that the harbor is by far the best feature–she lives on its shores and loves the ever-changing play of light on the waters. She also loves seagulls.
"These wild, swooping, ill-tempered, rasping-voiced birds don't compromise for anyone, anything," she explained.
She writes in a tiny cabin in their garden with a wall of sliding glass doors that look out on the mountain behind their house.
"It is stuffed full with reference and research books and the usual paraphernalia of a writer – computer, printer, wastepaper basket (essential). There are also empty coffee cups and books of Sudoku, all the better to procrastinate with," she said. "The walls are filled with paintings; my husband is an artist and I also have a few very old black and white photographs of my long-dead father when he was a boy, frolicking on the beaches near Swansea. I always smile when I look at them."
She admitted to me that she loves the research that goes along with writing. In fact, she admitted, "I write so that I have an excuse to research! For my historicals I like reading primary sources – books, letters, diaries and newspapers of the actual time. The voices of the people are still fresh and vital even though the actual writers have been dead for well over a hundred years. Visiting the locations is a must! You can feel the life and times of those who went before beating like a heart in the earth beneath your feet."
She really wants to write a series about a New Zealand gold-mining town– sort of an Antipodean Deadwood, but with more stunning scenery and less violence.
"There's something in the raw energy of people living on the edge, making up the rules as they go along which I find fascinating," she said. "Women also got the chance to stretch and seize opportunities that they would never have had if they'd remained in Britain. New Zealand was the first country in the world to grant women the vote and I think that's partly because the women who came out were fiercely independent and not afraid to challenge conventions."
In addition to this historical romance, she has also written YA time travel, straight historical, and contemporary romance as well as short stories and articles.
"I love the challenge of trying something new," she told me. "In fact, when I first started writing, I decided I would try to write a book in each genre and I still think that's not a bad ambition although publishers and agents say readers don't like authors who jump around. However, I think readers are far more versatile than they are sometimes given credit for."
"What was the scariest moment of your life?" I asked.
"I was house-sitting alone in Zimbabwe when one night I awoke to hear scratching and knew burglars were trying to raise the flyscreens. Remembering offense is the best form of defense, I catapulted out of bed and raced through the house, slamming on lights and yelling, "I've got dogs! I'm going to release them!"
There were two dogs I was looking after; a lovely bouncy golden retriever of whom I was fond and a black doberman of whom I was very wary. Both dogs greeted me at the back door, barking wildly and the retriever leapt around me in her excitement, very nearly bowling me off my feet. I flung open the garden gate and the Doberman took off, a lean black streak into the darkness while the retriever, by this time almost hysterical, bit me.
'You stupid animal! Them not me!'
Unrepentant, she ran off to bark at the trees just as the doberman returned with a scrap of material in his mouth. The burglars had clearly narrowly evaded his jaws as they scrambled over the wall.
I phoned the police but they had no petrol to come to my rescue. 'We can send a man on a bicycle but it will take him over an hour to get there.'
'That's okay,' I said bravely. 'I've got a big dog here. He'll keep guard.'
I'm generally a cat person and nervous with some big dogs but I confess, my admiration for dobermans rocketed after that night. As my fondness for retrievers plummeted."
Finally, I asked, "What's the weirdest thing you've ever done in the name of research?"
"Well, it wasn't weird but it was wonderful. I went to a chateau outside Paris to do a day's research on my current project. The two comtes were absolutely charming but I found it hard to focus on the documents when the centuries old chateau was begging to be explored. Lunch (a puny word for the feast provided) was formidable; food the like of which I have never eaten, glorious wine, ancient flagstones, crystal glistening in the candlelight (and yes, I did say lunch), exquisite oil paintings of ancestors benignly looking down from heavy gilt frames. Afterwards I was shown old photographs but my attention was caught by one in the corner.
'But surely that's Chopin.'
'Why yes. He used to come and teach the girls here. We still have some of his music.'
We trooped back up to the archives and they ferreted out some handwritten music.
'Here, look at it.'
I clasped my hands behind my back to avoid temptation. 'But I'm not wearing white gloves.'
The comtes guffawed at such a ludicrous notion. 'Here, take it.'
So with trembling fingers I held paper that Chopin had once written on. And what particularly endeared him to my writerly soul was the crossings-out, the changes. Even Chopin didn't get it right first time. I think of it now whenever I scrunch up a piece of paper and lob it into the wastepaper basket. We share the same problem, Chopin and me."
About the Author: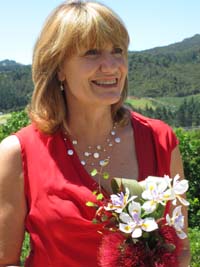 Zana Bell grew up in Harare, Zimbabwe and studied English Literature at the University of Cape Town. After travelling for several years doing a wide range of jobs, she immigrated to New Zealand where she now lives with her family and cats in a small harbourside community. She began writing, just for the fun of seeing whether she could actually complete a novel and immediately became hooked. Research is her primary love and writing gives her an excellent excuse to be obsessive or just plain nosey. She enjoys writing in a variety of genre but has a particular fondness for all things historical.
What would you give to be free?

Georgiana da Silva is catapulted out of the Victorian drawing rooms and into a world of danger when she escapes her fiendish fiancé to engage in a mad dash across the world to save her brother before an unknown assassin can find him.

Meanwhile, Captain Harry Trent is setting sail for New Zealand. With a mission to complete and the law on his heels, he's got enough trouble of his own without further complications.

Thrown together, unable to trust anyone, Georgiana and Harry are intent on fulfilling their missions despite the distractions of the other. But liberty comes at a price and the closer they get, the more they must question the true cost of being free.

Masquerades, deceptions and subterfuge – and that's just on the heroine's part.
Buy the book at Amazon.