Long and Short Reviews welcomes Steven Manchester whose latest book Goodnight, Brian has recently been released. Leave a comment for a chance to win an ebook copy of this book.
He's currently working on a novel entitled,The Rockin' Chair, scheduled for release this summer. I asked him to tell us a little bit about it.
"A compassionate farmer loses his lifelong love to Alzheimer's. Deciding that she was cheated a lifetime of memories, he sits in his chair and remembers for them both. Before he can join her in eternal rest, though, he must tend to a few final chores and heal his family."
Steven has been writing since 1991—once he made it home safely from Operation Desert Storm.
"Operation Desert Storm was a brutal experience," Steven shared with me. "I promised myself that if I made it home alive, I would pursue my dream of being a published author. I began writing in 1991—upon my safe return—and have been writing ever since. Since then—and today—the thing that inspires me most is my children. I've always taught them that they should chase their dreams because dreams come true. However, we don't get what we wish for; we get what we work for. Every time I put pen to paper and pursue my lifelong dream, I'm inspired to teach them to reach for the stars."
Steven doesn't believe in writer's blocks, although he does understand that they're quite real when other authors perceive them as such. He shared a story with me about a friend of his.
"Let's call him Jack," he said. "Anyway, he phoned me one night complaining that he was agonizing over a terrible writer's block. 'How does your story end?' I asked him and he went on to explain the ending in detail. 'Good,' I said, 'so write the ending and then all you have to do is fill in the middle.' He did just that. The lesson is this: Most books aren't written from point A to point Z. If you get stuck at a certain crossroad, begin to write a passage from a different point in the book. This maintains momentum and confidence (if lost, the two causes of a perceived block). Again, I write novels like creating complicated word puzzles—only to put it all together in the end in order to paint the grandest picture I can. Do whatever works for you, but keep moving. The last thing you want is for a story to go cold on you. You could risk losing the passion, if you wait too long to finish it."
The hardest part of writing for Steven is time. First and foremost, he assured me that he's a father, and his children come first. After that, there are other responsibilities that require his attention. His passion to write constantly gnaws on him, though.
"To overcome the obstacle of time, I made writing a priority over watching TV and sometimes even sleeping," he explained. "Once my family is taken care of and the world closes its eyes, I'm up for a few more hours each day – chasing my dreams on paper."
In Steven's writing, the plot always comes first.
"In my estimation, the first decision in the writing process is also the toughest decision of all. You have to honestly ask yourself: What idea is good enough, or worthy enough to cost you the next year of your life?" he told me. "If you can sincerely say that you have one, then get started right away. Some writers spend months working out a concept before they ever put pen to paper (so when someone asks you how long it took you to write a book, there is no true way to answer this. It happens in the mind long before it ever appears between two covers)."
Once he has his plot, the characters come next. He encourages writers to learn and know their characters.
"If they become real enough, your characters will tell the story for you. Think about it: The raised eyebrow from a well-established character is worth more than a paragraph or two," he said. "The saddest time for me is when a novel comes to its end. This is mostly true because I start to miss the people that I've grown to love and hate. And if you don't feel that for your characters, then your readers won't, either. When I'm completely vested in a story, the first thing I think about in the morning is the characters (what they're thinking and feeling, and how they might act), and the last thing I think about before turning in at night is the characters."
Writing is as much a discipline, for Steven, as it is a passion. When he's involved in a project, he write every day except for Sundays and holidays—those are reserved for family). He uses a mini-tape recorder to capture his initial thoughts and ideas and always carries it with him. Then, he transcribes the work onto his laptop, where it starts to take on life. His writing space is everywhere—he dictates into his recorder while he's in the car driving or he'll jot something down in his Blackberry while he's at his daughter's dance rehearsal.
"In the end, I'm actually most comfortable putting the puzzle together in our dining room," he admitted. "Peculiar, I know, but it's a comfortable place for me."
Finally, I asked, "What advice would you give a new writer just starting out?"
"Now that I have nearly two decades of writing and getting published under my belt, here are a few tips on being a writer I wish I had known at the beginning of my career. I enjoy trying to help new writers break in. My advice is always the same:
Be true to yourself, always.
Write constantly.
Keep the faith!!!
And NEVER, EVER, EVER quit. Most people in this industry would agree that more than talent or skill or even luck, perseverance is the one trait that will always get the job done.
Knock on every door you can, and keep knocking. I promise that eventually someone will open and the warmth you feel on your face will more than validate every hour spent alone in the darkness."
About the Author: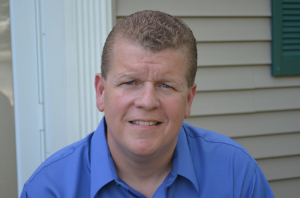 Steven Manchester is the author of the #1 best seller, Twelve Months, as well as A Christmas Wish (Kindle exclusive), the heart-warming prequel to Goodnight, Brian (release date, January 8, 2013). His work has appeared on NBC's Today Show, CBS's The Early Show, CNN's American Morning and BET's Nightly News. Recently, three of Steven's short stories were selected "101 Best" for Chicken Soup for the Soul series. When not spending time with his beautiful wife, Paula, or his four children, this Massachusetts author is promoting his works or writing. Visit: www.StevenManchester.com or http://www.facebook.com/#!/AuthorStevenManchester.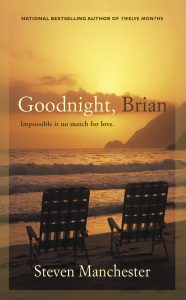 Fate was working against little Brian Mauretti. The food that was meant to nourish him was poisoning him instead, and the doctors said the damage was devastating and absolute. Fate had written off Brian. But fate didn't count on a woman as determined as Brian's grandmother, Angela DiMartino – who everyone knew as Mama. Loving her grandson with everything she had, Mama endeavored to battle fate. Fate had no idea what it was in for.

An emotional tale about the strength of family bonds, unconditional love, and the perseverance to do our best with the challenging gifts we receive, Goodnight, Brian is an uplifting tribute to what happens when giving up is not an option.