Long and Short Reviews welcomes Meg Lacey, author of the Tales of the Sparrow series and Something's Cooking, which is being released from Entangled Publishing on the 13th of this month.  She's also finished the second book in the Tales of the Sparrow series which will be released in November from Imajinn Books.   In addition, she writes another series for Samhain, Million Dollar Men, about million dollar men and the women who fall in love with them.
Meg will be giving away three digital books –one to each of three different commenters:  Something's Cooking, Million Dollar Mistake, The Sparrow and the Hawk.
Tales of the Sparrow is a humorous, paranormal romantic series set in the future, when the veil between this world and the next had been stripped away — a time when magic, myths and mystical creatures were not only possible, but normal. The first book is The Shadow and The Hawk and the second is The Sparrow and The Vixens Three, featuring three magical kitsunes, Japanese werefoxes who turn into beautiful women to seduce their target.
In her recent works, she has learned new things–she had to revise Something's Cooking four times for her editor and she told me, "Each revision made the book better and better. It's more than I've ever revised any project and I learned a lot by doing it. In my second book for the Tales of the Sparrow Series, I had to learn how to do a second book in a series that continues from the first. The challenge was to include the essential information from The Sparrow and The Hawk in a way that wasn't repetitious and boring to those who had read the first book, but presented the info for the reader who started with the second book first."
Meg never really thought about being an author, even though she's always written. Her goal, education, and training were focused on acting and directing.
"It wasn't until my husband and I left a major metropolitan area that I changed my direction, focusing on producing and writing for television, video, and interactive websites, and on children's literature," she explained. "After writing some teleplays for children, I decided to write a novel next. So I wrote one for children, which I intend to revise some day, but then realized I wanted to write for an adult market. So I sat down in a chair and started writing."
She started writing in the fourth grade and wrote her first book, a 138-page historical novel, in the sixth grade. She started writing seriously in book-length fiction in 1990.
"The romance market was very hot at that time, and welcomed new authors without agents. I sent that first book to Harlequin in London and they asked me to revise it. I did and they rejected it, but I'd gotten the bug," she said.
"When did you first consider yourself a writer?" I wondered.
"The first time I was paid for what I'd written, I considered myself a professional writer. The first payment was for a video script I'd written for a Fortune 500 company. As a novelist, the first book I sold made me a professional writer. Notice I say professional, not just writer. You don't have to be paid to consider yourself a writer. What you need to do is be compelled to put words on a page. It can be words that appeal to an audience, or it can be your personal journal. It depends on your point of view. For me, my focus was on the professional aspect of writing, writing to sell."
Meg was chosen as a "Woman to Watch" for her first book for Silhoutte/Harlequin because of her writer's voice, according to the editorial director.  I asked her what made it different from others who write in the same genre.
"I've been told my voice is unique. My work is always filled with humor. A good sense of humor is a must for me to enjoy the work," she told me. "I think I have a good sense of the ridiculous and enjoy exploiting it when it fits the plot, or characters. My voice is a result of how I look at the world, my choices in rhythm and pacing, and my heavy emphasis and skill with dialogue. That comes from my background in Theatre and TV."
Her first two books for Silhouette  were written under her real name, Lynn Miller. The rest of her books are written as Meg Lacey.
"Harlequin wanted me to use a pen name when I sold to them so I came up with a list of names I liked," she said. "Together we put together one we both liked. I kept Meg Lacey as I publish in different places because I have more books under that name."
Meg tries very hard to stick to a schedule and write every day, but it doesn't always work–it depends on what's happening in her life.
"However, when the book is running hot and the idea is really flowing I start writing and stop when I get done," she told me. "I believe in the 3D method: Determination-want it badly. Discipline-get it done in a timely fashion. Dump-dump your butt in a chair and stay there until you've finished what you need to accomplish for the day."
There is always a moment, though, when she gets stuck, and that's the hardest part of writing for her.
"It might be something that needs to develop plot wise, or it might be a character issue, but it always seems to happen at some point," she said. "When it does I take thinking time, and do something else. I exercise, I go for a hike, I take a drive…I let my subconscious mind go to work. Then when I sit down one of two things has happened: either I have come up with a solution to the problem, or I have relaxed enough that not worrying about the problem allows me to work something out on the spot so I can go on."
"Are you a plotter or a pantser?" I wondered.
"Now here's a question. I work both ways. I have a friend who insists that while she is sleeping, her 'lizard brain' works out the story so she sits down and writes it. I'm not sure I have a lizard in there, and I sure as heck don't want it in bed with me. Generally, I get an idea, chew it around, try to figure out situations that make sense for the characters and go from there.
"I brainstorm with a longtime writing friend. She is a godsend when it comes to helping me work out ideas. I also brainstorm with my daughters. My daughters listen and then give me salient advice, or shake their heads and say…'are you kidding me?'
"I don't use an outline; I can never keep the roman numerals straight. I generally have an idea what is going to happen from one scene to a next and will jot notes about it, but often the characters just take over and decide where I'm going. I especially jot down where a scene is going when I stop working. Then I can pick it up the next time I sit down."
She told me that the best and worse advice she ever received about writing can be  contained in one phrase: Write from the heart.
"It's the best because it tells you to write something you're passionate about," she said. "It's the worst because the book of your heart might be very far removed from what appeals to readers, if you're writing with the intention of selling the work. Bottom line…. I believe that becoming or being a good author is directly related to how much you are going to put in on it. I've spent the last few years working on regaining my confidence and on learning more about plotting and about the industry. Seminars, research, professional writing organizations and DVD of conferences are ways I keep learning. Keep honing your observation skills and let your imagination soar. Don't self criticize, or second guess yourself. Just keep throwing the words on the page. Most of all—enjoy what you're doing. Life's too short not to enjoy."
Finally, I asked, "What advice would you give a new writer just starting out?"
"Put your bottom in the chair and keep writing. Enjoy what you are doing. Not everyone who writes wants to be, or should be a professional writer, many people just love to write. If you have a goal of being a published author, then keep working toward it. You have to believe in yourself, even in the face of rejections. Learn from them, see if there is a common pattern to the comments and if there is…learn what to do about it. Most of all, don't give up hope. Find supportive people who help you keep your spirits up and most of all… Write. Write. Write."
About the Author:  
Over the years, I've been an actress, director, producer, creative director, CEO, copywriter, creative dramatics teacher, mime, mom, college instructor, and a school bus driver. I've established two creative marketing/media companies, working as a V.P. and as CEO, working in all media: network cable programming to corporate initiatives; to video, games and interactive websites. I'm published with Harlequin, Imajinn Books, Samhain Publishing and Entangled Publishing. Learn more about me and my books on my website or at any online bookstore. Look for my new books, Something's Cooking from Entangled Publishing, 8/13; The Sparrow and the Hawk, out now. The Sparrow and the Vixens Three, 11/13, and the print version of Million Dollar Mistake, 9/13.
Website: www.meglacey.com
Email: meg@meglacey.com
Facebook: www.facebook.com/meglaceybooks
Tales of the Sparrow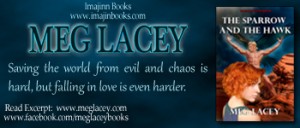 The Sparrow and The Hawk, Book One, now available
The Sparrow, Jillie Harte, is an agent for NAS (Normal, Abnormal, Strange) Agency. working Her Assignment—Franklin Doherty, a millionaire who has acquired The Carmeletta Choker, which has the power to unleash chaos and evil if it is in the wrong hands, and Franklin's hands are definitely the wrong one. To get close to Franklin she is producing a film on Fashion and Decoration Throughout History. She doesn't bargain on her hot cameraman, Griff, wanting to get his hands on the necklace also. Griff Ryland is an enigma. Is he friend or foe? And why is she so distracted by his 'pure sex on the hoof' appeal?
Like The Sparrow, Griff, aka The Hawk, needs to retrieve the choker. It disappeared from his dimension years before and his job is to bring it back. As he can shapeshift into a hawk and a mountain lion at a moment's notice, Griff feels certain of success. But he doesn't bargain for a sassy, sexy redhead like Jillie getting in his way, and for his overwhelming urge to settle their differences in bed. Now he and Jillie must not only overcome the dark forces who want The Carmaletta Choker for themselves: but they must face their developing relationship and decide what to do about it.
And they thought saving the world from evil and chaos was hard!!!!
Buy the book from Amazon
The Sparrow and the Vixens Three, Book Two, 11/13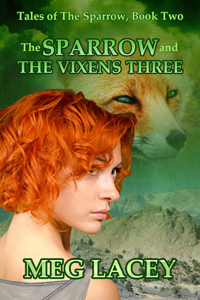 The Sparrow and The Hawk are back!
When the mystical, cursed necklace called the Carmaletta Choker showed up in San Francisco, the NAS (Normal, Abnormal and Strange) Agency paired their top agent, Jillie Hart, code name The Sparrow, with mysterious agent and shapeshifter Griff Ryland, known as The Hawk. Jillie and Griff posed as documentary makers in an effort to retrieve the choker, but they failed in their mission.
Now its curse is more powerful than ever, and the universe hovers on the brink of collapse. While most of the world remains unaware, in Hollywood, a new production company is casting a film about two people seeking a necklace with mystical powers—a tale too reminiscent of the real life Carmaletta Choker. Jillie and Griff are determined to stay close to the action, and they once again pair up under the guise of shooting a documentary—this one on the making of the new film.
They are unaware that Declan, the sinister shapeshifter who had previously applied his black powers to locating the necklace, and Gailan, an ancient earth mother who dwells in The Garden of the Gods, have teamed up with three kitsune (Japanese werefoxes) who are masquerading as the stunningly seductive vixens Delphie, Delilah, and Diana. The kitsune must lure Jillie and Griff into their trap and seduce Griff into joining the side of evil and helping them recover the necklace.
Conflicted by her mixed feelings of love, desire and anger toward Griff's seeming personal and professional betrayal, Jillie has no choice . . . to save the world, The Sparrow must first save The Hawk. But how can she compete against the power of three magically enchanting kitsune?