Long and Short Reviews welcomes J L Taft, whose newest book Hooked for Life was released in April. Leave a comment for a chance to win a copy of Hooked for Life.
She's currently working on a book about a bounty hunter, a cop, and a red-headed woman stuck in the middle. It has more of a good guy/bad guy element in it and is her longest book to date.
J L spent all her life with her nost stuck in a book–she didn't watch a lot of TV or played video games.
"When I got in trouble, my parents did the only thing they could do… ground me from extracurricular reading. (School books weren't included in the grounding, damn it) It quickly curbed my rebel teenage years," she said. "I dreamed of writing my own romance story almost as soon as I was old enough to start reading them. I scribbled ideas and started several but never finished them. Life gets in the way, like it always seems to do and I didn't get a chance to really start writing until a couple years ago. But once I started, I was spending every spare moment spilling out stories. Then it took me months to research publishers and find the right one to submit to. So, honestly I can't remember a defining moment that inspired me to write. Writing has always just been there."
A couple of years ago, she got laid off at work and didn't find another position immediately.
"It was a blessing in disguise," she said. "I figured that maybe this was my chance to really give it a shot."
She didn't really consider herself a writer, though, until her second book was accepted. Hooked for Life is her third book.
"Being a writer is a hard game and I worried that my first book was just a fluke," she explained. "I over analyze everything! This gives me plenty of time to let doubts creep in. But being a writer means that even when you are terrified, you still send it in. Take the chance and hope for the best."
"How do you come up with the titles to your books?" I asked.
"Coming up with titles for my books is random. Sometimes I will be half way through a book before the title will come to me. Usually it hits me like a bolt of lightning. I'll suddenly say 'Yeah! That's it!' Although when I started writing Unleashing the Animal I had named it 'Whispers in the Woods', which I like, but it didn't feel right. I take the key element of the story and try to pair it up with something exciting. The same thing happened with Submitting to the Officer. I name the file with whatever comes to mind when I start the story and then change it as the right one comes along. No point in beating my head against the wall."
JL told me that she's definitely a pantser–in fact, she wrote the first paragraph of Unleashing the Animal while she was at a friend's house.  She didn't have a plot nor character names.
"I think that first paragraph was the only part of the story I didn't change at one point or another," she said. "It just evolved from there, the whole tone of the story came form that first few sentences."
JL grew up in the "Crystal City" of New York State.
"It's not huge, but is quite famous for its glass production," she explained. "Corning Glass Works Inc. was the original designer of Pyrex baking dishes in the early 1900s. They also were the original designers of Corelle dishes, introduced in the 1970s. We have a wonderful museum devoted to this, The Corning Museum of Glass. It is a beautiful city with a wide river called The Chemung that runs through the center of town. We also are in the heart of the Finger Lakes Region, which offers tons of wineries along the lakes. The area is full of hidden waterfalls and deep green pools, hiking trails and tons of wildlife. All in all the area is inspiring, and was the setting for my second book, Unleashing the Animal."
She is the oldest of five, with three sisters and  a brother.
"My sisters and I all look alike but our personalities keep things interesting. I would be the confidant; they all tell me their secrets, and I know to keep my mouth shut. We have the drama queen, the know it all and the tomboy. My poor brother is stuck in the middle but is very protective of his sisters. We fight, we argue, but at the end of the day we all love each other and are close. My mom still embarrasses the girls to no end when we are out shopping together. If any of the male species glances our way for longer than two seconds she feels the need to say, (loudly) 'Put your head back in your pants!' When I was younger, my face would go red and I would go the other way as fast as I could. These days I find it rather amusing. Especially when I can look at whatever sister is with us and watch the same reaction bloom on her face that I had. After all, it's nice to know you aren't the only one Mom is mortifying."
"Have you ever eaten a crayon?" I wondered.
"This question is so funny that I had to answer. I actually called my mother to ask her this. (Ha Ha) She says she doesn't remember me ever eating a crayon. But she did remind me of the time I stuck a popcorn kernel up my nose when I saw three. Apparently pepper saved the day! My mother is rather resourceful."
JL is also married to a wonderful man, who supports her writing all the way.
"He is my rock, my back up and is known in my family to have intense one-liners that make them think," she said. "We have a beautiful red-headed daughter that wants to grow up to be a veterinarian, this week anyway. 'We may not have it all together, but together we have it all!'"
"What are the biggest public misconceptions about erotic romance?" I wondered.
"I have dealt with a lot of raised eyebrows, some curious questions and sometimes flat out disapproval when I tell people that I write Erotic Romance. The word 'erotic' instantly inspires naughty thoughts and most find it easier to believe the worst. But I have also had people say how much they love the genre and they can't get enough of it. Most of the misconceptions come from those who are unaware that erotic romance even exists. But books like 50 Shades of Grey have made the genre take off and have opened doors that have for too long been closed."
"What advice would you give an author who wants to write erotica?"
"The best advice I can give is to go with what you feel. If you want to write erotica, then do it. Of course some will look at you differently but I have learned that if you love something sometimes you have to fight for it."
About the Author: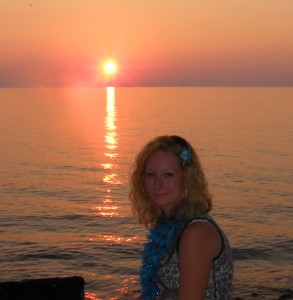 J L Taft believes that variety is the spice of life and that determination will get you anywhere you want to go. Writing is the passion of her heart and she can't imagine a day where she wasn't deep with a book.  She likes to write about women who don't realize how strong they are until circumstances push them to look deeper and the heroes that believe in them.
J L Taft lives in Upstate New York with her husband and daughter. She enjoys, gardening, hiking, reading and listening to music. While she enjoys new county, her heart lies with classic rock and metal. Some of her favorite bands include, Metallica, Godsmack and Trapt.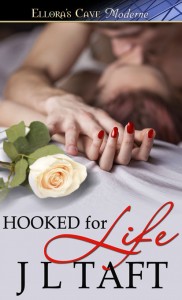 When Brady comes home for her sister's birthday, she's not thrilled to see her smoking-hot high school crush, Darren. He humiliated her all those years ago and the wound still stings. Nevertheless, she can't deny the heat of attraction between them now. Then he shocks and surprises her by apologizing for his long-ago stupidity. Then taking her back to his place. Then fulfilling every erotic desire she's cooked up about him for the last decade.
Darren's always had a thing for Brady, which is why he colluded with her sister to bring her back home. After treating her like a jerk in school, he was too chicken to approach her. Now they're all grown up and there's nothing to stop them. While the sex is the hottest either has ever had, they both want more. But with so much pain and distance between them, neither knows how to admit it.