Long and Short Reviews welcomes Jennifer Faye, whose debut novel Ranger to the Rescue is out this month from Harlequin. Leave a comment on today's interview for a chance to win an ebook copy of this book.
Jennifer's second book, Snowbound with the Ranger, a story of forgiveness and second chances, will be released October 1, and she's received a new contract from Harlequin Romance for books to be released next year as well.
"When did you first consider yourself a writer?" I asked.
"I've considered myself a writer for years now. Putting pen to paper or letters on the monitor that string together to build a story is my definition of a writer. But I didn't consider myself an author until I got my first publishing contract. That was a very special honor to switch the title on my website from writer to author."
If she could do her publishing path again, the one thing she would change would be to not become the queen of rewrites. It was hard for her to let go of a story and move on to the next one.
"I wouldn't let myself get caught up in the fallacy that every story can be fixed. Not all can be," she explained. "And sometimes you have to let go of your darlings and move on. It's tough and painful. But in the end, you learn from those stories and that's the important part."
I asked Jennfer what the best and worst pieces of writing advice were she had been given.
"The worst piece of writing advice I ever received was to never ever use the word "was" in a story. Umm…do you know how hard that is to do?
"And the best piece of advice I ever got was from Harlequin Historical author, Michelle Styles, who told me, 'It isn't the R (rejection letter) that matters, it's what you do after you get the R that matters.' I've never forgotten that bit of advice.
"In fact, the year before I sold was a particularly tough year for me. No matter what I wrote, whether for an editor or a contest, it kept missing the mark. I must admit that by the end of 2011, I was wondering if I wasting my time writing. But I kept remembering Michelle's words and I kept putting one foot in front of the other. I never would have guessed that I was that close to selling. Imagine if I'd have given up then when I was sooo close."
Jennifer always starts her books with a "What if…" and then goes from there.  Sometimes it's a situation/plot question and soemtimes it's a character question–it just depends on what triggers her imagination.
"I don't have any hard and fast rules about where to begin a story. I'm just always thrilled when a new idea comes to me," she said. "Beginnings are always so exciting."
Jennifer likes to write either on her laptop or by longhand.
"Both are portable so I write wherever is most comfortable and quiet," she told me. "Sometimes it's my bed, my recliner or the dining room table. But my hands down favorite place to write is outside on my porch. How can you beat the sunshine, a warm breeze and the butterflies fluttering about in the flower garden?"
She's a number watcher when she writes–she has a love of numbers and a need to challenge herself. Everytime she starts a new book, she sets up a spreadsheet similar to the one she uses for NaNo (National Novel Writing Month).
"It looks like a calendar and it has a spot where I drop in my total word count. It calculates how many words I added that day and how many more I need to accomplish in order to stay on track with my deadline. It really helps me and makes me feel like I'm getting somewhere. Of course, in another life, I was a statistician so spreadsheets are in my blood," she said with a laugh.
"What do you like to do when you are not writing?" I wondered.
"If my husband were to answer this question, he'd say too many things. I start a million projects when I'm between books, but I never have enough time to finish them," she admited with a smile. "I love needlework. I have a gazillion projects in some form of completion or as the hubby would say, barely started. But there are so many things I want to do. I also like to garden, but again I usually get in over my head when a pressing deadline is looming. Hubby has to ride to the rescue and keep my flower gardens going. And most of all, I like to read…romances. There are so many genres within the romance line that I never get bored. I just wish I had more hours in the day."
She was surprised to discover how much fun the research can be when you are writing a book, telling me she can easily lose hours following up on different subjects.
"I've now found an outlet for the trivia I've picked up here and there. You know the intriguing stuff that sticks with you but you never have a clue what to do with it. Now I know where to use some of it," she said, winking.
One thing she can't live without is her black tea–she confessed to me that it's slowly taking over her kitchen cabinets.
"It's the first thing I go for in the morning and if you want more than a grunt from me, you'll let me have my first mug of tea before trying to communicate with me," she said. "Poor hubby learned this the hard way. Now he starts to ask me something, looks at my still full mug of tea and says, 'Never mind. I'll call you from the office and ask later.' He's such a smart cookie. That's why I married him."
Finally, I asked, "What advice would you give a new writer just starting out?"
"Read. A lot. And then read some more. Then write. Write. Write. With each manuscript under your belt, you'll learn so much and your writing will reflect it. And don't let an "R" dissuade you. Keep writing. Keep submitting. Eventually it'll all come together."
About the Author: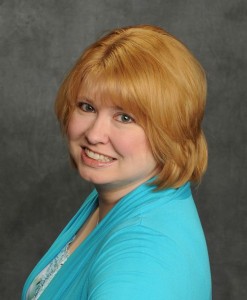 Jennifer Faye has spent most of her life with her nose in one book or another. It was only natural that she dreamed of becoming a romance writer and spinning the tales of the imaginary people running around in her mind. But first life took her on a couple of detours. Refusing to give up on her dreams, she finally succeeded in getting her name on a book cover. She currently resides in Pennsylvania with her very, very patient husband, one amazing daughter (the other remarkable daughter has flown the coop to chase her own dreams) and two spoiled rotten cats. When she's not glued to her laptop writing another contemporary romance (which isn't often) or enjoying some family time, she loves to get lost in a good book, cross-stitch, embroider, quilt, knit, watch hockey (go Pittsburgh Penguins!), and garden. Jennifer loves to hear from readers–you can contact her via her website.
You can also find her at these other locations:
Facebook / Twitter / Goodreads / Google+ / Tumblr
RANCHER TO THE RESCUE – AVAILABLE NOW in stores
And online at Amazon, Amazon-UK, Barnes & Noble, and other online outlets.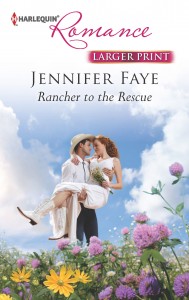 Damsel in a wedding dress!
Jilted at the altar, celebrity chef Meghan Finnegan flees the scene–and the baying press–only to run straight into the muscled torso of Cash Sullivan.
The former rodeo champion knows what it's like to have your life crumble in the spotlight, so he offers Meghan a place to lie low at his ranch.
Fresh air, no paparazzi and the brooding rancher's lazy smile are making Meghan not want to leave her sanctuary. But she and her unborn baby can't stay here forever…can they?