Long and Short Reviews welcomes Heather Haven, whose third book in the Alvarez Family Mystery series, Death Runs in the Family, was released this year. Leave a comment for a chance to win a copy of the first book in her Persephone Cole Vintage Mystery series, The Dagger Before Me, a Halloween mystery novel.
Death Runs in the Family was a foray into something Heather had never tried before–she wanted to kill off a beloved family member and not be a person that nobody cared about.
"But how can you make a murder revolving around a tragedy like that and still be humorous? There was the challenge," she told me. "I think I rose to it after I said to myself, 'Don't be scared, kiddo, just DO it.' So I brushed aside the fear, sat down at the computer, and managed to give the characters a depth I hadn't given them before, while keeping it funny most of the time. I'm very proud of how the book turned out – in fact, I won the Global Gold for Best Mystery Novel 2013 for it. But mostly I'm pleased I took this giant step forward in writing."
She's currently writing the fourth book in the Alvarez Family Mysteries, Dead…If Only. The characters go to New Orleans, searching for a man supposedly dead for nine years.
"Mix in voodoo, jazz, Sazerac cocktails and a few dead bodies, and you have the beginnings of a fun time," she assured me. "I've loved doing research for the book, too. I've been to New Orleans twice now and absolutely love the place! A wonderful city loaded with history and color."
The first book Heather remembers reading was Uncle Remus, when she was six or seven. When she was nine, she went to the public library and checked out Nancy Drew and the Secret of the Old Clock.
"My life was changed forever. I not only fell in love with reading, big time, I fell in love with mysteries and writing. It's a love affair that has never waned," she said. "I went to college on a costume scholarship and studied drama. Ultimately, I went to NYC to become an actress, but I hated it. I hated the life of an actor. It wasn't for me. All that traveling! Living out of a suitcase! Who needs it? However, I loved writing. I could sit in a room and write for hours, send characters to the far corners of the earth and not have to leave my chair. To make money, I worked in advertising for a while, wrote short stories, one-act plays, and ad copy for humorous ads, and acts for performers. I loved it. I didn't tackle writing a novel until I came to California, wine country. Chardonnay helped tamp down any jitters I had about taking on 75 thousand words and hoping somebody would read them. Now I write 85K and still hope somebody reads them."
She's written as long as she can remember–poems, song lyric, thoughts, articles, plays, etc.
"I love the written word. It just fascinates me. There's nothing I admire more than someone who writes beautiful imagery that stirs the heart. Remember Don McLean's Vincent (Starry, Starry Night)? The lyrics are absolutely gorgeous. Add that beautiful, haunting music and you have something memorable. If Vincent Van Gogh looks down from time to time, I believe he knows he did something right to evoke such a wondrous song," she explained.
Heather's favorite author is P.G. Wodehouse.
"No matter how many times I read Right Ho, Jeeves!, it makes me laugh," she admitted. "I have read every book of his I can get my hands on and he wrote over 90! He's most famous for the Jeeves and Bertie Wooster collection of short stories and books but he was a prolific writer of screenplays, plays, novels, short stories, pretty much anything. I'm a big fan. Wait, wait! There's Agatha Christie, the queen of the mystery, the plot maker, is the one who made crime writing all warm and fuzzy. Let's not forget Janet Evanovitz, who turned it all into a wonderfully, funny game. Then there's Earnest Hemmingway, who was a terse writer, if there ever was one. He is credited with writing a 6-word short story, "Baby shoes for sale. Never used." I mean, come on. The man was a wonder. And he loved cats. He was surrounded by dozens of 6-toed cats when he lived in Key West; many feline descendents still call his estate home. Tugger, the cat in my mysteries, says he dated a sweet little tabby named Mandy who lived over Hemingway's garage. But I think Tugger's fibbing; he's never been to Florida. Back to writers. Have I left anyone out? Hmmmmm, let me think about this!"
When Heather was developing the protagonist for her Alvarez Family Murder Mystery series, she wanted to have a central character that was identifiable but different, off-kilter, and likable–Lee Alvarez.
"She's not your typical protagonist," Heather told me. "Yes, she's in her mid-thirties and divorced but that's about it. She's smart, talented, and loves dancing, handbags and a good joke. She knows her own worth but has her moments of self-doubts. They seem to hit her when least expected, like they hit the rest of us. Every day, as she chases down a suspect, she strives to be a better person, knowing nobody's perfect. Except maybe her mother, Lila-Never-Had-A-Bad-Hair-Day Hamilton Alvarez. And try living in that woman's designer-clad shadow all your life.
"Lee reads Dashiell Hammett detective stories and watches old black and white movies on TV while searching the web. She loves peanuts and a good, classic martini i.e., gin, vermouth, orange bitters and 3 olives. And serve it icy cold, straight up! I've created a real, today kind of PI, California-honed, who's educated but has her moments of stupidity, who likes to wear Vera Wang clothes, all the while cheerleading for Humphrey Bogart. Her character traits are unique, her relationships with her family quirky, but real and, I hope, well-crafted. A murder mystery should be a well-written novel that just happens to have a dead body or two in it done in by an unknown assailant.
"Developing a plot is different for me. I have no idea where that will come from. For instance, the second book of the Alvarez Family Murder Mysteries, A Wedding to Die For, came about after reading a story – so bazaar I could hardly believe it was true – in the New York Times. Sixty-plus members of an Egyptian family were arrested for pilfering from a lesser known Egyptian king's tomb and had been doing so for generations!
"This extended family would take one article, sell it on the black market, and spread the wealth, educating and bettering themselves. After several decades, many of them came into positions of importance, in museums and customs, thereby ensuring even greater success. They were caught after years of staying below the radar, when one of them got greedy and substituted a fake for an antiquity in a museum at which he was the assistant curator. It blew the whole thing wide open. I was mesmerized by this story! I transferred the renegade family to Mexico, threw in a wedding gone awry and a falsely accused groom in the States, and was off and away! It was a lot of fun!!"
"How do you keep your writing different from all the others that write in this particular genre?" I wondered.
"I try to keep the humor going and sparkly. I try to keep the characters real but larger than life. Shakespeare was a master at that. Also, I try to keep it positive. I wanted The Alvarez Family to like each other, even if they don't always 'get' each other. They enjoy being together as a family, try to be supportive and loving. I read so many books where everyone is antagonistic and nasty to the people they profess to love. How can the reader like them or root for people that dysfunctional? I can't. I try to write a world I'd like to live in, a family I'd like to live with."
Finally, I asked, "What advice would you give a new writer just starting out?"
"Write! Sit down and write! You can't be a writer if you don't write. Don't put it off until you have the perfect subject, the perfect place, the perfect time i.e., the perfect opportunity. That will never happen. Even if you only write 20-30 minutes a day, every day, you'll start to accumulate a body of work, YOUR work. Shoot for every spare second you've got to write something down – impressions, ideas, comments. Keep in mind good writing is not done by smoke and mirrors, it takes study and practice, like any other craft. If you play tennis for a while, you're going to get good at it. Think of writing like tennis. Join a writers' group, share with people you trust who respect you and your craft, whose comments are positive and helpful. Lastly, take classes, learn your craft. Know the rules before you break them. And read! Learn from the masters!"
About the Author: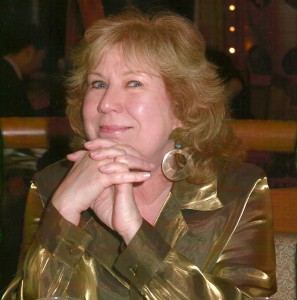 After studying drama at the University of Miami in Miami, Florida, Heather went to Manhattan to pursue a career. There she wrote short stories, novels, comedy acts, television treatments, ad copy, commercials, and two one-act plays, which were produced at Playwrights Horizon and well-received. Once she even ghostwrote a book on how to run an employment agency. She was unemployed at the time.
Her first novel of the Alvarez Family Murder Mysteries, Murder is A Family Business, is winner of the Single Titles Reviewers' Choice Award 2011. A Wedding to Die For received the 2012 finalist nods from Global and EPIC. Death Runs in the Family, won the Global Gold for Best eBook Mystery Fiction, 2013.
A 1940s holiday vintage mystery series, The Dagger Before Me and Iced Diamonds, stars a five-foot eleven, full-figured gal named Persephone 'Percy' Cole. Percy is a trail-blazing female detective with the same hard-boiled, take-no-prisoners attitude as Sam Spade, Lew Archer, and Phillip Marlow, but tops it off with a fedora and a wicked sense of humor. This series takes place on the streets of New York City during World War II, three thousand miles and sixty-odd years away from the California Alvarez Family Murder Mystery series. This new series has received rave reviews, a fact of which Heather is very grateful.
Stand-alone noir mystery, Death of a Clown, written by author and daughter of real-life circus performers, former Ringling Brothers and Barnum and Bailey trapeze artist and elephant trainer, brings the daily existence of the circus during World War II to life. The story is embellished by Heather's knowledge of the Big Top in its heyday and her own murderous imagination.
http://www.heatherhavenstories.com/
Heather's blog at: http://tinyurl.com/4nensnp
https://www.facebook.com/heatherhaven.5
Twitter@HeatherHaven
Heather@HeatherHavenStories.com
Heather's author page at Amazon:
http://www.amazon.com/Heather-Haven/e/B004QL22UK/ref=sr_tc_2_0?qid=1372537066&sr=1-2-ent
Lee Alvarez' ex-husband, Nick — a man she divorced with joy in her heart and a gun in her hand – sprints back in her life only to disappear again. She'd love to leave it at that, but could he be responsible for the recent death of her cousin, who keeled over at the finish line of a half-marathon in front of hundreds of spectators? As PI for the family run business, Discretionary Inquiries, Lee follows the clues to Vegas, where she joins forces with Shoshone PI, Flint Tall Trees. Together they uncover a multi-million dollar betting syndicate, a tacky lounge lizard act, and a list of past but very dead runners, plus future ones to off. At the top of the 'future' list is the love of her life, Gurn Hanson. Hoping to force the culprits out in the open, Gurn and Lee's brother, Richard, vow to run San Francisco's famous Palace to Palace 12K in only a few days. Can Lee keep the two men she loves from hitting the finish line like her cousin? With more at stake than she ever dreamed possible, Lee is in a battle against time to stop the Alvarez Family's race with death.