Long and Short Reviews welcomes Charity Kountz, whose newest release Jason, Lizzy and the Snowman Village is now available. Leave a comment for a chance to win one of five Amazon Kindle e-book copies of Jason, Lizzy & the Snowman Village.
Aside from writing nonfiction articles for various clients, Charity and her husband (who co-writes the books with her) are writing the second book in the Jason & Lizzy's Legendary Adventures. The second book is titled Jason, Lizzy and the Ice Dragon. It will introduce readers to new fun characters and there will also be some new twists.
"My husband and I just love taking various mythology and legends and twisting them around until they are our own creation," she said. "We think kids are going to love the crazy characters we've come up with for this next book."
Charity grew up in an abusive home with two alcoholic parents who are no longer a part of her life.
"My life was far from idyllic," she admitted. "Throughout that difficult time, books were my escape and my salvation. From Walter Farley, Jack London and James Harriett, to Stephen King, Dean Koontz and Judy Blume, I read everything I could get my hands on. School was my respite from the pain and I threw myself into my classwork and reading.
"I had an insatiable appetite for language and learning (except math – nothing could really make me like that subject). I was in two spelling bees (even winning my local area spelling bee but my father wouldn't let me compete in the district competition). At about age 14, I received an English assignment from my 9th grade teacher to write a story around a girl in a raincoat in a dark alley. My very first novel attempt, titled "Dark Walk" and the character Selena Darkwalk was born. It was 14 pages and never did get completed but I will never forget that very first time, the exhilaration of typing out my story, almost unable to keep up with all the thoughts whipping through my head. I could see the scene so clearly, the character was so vivid. I learned then that writing stories was even more thrilling than reading them. Creating new worlds would become a new passion for me from that point on, an enduring theme throughout my life."
Ever since that first story, Charity has considered herself a writer; however, it wasn't until 2010 she began to call herself an author and began to pursue a writing career with focus.
"I realized this is what I was meant to do;  this was the gift I was given and I shouldn't waste it," she told me.
She was surprised that her first published book was a children's book.
"Having grown up in such a dark and troubled way, and spending 10 years trying to recover from that, I don't feel like I understand or connect with children very easily," she explained. "I was never given an opportunity to be a child and was old well before I should have been. By the time I was 18 I had seen more tragedy than some people see in an entire lifetime. While I'm a mother to two children myself, it still feels a little surreal sometimes. But with my husband's help I found myself really enjoying digging deeper and finding ways to reach children and exploring what it's like to be a child. Looking at the world through a child's eyes and the wonders around us has been a joy."
She met her husband through EHarmony in September 2010 and they married in April 2012.
"He is my rock, my partner, my best friend and my love of a lifetime. He's the most generous, giving, understanding and patient man I know," she said. "Our marriage was by far the smartest decision I ever could have made, despite being terrified of failure and having no idea what to expect as I'd never been married before. Divorce rates are high but I'm fortunate to love him so much I can't imagine life without him. For me, there will never be anyone who could ever take his place."
They have two daughters–her youngest is six.
"She is a delightful combination of spunky, giving, high-energy and incredible intelligence. She's quite a handful and has none of the childhood issues I grew up with," Charity told me. "My other daughter is actually my step-daughter and is my husband's child from his first marriage. But I love her like my own and she is a complete contrast to my other daughter. At 12 she's almost easier and so like her father. The day they came into my life was the biggest blessing I've ever received and I'm grateful for it daily."
"Do you ever suffer from writer's block?" I asked.
"I don't suffer from writer's block; I suffer from writer laziness and distraction. Writing is hard work and don't let anyone tell you otherwise. Somehow, putting your butt in the seat and working through a novel is almost akin to the best and worst kinds of torture. Never has the laundry been so direly in need of washing and folding as when I sit down to work on my latest work in progress. Even after 20 years, I have to force myself to actually DO the work, not just talk about the work. The actual work is very rewarding but it definitely is work. Sometimes the work requires blood, sweat, tears and every ounce of strength I possess. Other times it flows and it's like riding a glorious rainbow and landing in a pot of gold. Most of the time, it's just a lot of work. It took me almost two years to write my first children's novel and it's only 18,000 words. Hopefully the next book will be a little easier and each time after that will become easier. Already the plot for book two has come together much easier than book one's did."
Charity has read thousands of books throughout her life, with some of her enduring favorites being James Harriott, Terry Brooks, Naomi Novik, Mitch Albom, and too many others to list.
"I've read everything from classics like Huckleberry Finn by Mark Twain and The Count of Monte Cristo by Alexandre Dumas to modern day fiction by Diane Capri, Lisa Gardner, Sara Douglass, Elizabeth Hayden, Stephen C. Spencer, Elizabeth Gilbert, David N. Walker, and Patricia Cornwell.
"As an adult I spent a solid month in 2002 reading every book Terry Brooks wrote in the Sword of Shannara series. I was single and on Christmas break from my job at a local university so I had a ton of free time on my hands and no money. I literally checked out every hardcover book my local library had and it was a stack almost four feet high. Brooks is the author who originally inspired me to realize fantasy was the genre I loved the most and would be the genre I would predominantly write in."
"What was the scariest moment of your life?" I asked.
"There have been so many it's hard to pick just one but the one that immediately pops into mind is when my daughter was a year old. She'd just started learning to walk around that time and I was still a nervous first-time single mother. One night she woke up screaming like nothing I'd ever heard before. After about 30 minutes of that and trying everything I could think of, I called the pediatrician who thought she was possibly constipated.
"I rushed to a pharmacy for an infant suppository and when that didn't work, rushed her to the emergency room at 3 a.m. in the morning. Her screams bounced around that room for hours, almost driving me mad. I did not stop crying the entire time, just cried and rocked her, promised her I would make it better, that she would be okay while terrified at my helplessness. The doctors around us seemed oblivious to her wails, but finally after a few blood tests and a urine sample, talked to me about doing a full CT scan. It was clear they had no idea what the cause was.
"Fortunately at 7:30 a.m. my pediatrician, Dr. Christopher Tallo, walked in, saw my ragged tear-stained face, took one look at my daughter and said, 'That's not our little girl. Something's wrong.' In 20 minutes he had her sedated with a nasal drip, x-rays being processed and she was resting. Shortly after that, she threw up all over me and the doctor said something I'll never forget, 'That's a good sign.'
"A few moments later I heard him whoop from down the hall and come jogging toward me saying, "She's full of poop! She's full to the gills of poop!" Her x-rays showed she was full almost to her ribs and essentially her bowels had impacted, preventing her from having a bowel movement. She was moved into an ICU unit where they administered fluids and a liquid laxative. I never left her for a moment except to take a quick shower. She spent most of the day passing what was in her system and within 24 hours was a happy, content baby again. Within 48 hours we were back at home.
"The combination of pure helplessness, terror over the possibilities and then being among other children much sicker than my daughter made me face not only own mortality but also the fact that I cannot possibly protect my child from everything. She will get hurt, she can come to harm and nothing I do will prevent it if that's what's meant to be. All I can do is love her as completely as possible and give her all the tools I can to prepare her for the big, beautiful, sometimes scary world we live in and be grateful for every moment we have together. One of my first short stories, titled 'Alone', was inspired by that time in my life where I realized how alone, isolated, and vulnerable we each are."
Finally, I asked, "What advice would you give a new writer just starting out?"
"Writing can feel very scary and overwhelming initially. But the number one thing I've learned is that everyone will not love your writing. Some people will and some people won't. That's why art is subjective – the appeal of art is based around each individual's unique tastes, feelings, personality and a complex mixture of life experiences. You, as a writer, cannot possibly ever figure out the 'magic sauce' to appeal to everyone. So the trick is, to appeal to your own experiences and those who your words strike a chord with will be drawn to your work. For those who aren't, that's fine. Be glad of the readers and fans you've reached, and hold no grudges against those who don't appreciate your work. That being said, don't disregard everyone's criticism but instead think about it objectively and weigh it against your own inner writing instinct. Make sure the criticism improves the work in the manner you envision and use it. If it doesn't, don't be afraid to disregard it. If you've written the best work you possibly can, your work will stand up against the criticism."
About the Author:  
By day, Marketing Director. By night, published Author. Lover of CSI, writing, poker, animals, family fun & Twitter. Information Addict. Techno Geek.Wife. Mom.
http://www.twitter.com/charitykountz
https://plus.google.com/101407627758644659958/posts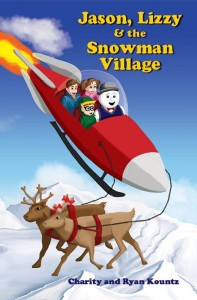 After Jason and Lizzy's family move hundreds of miles south from Chicago to Texas, leaving behind friends, school and the only home they've ever known, they are desperate for something familiar. Together, Jason and Lizzy make a late-night wish upon a star for snow that launches them on an incredible adventure even bigger than their recent cross-country move.
Join Jason and Lizzy as they make new friends, visit far-away lands, and learn, sometimes, home is more than where you live.