Long and Short Reviews welcomes Anne Barwell, whose newest book A Knight to Remember was recently released. Leave a comment for a chance to win a digital copy of the book.
A Knight to Remember is Anne's fifth title out with Dreamspinner Press. I asked her to tell us about them.
"Cat's Quill and Magic's Muse are contemporary fantasy and part of the Hidden Places series. Shadowboxing is book one of the Echoes series, and is set in 1943 in Germany during WW2.  Slow Dreaming is a time travel SF story set here in Wellington.  I've also written a free short story called Slice of Heaven which catches up with Jason and Sean two years later for Dreamspinner's Sexy Six anniversary celebrations.  A Knight to Remember  is a fantasy with dragons.
"My favourite of these is Shadowboxing. I've always had a weakness for that time period and stories set within it.  Shadowboxing was also the first thing I wrote which I knew was going to be a novel, although I did put it down for a while as all the research is rather scary.  I'm planning to write the other two books in the series as soon as I've done with vampires. They're plotted out so I know what happens, at least until the characters decide to change things, so I just need to sit down and write them.  I enjoy writing action/drama/romance with a good sized dollop of hurt/comfort aka whumping and this series is full of it."
The inspiration for A Knight to Remember was St George and the Dragon.  Anne was taking part in a Coffee Unicorns author chat and TJ Klune posed the question: what fairytale would you like to rewrite?
"Aric's sister is called Georgia, although she's far from a traditional damsel in distress and would probably kick my arse for even suggesting she might be," Anne said. "The rest of the story is really nothing like St George and the Dragon, unless you squint really hard, although there's a dragon in it."
With Anne, characters and plot tend to more or less turn up together.
"When I think up a plot, it's usually about a character or two, or because a character has turned up and wants their story written.  Or if it's just an idea, my first thought is about the characters I can use to bring those ideas to life," she explained.  "My writing is very character driven, and I usually have characters hanging around who I haven't written yet.  Several of them are getting very impatient as apparently I'm not writing fast enough so I can get onto their story. It's good, though, because by the time I'm ready to write, they've very much solidified in my mind and are their own person."
She has a full-time job in a library–working afternoons/evenings during the week and during the day on weekends. This really makes it important for her writing that she be organized–otherwise, it would be too easy to sleep in or kill time before work and not get any writing done.
"I set an alarm and make sure I'm sitting down to write by at least 10am," she told me. "That gives me regular writing time each day, and depending on where I am in a project, and how hard the muses are pushing, I'll also come home and do more in the evenings, and on the weekends.  People at work ask me how I manage to write so much with everything else I have going on. My reply is that I schedule it in, like I do with everything else.  It can get frustrating though when I have to stop and run for work at a crucial part of the story.  Writing a bit here and there quickly adds up to a reasonable amount, where if I waited until I had several hours' stretch before I did anything I'd probably get nothing done!"
When she does take a break from her writing and the library, she tends to do a lot of watching and reading.
"The watching is often with friends, and then we have long discussions dissecting what we've just watched. My daughter rolls her eyes a bit, and has commented that we're having 'those discussions' again when she's been home on movie night.  The shows I'm not watching with friends, I usually end up discussing with friends who are also watching them.  It's half the fun," she said. " Ditto with books. I work in a library so am surrounded by people who love to read. Our reserve piles are really really high. I won't mention how many suspended reserves I have on my library card. It's embarrassing.
"
I've just finished Clockwork Princess which is the 3rd book of Cassandra Clare's Infernal Devices series, so am now reading her Mortal Instruments series as the other series, which is a rather cool steampunkish YA fantasy set in Victorian London, is the prequel for it.  I'm loving both series, and especially the way they interconnect with the present day characters being descendents of the others. There are also a few characters who appear in both.  Her Shadowhunters world is an interesting one, and the stories are a mix of action, drama, and romance with a good dab of angst which are my favourite kinds of stories.   My favourite characters in Mortal Instruments are Simon and Magnus/Alec.  I suspect I'll get to the end of book 5 and then grumble about having to wait for book 6 which isn't out until next year.
"I also read a lot of graphic novels, mostly DC as I'm a huge Bat Family fan, with a sprinkling of manga, although a friend has recently tempted me into the dark side of Marvel by showing me scans of Billy/Teddy from Young Avengers." She sighed. "I was trying to stay away from Marvel as I had enough trouble trying to keep up with DC.
"Audio books are great for listening to in the car. I always have one on the go, although more often than not they are something from Big Finish Productions. They do great audios with a Dr Who connection, whether it be full cast audios with Drs 4-8, Companion Chronicles, or spinoffs such as Bernice Summerfield and Iris Wildthyme.  I bought a Highlander spinoff (Highlander: the TV series) full cast audio featuring the Four Horsemen last year. Loved it."
In addition to this she also has played violin in a local orchestra for over ten years, apart from a few years when she was studying full time. They practice on Monday nights and have three concerts a year.
"It's a lot of fun, despite the work involved," she assured me.  "Playing in an orchestra has really stretched my playing ability although some of the music still invokes a 'yeah right, like that's going to happen' response from our section."
She's also taken up knitting again after a break of several years because of RSI.
"At present I'm knitting socks on four needles which I've been informed are for my other daughter.  Apparently helping me to choose the wool meant they're for her. Who knew?" she said.
"What is it about fantasy/science fiction that attracts you?" I asked.
"I love the what ifs of the genres. I love being transported to situations that aren't the norm and either write or read about characters who find themselves in 'fish out of water' scenarios.  Give me something with time travel and/or psi powers and I'm usually hooked.  One of the first SF books I read was one my dad introduced me to called Wild Talent by Wilson Tucker, and it was about someone with psi powers. I totally blame him for my addiction to SF.  Another series he introduced me to was the Pip and Flinx series by Alan Dean Foster, which is about someone who has empathic powers and a dragon. We used to read them as they came out and then talk about them.  My dad passed away last year.  I miss him.
"Both SF and fantasy have so much potential to explore just about anything.  The only limit is imagination, and they're great at opening the mind to possibilities.  My reading and writing is very character driven, and how people react to very different situations, and yet don't lose their humanity really appeals. People are still people, whether they're on an alien planet or flung back in time to somewhere they have no clue about."
About the Author: 

Anne Barwell lives in Wellington, New Zealand.  She shares her home with two cats who are convinced that the house is run to suit them; this is an ongoing "discussion," and to date it appears as though the cats may be winning.
In 2008 she completed her conjoint BA in English Literature and Music/Bachelor of Teaching. She has worked as a music teacher, a primary school teacher, and now works in a library. She is a member of the Upper Hutt Science Fiction Club and plays violin for Hutt Valley Orchestra.
She is an avid reader across a wide range of genres and a watcher of far too many TV series and movies, although it can be argued that there is no such thing as "too many." These, of course, are best enjoyed with a decent cup of tea and further the continuing argument that the concept of "spare time" is really just a myth.
http://anne-barwell.livejournal.com/
http://annebarwell.wordpress.com/
http://coffeeunicorns.wordpress.com/
http://www.dreamspinnerpress.com/store/index.php?cPath=55_426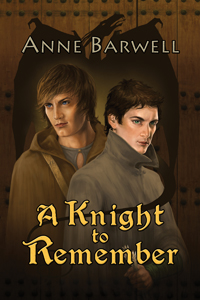 "The last of your line will be in the embrace of a dragon."
Aric, Crown Prince of Astria, has been brought up to believe that all dragons are evil. But when he speaks with one, he finds himself questioning those beliefs. The dragon tells him to find a sword in Sherwin Forest to save not only his kingdom but also his sister, Georgia, who must otherwise wed the prince of a neighboring kingdom.
At the start of his quest, Aric dons a disguise and meets Denys, an archer and herbalist who lives alone at the edge of the forest. Denys agrees to guide Aric into the forest, but then Georgia appears, revealing Aric's true identity.
However Aric learns he is not the only one keeping secrets. Denys has a few of his own that could change both of their lives forever.