Long and Short Reviews welcomes Enid Harlow, whose newest release Good to Her is a historical literary novel set against the backdrop of the famous New York City restaurant, Dinty Moore's, which stood at the corner of 46th Street just off Broadway for some 50 years. Enid's father was a regular at Dinty Moore's and as a child she often went there with for dinner with him.
"I was thrilled to see famous theatre and sports people such as Jason Robards Jr., Humphrey Bogart, Lauren Bacall, and Joe DiMaggio walk in," she told me. "I was also dazzled by the walls of sparkling mirrors and the constant the room. I loved seeing people who looked important come up and slap my father on the back."
Enid was born and reared in New York City and never lived anywhere else except when she was at college– a year at Smith in Northampton, MA and a year and a half at the University of Michigan. She finished at NYU, then spent a year in Greece.
"I love the diversity found on the streets of New York, the fact that those streets are never empty, and I love its water towers," she explained.
She's been writing, in one way or another, all her life. As a child, she made up little stories in her head and–more often than not–wrote them down. She continued as a teenager, but it wasn't until she got to college that she began keeping a notebook and physically writing in earnest.
She doesn't write genre fiction— focusing on literary fiction. Good to Her is her first attempt at historical fiction and she may try that again, but always within the context of literary fiction. She's always working on short stories and is very excited whenever one is accepted for publication by a literary journal. She's trying to get a collection published. In fact, she first considered herself a writer when her first short story was published in the Ontario Review, which was edited by Raymond Smith, and received a lovely comment about the story from Smith and his wife, Joyce Carol Oates.
Joyce Carol Oates are among the authors that have influenced Enid's own work–along with Henry James and William Faulkner.
"I love them for their long narrative lines and the psychological truth of their characters," she explained.
She's currently going back and re-reading some old favorites–she's just picked up Sherwood Anderson's Winesburg, Ohio and told me that she was thoroughly enjoying it.

"If you had to do your journey to getting published all over again," I asked, "what would you do differently?"
"I might make a more concerted attempt at networking, although, being an essentially private person, this does not come naturally to me. I don't much like talking about myself."
Finally, I asked, "What advice would you give a new writer just starting out?"
"Only do it so long as you feel passionate about it. Stop when it tires you, take it up again at another time. Always try to look at what you're writing from an opposite perspective."
If you would like a copy of Good to You, please leave a comment. Two random commenters will win copies of the book.
About the Author: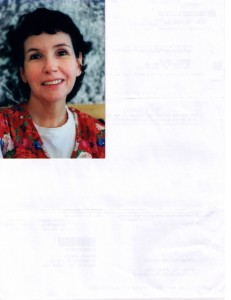 Enid Harlow is the author of three novels: GOOD TO HER, Strategic Book Publishing and Rights Co. (Houston, TX); A BETTER MAN, van Neste Press (Midlothian, VA); and CRASHING, St. Martin's Press (NY).
Her short stories have appeared in numerous literary journals of national distinction including TriQuarterly, Boulevard, Nimrod, The Ontario Review, Notre Dame Review, North Atlantic Review, Southwest Review, American Fiction, Quarterly West, The American Voice, and The Southern Review, among others.
Enid Harlow was awarded an Artists' Fellowship in Fiction by the New York Foundation for the Arts and has received two PEN Syndicated Fiction Awards. She earned her B.A. at New York University, College of Arts & Sciences, and her M.A. at NYU's Graduate School of Arts and Sciences. She lives and writes in New York, the city of her birth.
Find the author at Facebook and www.EnidHarlow.com
A Bit of New York City History Comes Alive in Dinty Moore Novel
For over 50 years, Dinty Moore's restaurant was a Manhattan legend before it finally closed in the early 1970s. Through its doors on West 46th Street passed such luminaries as Lauren Bacall and Humphrey Bogart, Walter Winchell and Damon Runyan.
The owner was James "Dinty" Moore, who gained earlier fame for thumbing his nose at the police during Prohibition. GOOD TO HER is a historical literary novel set against the backdrop of the famed eatery. The story takes readers back to the days of Prohibition and the police raids on Moore's establishment, often resulting in his compulsory appearance in court. Having fled the confines of a small town in Indiana, 20-year-old Sallie comes to New York with dreams of becoming an actress. She meets Nate, a 46-year-old successful New York businessman and Dinty Moore regular, who is instantly smitten with her.
Sallie often tells Nate how Good to Her he is. But Nate wonders about their relationship and their age difference. This exquisitely written period novel tells of a romance that seems to be too good to be true. Is it?
Buy the book at Amazon.