Long and Short Reviews welcomes Amelia Grey, whose latest book The Rogue Steals a Bride is out this month.  

The Rogue Steals A Bride is the sixth and final book in the Rogues' Dynasty Series. The main character that binds the six books together is Sir Randolph Gibson, a wily old gentleman who is a best friend to the heroes of the first three books. When Amelia's editor asked if she could continue the Rogues Dynasty for three more books, she decided to make Sir Randolph the enemy of the rogues in the last three books.
"Sir Randolph is the guardian of the heroine in this story and his story come full circle, too, in a dramatic conclusion to The Rogue Steals A Bride," Amelia told me. "I hope my readers approve of the ending."
Romance books have always been Amelia's favorite books to read.
"When my husband's job took us to Connecticut, my children had just started grade school. I was a stay at home mom. While the kids were at school, I needed something to fill my time. I didn't want to get a job outside the home so one day I decided to write a romance book," she explained. "I joined a local writers group and learned there were workshops on writing being held in New York City. I took the train into the city and took classes on how to plot, bring characters to life, create drama, do transitions, and many other things you need to know to write a successful book. I sold my first book to Warner Books in 1990. "
Before becoming Amelia Grey, the author wrote ten books as Gloria Dale Skinner and three as Charla Cameron, all of which were set in America.
"When I wanted to move to England and start writing Regency stories, my editor suggested I take a new name, a more English sounding name so after much thought I came up with Amelia Gray. And my editor said let's spell Grey the way the British do, not the American way so I became Amelia Grey and have been for eleven books now," she said.
One of Amelia's favorite authors of Regency romance is Amanda Quick. She's read all of Amanda's books and enjoyed them.
" The things I like most about her books are the snappy dialogue, fast pace storytelling, and intelligent heroines. I try to have all three of those things in my books, too," she said.
Amelia's tone is always light and humorous. She doesn't write dark stories or deal with heavy subject matter. In each of her books, she tries to put the hero and heroine into a fun or quirky situation and have them have to find a way to work themselves out of it.
"For example, in The Rogue Steals A Bride, Matson and Sophia both have darn good reasons why they shouldn't be together but in order to keep the book light-hearted and in my style of writing, I put a wily little boy-thief between Matson and Sophia to cause fun and trouble," she told me.
"How many books have you written?" I asked.
"I'm happy to say The Rogue Steals A Bride is my twenty-fifth published book. I'm so excited about it. It has a gorgeous cover, too."
"Which was your favorite?"
"That is difficult. I love every book I write. If I didn't love the story and characters I would put it aside and keep working until I came up with a story and characters I loved.  If I don't love them, I can't make you love them. I do have some books that have more meaning for me than others because of the story. For instance, my book Ransom, written as Gloria Dale Skinner, is the good sister/bad sister story. I have four sisters and I put a little of all four of my sisters in that book. I especially enjoyed A Marquis To Marry because the heroine had been married before and wasn't new to love or love making so that was different for me and an enjoyable book to write. And lastly, A Little Mischief was simply fun for me from the first page because I had a dead body go missing and then show up again later in the book and then go missing again!"
Finally I asked, "What advice would you give a new writer just starting out?"
"The best advice I can give is what has worked for me. Write what you love to read. There are some natural storytellers who sell the first book they write but that wasn't me and if it's not you, there is help. The good thing is that what you don't have in natural ability you can learn as a skill. Join a writers group and make friends so you can discuss your plots and characters or talk about the business with them. Take writing courses. Write a little at least five days a week so you will get into the habit of thinking about your book. Once you get the book written, send it to an agent or editor."
About the Author:   New York Times and USA Today bestselling author Amelia Grey's awards include the Booksellers Best, Aspen Gold, and the Golden Quill. Writing as Gloria Dale Skinner, she won the coveted Romantic Times Award for Love and Laughter and the prestigious Maggie Award.  Her books have sold to many countries in Europe, Indonesia, Russia, and most recently to Japan. Several of her books have also been featured in Doubleday and Rhapsody Book Clubs. Amelia read her first romance book when she was thirteen and has been a devoted reader of love stories ever since. She is the author of twenty-five books. Happily married to her high school sweetheart for over thirty-five years, Amelia lives in Northwest Florida.
She loves to hear from readers! Please email her at ameliagrey@comcast.net, follow her at Facebook.com/ameliagreybooks, or visit her website at ameliagrey.com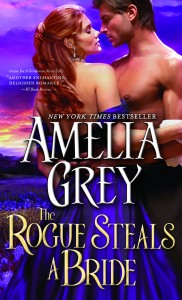 Matson Brentwood has finally met the woman of his dreams. The lovely, red-haired Sophia Hart heats his blood like no other lady.  Her alluring countenance has stopped him dead in his tracks. But no matter how attracted he is to her, he can't give into his desire to possess her in every way because she is the ward of the man he's sworn to hate.
Newly arrived in London, Miss Sophia Hart is looking for a husband—for herself and for one of her twin spinster aunts who has decided she wants a man. Sophia agrees to help her aunt by allowing older gentlemen to call on her and then come up with ways to make sure her aunt spends more time with the gentleman than Sophia does.
But there's more than just an unwanted guardian and a long list of beaus standing between Sophia and Matson.  Sophia can't give into the maddening charms of the darkly handsome and intriguing Matson. She must deny her love for him and pay her debt to her father for costing him the love of his life.