Long and Short Reviews welcomes Electra Shepherd, Her latest book Man or Machine, Book Two in the Body Electric series, was released earlier this month by Ellora's Cave.  She's also the alter ego of a bestselling, award-winning women's fiction writer, who made her up because she wanted an outlet for the weird things in her imagination. The name Electra Shepherd is a tribute to one of her favorite science fiction writers, Philip K Dick, and the title of his android story "Do Androids Dream of Electric Sheep?" which was the basis for the film Blade Runner.
"It's sort of nice being an alter ego," she told me. "I get to wear a silk mask in public and I eat all of her chocolate when she's occupied elsewhere."
In Man or Machine, Computer genius Ilsa builds a robot, Dallas, to be her sexual companion, but her ex-boyfriend Hal sneaks into her house to steal her secrets. Of course she has to tie him up, and then, of course, Dallas has to have sex with both of them, to extend his knowledge of human sexuality.
All of that is in the blurb. What's not in the blurb is that the robot Dallas is also trying to extend his knowledge of human love…and by the end of the book, he's fallen in love himself. With someone quite unexpected.
Electra is currently working on the third book in the series which is going to be called Hardware. It's about Dallas and his lover as they learn about love in some rather unusual ways.
"What inspired you to start writing the Body Electric series?" I asked.
"It was during Hurricane Irene. The wind was blowing hard enough to lift the house straight up into the air, and I was trying to distract myself by coming up with the funniest book idea I could write. 'What if,' I thought, 'I wrote an erotic novel about a woman who falls in love with a big blue robot?'
"(My mind is quite a strange place sometimes.)
"The power had gone out, but I lit a candle and immediately started writing. When the power came back on and it was safe to go outside, I told the premise to several people and they all fell about laughing, so I knew I had a winner. In fact, that one idea has spawned an idea for an entire series of sexy novels, Body Electric, about a genius family and their robots. It was originally going to be a trilogy, but I'm a big Douglas Adams fan, so I'm planning a trilogy with five books."
She's currently reading I, Robot by Isaac Asimov. You might think she's reading it because she writes about sexy robots, but she's reading it for another reason.
"My friend's mother was a huge sci-fi fan, and when I started writing my books about robots, she thought it was great. I, Robot was her favorite book and she took the time to outline Asimov's rules of robotics to me. She loved that I'd chosen to name myself after a Philip K Dick novel. Sadly, she died of a brain tumor last month and in her memory, we're reading her favorite book for our book club meeting."
"What do you do about writer's block?" I wondered.
"I've found that if I make myself sit down and write entirely in binary (00000010000001100001111001111111) eventually I get so bored that I have to get back to the darn story to keep myself awake."
Electra told me that any book can be improved with the addition of aliens, robots, or monsters.
"And big guns," she added. "Big guns are also good. If Emily Bronte, Harper Lee and JD Salinger had known this simple fact, they would have been much more prolific in their lifetimes, and think how much richer the world of literature would have been."
When she was young, Electra wanted to be Princess Leia when she grew up.
"Precisely, I want to be her at the moment where she's wearing a metal bikini and strangling Jabba the Hutt," she qualified.  However, I harbor a sneaking suspicion that if I were ever indeed, like Princess Leia, placed in a metal bikini and chained to a grossly obese and drooling alien in the shape of a giant poo, I would utterly fail to wrap my imprisoning chain around the evil alien's neck and strangle him. I think I would probably just belly dance at his will and become crabby and passive-aggressive. This is an enduring disappointment in my life."
"How do you do research for your books?" I asked.
"Are you kidding? I make all this stuff up out of my own head. Try Googling 'make a robot penis' and see what sort of nonsense you get. My Google searches are the stuff of nightmares. But I have made a research trip in real life. In my first book, Love Machine, the characters have to make a penis for the robot hero, Blue. While I was writing it, I went into a sex shop in Vancouver and carefully examined each one of their blue dildoes and vibrators. Because, you know, insider (ahem) knowledge is vital for this sort of thing."
Electra told me that the scariest moment of her life was when they stopped making any new Star Trek television series.
"Major panic time!" she assured me. "Fortunately I have several copies of the DVDs of every show ever made, hidden away in a secure metal-lined underground bunker. And at least we have the new movie to look forward to, though as far as I'm aware, it's shockingly android-free. This is WRONG, people."
"What would we find under your bed?" I asked.
"He really likes being tied up there, and he's perfectly contented on a diet of dust bunnies and odd socks. Honest."
Finally, I asked, "
Could you ever co author a book with someone? If so, who would you choose, and what would you write?"
"Actually, I used to be part of the collective calling themselves B. H. Dark, who wrote a sexy romantic comedy called Close Encounters, about four humans being abducted by aliens in order to form an intergalactic porn empire.
It's good to belong to a collective. It's sort of like being part of the Borg."
Find Electra online at
http://www.electrashepherd.com
http://www.facebook.com/ElectraShepherd?ref=hl
https://twitter.com/ElectraShepherd
Man or Machine
Book two in the Body Electric series.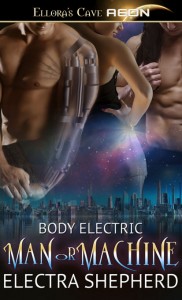 Geek-girl Ilsa Morgenstern has had enough heartbreak to last a lifetime, so she builds Dallas—a smart, sexy male robot—to keep her satisfied without requiring any pesky emotions. She's not expecting Hal, her computer genius ex-boyfriend, to break into her home in an attempt to steal her family's tech secrets. And she's certainly not expecting that Dallas will want Hal and Ilsa to increase his knowledge of human sexuality by having sex with him—both separately and together.
As the robot/human encounters get closer—and even hotter—Ilsa's feelings for Hal threaten to resurface. She's determined to avoid heartbreak again, but sometimes a girl has to accept that the man—er, robot—you think you want is only seventy-four percent of the man you need.
Inside Scoop: This book contains male-male action, a male-female-male threesome and a robot who learned his speech patterns from watching internet porn. Yeah, baby.
Electra's books:
https://www.ellorascave.com/index.php/authors/index/author/slug/electra-shepherd/order/by-title
http://www.amazon.com/s/ref=ntt_athr_dp_sr_1?_encoding=UTF8&field-author=Electra%20Shepherd&search-alias=books&sort=relevancerank