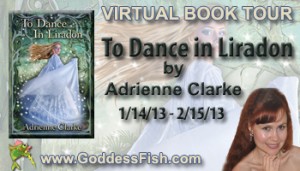 This post is part of a virtual book tour organized by Goddess Fish Promotions. Adrienne will be awarding winner's choice of a Kindle touch, Nook Simple Touch, or a $100 Apple gift card, and one crystal Faerie necklace similar to what Brigid wore to the Faerie ball to a randomly drawn commenter during the tour. Click on the banner to see the other stops on the tour.
Long and Short Reviews welcomes Adrienne Clarke, who is visiting with us as part of her virtual book tour with Goddess Fish Promotions.
Adrienne, when did you first realize you wanted to be an author?
I can't remember a time when I didn't want to be a writer. I fell in love with storytelling in all its forms at a very early age, and I always understood it was something I wanted to do.
What inspired you to write?
Books inspired me to write. Reading so many wonderful stories inspired me to write my own. The craft of using words to create imaginary worlds that enrich other peoples' lives, including my own, is amazing to me.
Why do you choose Young Adult Fantasy Romance as a genre?
I've always been drawn to YA fiction for its passion and idealism, but I'm not really aware of having a chosen a particular genre. I simply strive to write the kinds of books I like to read. Although much of my work contains fantastical elements, I also write literary fiction, mystery, and psychological horror.
Is To Dance in Liradon your first book?
To Dance in Liradon is my first published book, but not the first book I wrote. My first novel, Losing Adam, is still looking for a home.
Did you find it difficult to have it published?
Except for the lucky few, most writers seem to find the process of finding a publisher extremely challenging. Patience and perseverance are definitely required. Whenever anyone asks me for advice I always say the same thing: Don't give up!
Where do you get the necessary inspiration?
I think inspiration is everywhere – you just need to open yourself up to different possibilities. So much of writing is daring to live the unlived life – to ask yourself: What if?
How do you deal with criticism?
I try to learn from criticism – use it to make my work better. The best way to do this is to surround yourself with people you trust; people who are good readers as well as writers. Of course, you also need to accept criticism from agents and editors. This doesn't mean you have to accept everything they say about your work, but you do need to think deeply on the feedback you receive, so you can distinguish between constructive criticism and comments that are just a matter of personal taste.
Does your writing need a lot of research?
Yes! I've done a lot of research for all my books. It's more than just getting the details right – it's about capturing the right tone – the right emotional intensity for the story. The novel I'm working on right now is a ghost story/romance set in Victorian London so I've been doing a ton of research on the Victorian period, especially ghosts, séances, and spirit mediums.
I'm looking forward to reading that one—I love the Victorian age! Do your own studies help you in the creation of your characters?
My characters come to me in a variety of ways, but my professional life, or day job you might say, has certainly influenced my writing life. I've spent a lot of time at universities working with students, trying to understand their fears and insecurities, and that helped me to develop the voices of the characters in my first novel Losing Adam, who also happen to be university students.
Is there anything you want to tell the readers?
Only thank you so much for visiting me today. My favorite thing about being a writer is the opportunity to connect with readers. If you're interested in To Dance in Liradon or any of the things I've talked about I hope you'll drop a line, tweet, post, whatever! I love to chat.
About the Author: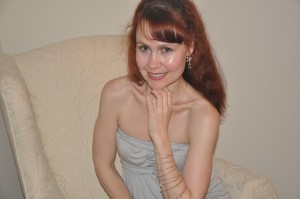 I think I became a writer because the world inside my head was so real and vivid, sometimes more so than the outside world. In some sense I have lived parallel lives, present in my real and imaginary lives in different ways. Because much of my childhood was spent searching for faeries or reading about them, it is natural that my work encompasses fairy tale themes and other magical elements. In the words of Tennessee Williams, forget reality, give me magic!
I have previously published short stories in The Storyteller, Beginnings Magazine, New Plains Review, and in the e-zines A Fly in Amber, Grim Graffiti, Les Bonnes Fees, The Altruist, The Devilfish Review, and Rose Red Review. My short story, "Falling," was awarded second place in the 2008 Alice Munro short fiction contest. To Dance in Liradon is my first published novel.
I am an avid reader of fairy tales and other magical stories and a thread of the mysterious or unexpected runs through all of my work. When I'm not writing, I can be found searching for faeries along with my daughters Callista and Juliet.
Find me online at:
Website: www.AdrienneClarkeWriter.com
Facebook: https://www.facebook.com/#!/ToDanceInLiradon
Goodreads:http://www.goodreads.com/author/show/6436251.Adrienne_Clarke
Twitter: https://twitter.com/clarkeadrienne
Seventeen-year-old Brigid O'Flynn is an outcast. A chance encounter with the Faerie Queen left her tainted in the eyes of the villagers, who blame the Faerie for the village's missing women and children. Desperate to win the village's acceptance, Brigid agrees to marry her childhood friend: Serious, hardworking, Connell Mackenna. But when Connell disappears before their wedding, Brigid's hopes are shattered. Blamed for her fiancé's death, Brigid fears she will suffer the same fate as the other village outcasts, the mysterious Willow Women. Lured into Faerie by their inhuman lovers, and cast out weak and broken, the Willow Women spend their lives searching for the way back into Faerie. When Connell suddenly reappears, Brigid is overjoyed, but everything is not as it seems. Consumed by his desire for beauty and celebration, Connell abandons his responsibilities, and Brigid soon finds herself drawn into a passionate, dangerous world of two.

When Brigid discovers the truth behind Connell's transformation she's forced to choose between two men and two worlds. Brigid's struggle leads her into glittering, ruthless Faerie, where she must rescue her true love from a terrible sacrifice or lose him forever.