Long and Short Reviews welcomes Marie Harte as she celebrates the release of her latest book Zero to Sixty. Enter the Rafflecopter for a chance to win a bundle of Test Drive and Roadside Assistance.
BAD BOY SAM + GOOD GIRL IVY =
LEARNING TO LOVE AGAIN

After her last disaster of a relationship, Ivy Stephens is content being single. She has her job, her apartment—and the cute little puppy she's seen hanging around. When he escapes, she finds her search efforts aided by a big, burly, devastatingly handsome man. One who claims a prior claim on her dog.

Sam Hamilton is at loose ends since his best friend fell in love. He finds a sense of purpose in rescuing strays. The puppy who's stolen his heart just happens to run into blond, beautiful Ivy. And Sam can't help hoping she'll take in one more stray—him—for good.
Enjoy an Excerpt:
They walked down the street and turned right. After a few more blocks they passed the middle school, heading toward the park bordered by Blaine Street. Despite the late hour, a few parents and children still played on the swings.
Ivy felt a moment's envy, that her own perfect family didn't exist and likely never would. She should be glad, really. Imagine if Max had gotten her pregnant the way he'd wanted to when they'd first started dating? All those years supporting him through undergraduate school had been difficult enough. But with a baby on board? Then his leaving her high and dry for law school and that perky blond would have hurt a lot more.
She should be glad to be strong and independent and single. Who the hell needed a man anyway?
Someone shouted from the other side of the street, and she started.
"You okay?" Sam put a hand on her shoulder to keep her from tripping over her own feet.
She felt safe next to his large presence. "Yeah, wasn't paying attention." Then, to prove she really didn't need a man to protect her or stop her from being clumsy, she stepped away and called out for Cookie. By herself.
They walked all around the park and deeper into the West Queen Anne neighborhood. Despite Sam still being a stranger, he seemed on the up and up. He called out for the dog. They walked near each other but not too close. She saw him watching her, but when she'd look at him, he appeared to make an effort to seem nonthreatening. Hands in pockets, keeping his distance.
She found his actions comforting—and charming, oddly enough—because he didn't seem to be trying to impress her. He'd sworn. Called her a hot chick, and he—
"Sam." She pointed to a small moving shadow near a house on the corner of 4th and Blaine.
He nodded and raised his voice. "Scruffy. Come."
The shadow picked its head up and took a step in their direction.
"Cookie, come here," she added and made a few kissy sounds. "Come here, boy."
A tiny yip, and then the little guy was bounding toward them. Sam and she crouched low, so as not to threaten with their size. But Cookie didn't seem to care. He went to Sam first, his tail wagging and his tongue licking everywhere he could reach.
Ivy watched Sam's stern demeanor melt into a smile that stole her breath. When he wasn't looking so serious or tough, he was…beautiful. His smile reached his eyes, and the joy on his face was infectious.
About the Author: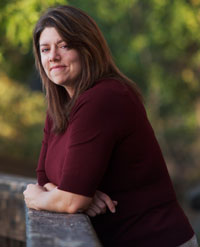 Caffeine addict, boy referee, and romance aficionado, MARIE HARTE is a confessed bibliophile and devotee of action movies. Whether hiking in Central Oregon, biking around town, or hanging at the local tea shop, she's constantly plotting to give everyone a happily ever after. Visit www.MarieHarte.com and fall in love.
Buy the book at Amazon, Barnes and Noble, or iBooks.