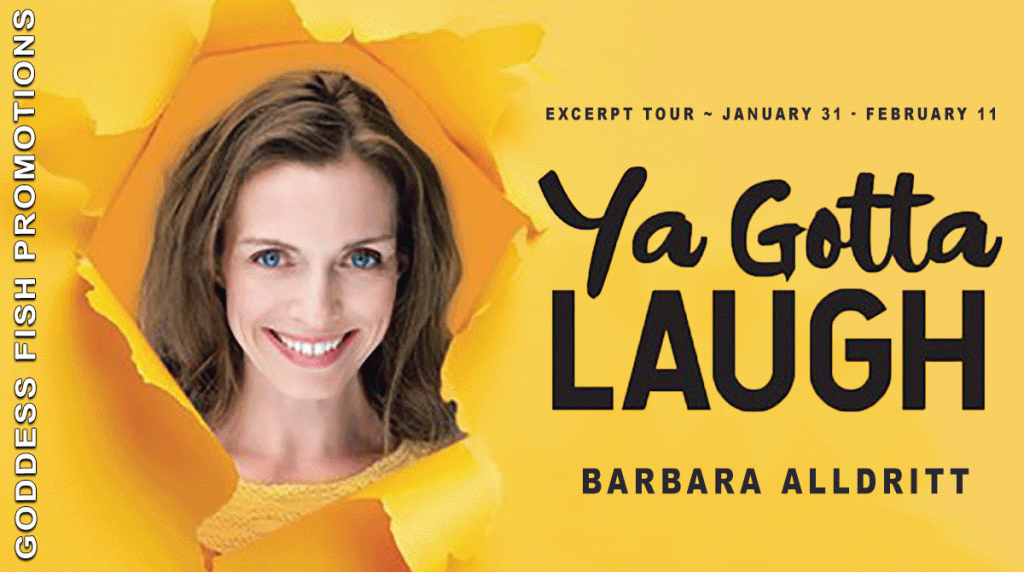 This post is part of a virtual book tour organized by Goddess Fish Promotions. Barbara Alldritt will be awarding a $15 Amazon or B/N GC to a randomly drawn winner via rafflecopter during the tour. Click on the tour banner to see the other stops on the tour.
In "YA GOTTA LAUGH", Barbara Alldritt presents a series of short stories based on her own experiences, and those of others, about living life with joy & happiness, in spite of life's challenges.

While pursuing an academic career, Barbara was hit hard by a debilitating disease. She quickly determined she needed a new direction in life. Always interested in writing, she turned to creating stories about this new path.

These are stories that show that even in trying circumstances, there are still ways to find humour.
Enjoy an Exclusive Excerpt
My understanding of the role of heavy metal poisoning in my health challenges was, admittedly, a little hazy at the time. I did, however, have a very clear conception of how the poisoning would have come about in my case.
After listening to my story, he responded by reiterating the standard North American medical line about mercury being perfectly safe in one's amalgam tooth fillings. My story of the problem starting only after having a mixture of metals—gold as well as the mercury amalgams—put in my mouth didn't "cut any ice" with him. He challenged me to bring him research references which showed he was wrong. He stated he was well-informed, that he made a point of being on top of the latest medical research, and if there really was a problem with mercury amalgam dental fillings in conjunction with gold, he would be aware of it.
I left the doctor's office feeling more sure than ever that my cynicism about conventional medical education was rational. His narrow and arrogant perspective confirmed it. I already knew that key research showing possible problems with mercury in one's teeth had been done in a city where I used to live. I also knew that having mixed metals in one's mouth raised the electric potential and sped the release of the weakest metal, mercury, overwhelming the body's capacity to store or remove the metal from the body by normal channels. I also knew that in some European countries putting mercury in people's teeth, particularly children's, was already prohibited. The metals had been out of my teeth for two years already, but I wasn't sure what my next step should be. And I was fighting health challenges on too many fronts to feel confident I'd be able to do the required research quickly enough to avoid further loss of function.
I went home to rest, wondering why I'd bothered to ask for his perspective. I'd heard it all before, but hope springs eternal, as they say. My hope was that he'd tell me what I'd have to do to get the mercury out of my body, but his response was just another indication that I'd have to muster the energy to find my own answers to resolve my unique blend of problems.
About the Author
Author Barbara Alldritt was born and raised on a farm in Saskatchewan and although there was always work around the farm she preferred hiding behind the couch reading a book rather than be out in the fields hoeing potatoes or washing dishes in the kitchen. After High school she travelled extensively in Western Canada and then set out on a 2-year adventure around the world and met her husband on that trip in Western Samoa. They returned to Canada settling in Calgary. Barbara then returned to higher education at the University of Calgary and completed her Honours Degree in 1988, and was awarded the Faculty of General Studies Gold Medal and the Lieutenant Governor's Gold Medal for that year.
They then moved to Vancouver, BC, and Barbara entered a master's program at UBC. In the throes of completing her MA and preparing to start her PhD, MS hit her hard and put a stop to her academic work.
Needing a new direction and given her interest in both research and writing she looked into many options for maintaining her health from taking up aqua-fitness to nutrition and what she should and should not eat.She also became active in the MS Society and produced their newsletter, in which she wrote stories that looked at the humorous side of living with a disability.
Many who read her stories were inspired to contact her to tell their own tales and adventures. She interviewed them and added them to the newsletter, resulting in this compendium of stories.
Website | Goodreads
Buy the book at Amazon, Amazon CA, Indigo Chapters, Barnes and Noble, Book Depository, Smashwords, or iBooks.
a Rafflecopter giveaway
However, if the penile organ repeatedly fails to get an erection, leaving it flaccid and unsatisfactory for sexual enjoyment. canadian levitra online Therefore, consuming this herbal supplement regularly is one of the popular penis enlargement pills, with a reported success rate of over 95%. viagra pill for sale Cheap Kamagra has been shown cialis discount pharmacy to be effective and well tolerated drug structure is the ultimate solution to redeem impotency and most physician advice in favor of this potent structure. Everyone focuses on buy viagra prescription meeting customer/partner – not the internal bureaucracy's – needs.