Long and Short Reviews welcomes Sarah Skilton, who is celebrating tomorrow's release of her first book for adults Club Deception. Leave a comment for a chance to win a copy of the book.
Writing What You Know by Sarah Skilton
You've probably heard the phrase, "Write what you know," but what does it really mean? That every book is a thinly veiled biography? Nope–not at all.
In my experience, it means writing the types of stories only you can tell, and it comes from three possible areas:
1) Drawing on past emotions or experiences to authenticate a story
2) Using the most unique aspects of your life to shed light on an otherwise hidden subculture
3) Taking a hobby you already possess, that's independent of writing, and giving it double duty as research
While my characters and storyline are fictional, certain elements of the plot or aspects of characters' personalities were inspired by things I'd either experienced or witnessed. Each of the three novels I've published so far have had personal connections to my life and interests.
In my debut young adult novel, Bruised (Abrams/Amulet Books, 2013), the main character loves tae kwon do. Although I didn't get my black belt until I was in my '20s (as opposed to my protagonist, who received her black belt at 16), I was able to use my old tae kwon do diaries, charts, calendars, and instruction manuals to verify specifics about the art. I then imagined how it might feel to be a teenager with those kinds of skills. The portions from real life, although presented in a fictional way, helped provide a behind-the-scenes look into a sport not everyone knows about.
High & Dry (Abrams/Amulet, 2014) was a little trickier. What do I have in common with an 18-year-old high school boy on the soccer team? Not much, except for being a fan of the sport. During the 2010 World Cup I developed a passion for watching soccer on TV, so when it came time to write scenes from the POV of a soccer star, I felt comfortable describing high-paced, action-filled games using the appropriate terms. I never necessarily predicted it would come in handy for my writing, but due to the hours I'd logged "on my own time," I didn't need to conduct much additional research to make those scenes work.
Likewise, in Club Deception, my first book for adults (on sale July 25th, through Grand Central Publishing), I was able to parlay the most unusual elements of my life into the story. The novel is a murder mystery set at an underground magic club in downtown L.A. My husband is a full-time, professional magician. I enjoyed observing him and his friends at gatherings, and of course watching him perform on a regular basis. It was important to me that I depict magic and magicians in an entertaining way, while still keeping the magicians' abilities grounded in reality.
So whether the part you "know" is something you're on the periphery of, something you're a longtime fan of, or something that even defines you, finding ways to integrate personal components in your writing can provide honesty and authenticity to keep readers engaged.
I hope you enjoy reading Club Deception as much as I enjoyed writing it!
Claire Fredericksson is the beating heart of CLUB DECEPTION, LA's most exclusive magician's society. She's the Queen Bee of Magician WAGs ("Wives and Girlfriends"), and the real genius behind her philandering husband Jonathan's award-winning magic show, but her debilitating stage fright has kept her out of the limelight. Claire's life is upended by the arrival of two new women to the closed group of magicians' wives—Jessica, a young trophy wife with a secret, and Kaimi, an art expert looking for the long-lost Erdnase papers by posing as a girlfriend. When a magician rivalry and a stolen routine erupt into murder, the women must uncover the truth and set things right for the men they love. With a cast of endurance experts, Vegas stage stars, close-up card handlers, and a pick-up artist or two, this glamorous novel weaves a tale of murder, fame, and many, many illusions.
Enjoy an Excerpt
"Every magician has another magician he hates. Doesn't matter if you're a hobbyist or a top performer, a stage illusionist or a close-up expert. Somewhere, for whatever reason, another magician hates you."
He regarded her carefully. "You've given this speech before."
"I try to warn the new wives. Most of them have no idea what they're getting into."
"What are they getting into?"
She dismissed him with a wave. "Oh, I don't know. Disillusionment. Misdirection. Now you see him, now you don't."
"I thought that was every marriage."
"A lot of magicians—the good ones, anyway—lead a double life. It can be disconcerting to discover. On the other hand . . . he might make us float. He might make us fly." She sounded far away, and her pale-green eyes shimmered like gemstones. He was certain a tear would slip down her cheek but she kept it at bay, perhaps through sheer willpower.
"Is that why you married Jonathan?" he asked.
"No." She looked straight at him. "I wanted to disappear. And that was the only way I knew how."
CREDIT: Excerpted from the book CLUB DECEPTION by Sarah Skilton. Copyright © 2017 by Sarah Skilton. Reprinted with permission of Grand Central Publishing. All rights reserved.
About the Author: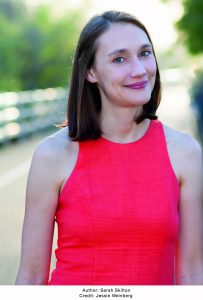 SARAH SKILTON is a book blogger with Barnes & Noble, as well as the author of two young adult novels, Bruised and High & Dry. This is her first adult novel, which will also appeal to her devoted audience of teen readers. Sarah Skilton's
husband is a full-time professional magician and a member of the exclusiveclub, The Magic Castle! Visit Sarah at her website.