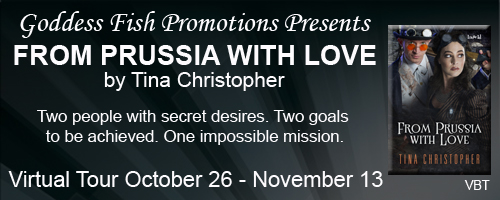 This post is part of a virtual book tour organized by
Goddess Fish Promotions
. Tina Christopher will be awarding a steampunk jewelry set, which contains a necklace and a pair of earrings as well as a 8 book collection of her books to a randomly drawn winner via rafflecopter during the tour. Click on the tour banner to see the other stops on the tour.
Writing Tips-Goal, Motivation, and Conflict
Hi there! Thank you so much for having me.
I love to hear from authors about their process and how they prepare for the next book. It's fascinating and helps me to rethink—and sometimes adjust—my own.
Over time, well, pretty much with every book, my process changes a little bit. One book I'll do this, but in the next I'll add that. But the one thing I will do for every story: I always put together the GMC for my heroine, my hero and my villain.
GMC stands for Goal, Motivation and Conflict and is a book written by Debra Dixon.
It is my bible:).
Even if you don't outline and are a complete pantser, I recommend to at least think about the internal and external GMC. It will keep you much more focused and will answer the all important question: Why?
In case you are not familiar with GMC, the grid looks something like this:
The Wizard of Oz
| | | |
| --- | --- | --- |
| Dorothy                  | External      | Internal |
| Goal  | Overarching Goal: Get home | She wants to find her heart's desire and a place with no trouble |
| | Intermediate Goals: get to Emerald City, see the Wizard, get broomstick | |
| Motivation  | Auntie Em is sick and Dorothy wants to get back to her (the Wizard has the power to send her home, but he has a price for sending her home, which leads to an intermediate) | She is unhappy and trouble follows her everywhere |
| Conflict  | The Witch, the balloon lifts off without her | She doesn't know what she wants |
The character can have one overarching goal (get home), but to get there she has to fulfill a number of smaller goals (get to the Emerald City, see the wizard, get the broomstick).
I look at my idea, my characters and what I'm thinking off as the plot and then set out to discover what my heroine's ultimate goal is, both for the plot of the story and for the internal growth, why she wants to reach these goals and what stands in her way. Every time I do this I gain insight into my character and focus the story.
I am a plantser. I outline what will happen, but then pants the individual scenes.
If you're interested, here's the link to buy GMC. Or you can just google it, loads of info on the web:). I definitely recommend the book, just because I like to highlight and comment on things.
Is there something you do with every book no matter what?
Clara Redbeck has one goal: to prove to the sods at work—and to herself—that the best man for the job can be a woman. To do that, she must prevent a traitor from blowing London to bits. If only the dashing first mate of the dirigible she'd been tasked to plunder didn't set her aflame.

Garrett Dewhurst has one goal: to execute the coup of a lifetime. His plans do not include a spanking dalliance with the most intriguing woman he has ever met.

With each encounter, the fire between them burns hotter and their need grows stronger. Finally, the cramped cabin aboard the Bismarck becomes their intimate playground, where Garrett introduces Clara to the pleasure of submission and they explore their passion in every way possible.

Clara and Garrett want a future together, but each holds a secret that if revealed could cost them everything. When danger closes in, they have to choose between protecting themselves or the whole of London.
Enjoy an excerpt:
She didn't respond. Instead she studied him from the tips of his boots to the top of his head and every inch in between. Heat spread through his body, unexpected and not completely welcome.
Then she mirrored his stance right down to the raised eyebrow.
Unable to help himself, he smiled.
It had been a very, very long time since a woman had intrigued him after exchanging just a few sentences. She took his breath away and made him want to laugh. Judging by her frown, this was not the response she'd expected.
Garrett turned to Jens. "I believe you have other passengers to look after. I'll take care of Miss Riesenbeck and anything she may require."
Jens nodded. He bowed to both of them and practically ran away.
"I don't know if I should be insulted at the speed of his departure or pat his cheek."
Garrett chuckled. "Neither. I just think you are too much woman for him. He wouldn't know how to handle you."
She widened her eyes. "And you do?"
He curved his lips and knew his smile carried an edge. "Would you like me to prove it?"
She scrutinized him, leaving him hanging on the lip of the abyss, waiting for her response.
"Give me the tour Jens had promised to escort me on, and I will let you know at the end."
Challenge curled through him. He bowed lightly but continued to hold her gaze captive. "Please step into my cargo hold."
Her smile lit up her face. Her beauty was not conventional, but in that moment, it grabbed him by the throat. "Said the spider to the fly."
"Will you step into my web?"
She turned around and threw a glance over her shoulder. "That has yet to be determined." She strode to the door, and Garrett fell into step behind her.
About the Author: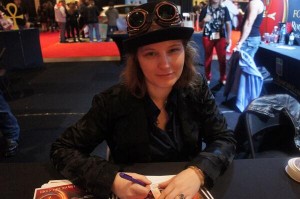 Tina Christopher spent her early years flitting across the Channel between Germany and England. After touring the world extensively—from hanging out with elephants in South Africa to hiking through the wilderness in Alaska—she finally laid down roots in Toronto. Although Canada's winters may be frigid, Tina's characters are anything but!
Like most writers, Tina often hears voices in her head, but it took the encouragement of an editor friend to have her actually put fingers to keyboard. While those first stories will never see the light of day, she's subsequently honed her craft and learned to build not just worlds, but entire galaxies. History has always been an area of interest for her, and she's enjoys few things more than imagining what could happen when history and future meet.
When not imagining far-away worlds and scorching-hot encounters, Tina can be found on her sofa working through her never-ending TBR pile or venturing into the real world—whether to a nearby café or a passport-required destination. She's a member of the Romance Writers of America Toronto chapter and looks forward to where her characters take her next!
Website | Twitter | Facebook
Buy the book at Amazon.