Long and Short Reviews welcome Kris Calvin whose debut mystery One Murder More was released yesterday.
*****
Reading came naturally to me. Writing did not.
In college I studied economics and psychology. I wanted to be a community college professor, but couldn't find a position. Divorced, with two young children, I needed a paycheck. It was a downtime in the economy and over several months I applied for 100 jobs. (I counted.) In the end, I was asked to interview at a newspaper, a childcare center and a statewide medical association. The last made me my only offer, to become their Director of Mental Health Policy.
The title "director" was evidently honorary, as I had no one to direct—like Yertle the Turtle, I was in charge of all I could see, which wasn't much. But the job did require me to write. A lot. I analyzed research and laws regarding health care and wrote policy briefs and memos. More recently, I've been CEO of a nonprofit in children's health active in politics and advocacy in Sacramento, California's capital. I've also served as an elected official on my local school board. Both required a near-daily production of nonfiction writing. Still, despite reading two to three novels a week (my primary entertainment in downtime from my job or my kids), it didn't occur to me to write fiction until three years ago, when I picked up Kate Atkinson's mystery novel Case Histories.
Atkinson challenges her readers to engage across multiple stories that come together in the end. That book sparked something in me. I thought about my depth of experience in politics, and the insider stories I had to tell.
I sat down the next day, and wrote for three months. The result was the first draft of One Murder More. I was happy with it. However, there was a problem: evidently, it wasn't any good. A development editor directed me to books like How to Write a Novel and How to Write a Mystery. I couldn't believe that I had to go to the beginning, the very bottom to learn.
I'm not a crier, but I wept for a day.
Then I went back to work— I had no idea whether fiction/creative writing could be learned (similar to my experience with "business writing"), but I had things I wanted to share. I wanted to try.
That led to two years of writing and rewriting my original manuscript, attending conferences and workshops. The result is my debut novel, same title as the original draft, One Murder More, but a different book—even the identity of the murderer has changed.
I wasn't a born writer, but I had stories to tell. I think that's where it has to start—identify your stories. And know that you can learn a way to convey them. It might be through writing, poetry, music or art. If you're like me when that happens it will be a wonderful feeling, like no other. And worth reaching for. (Book two, here I come…)
In Kris Calvin's debut mystery One Murder More, a beautiful legislative aide is found stabbed to death in California's Capitol building. Maren Kane, a lobbyist for a fledgling Sacramento-based toy company, is in the midst of a legislative fight that could make or break her career. She doesn't have time for a coffee break let alone involvement in a murder investigation.

But when police arrest Maren's colleague for the crime, she's certain they have the wrong man. The cops suspect a crime of passion―love gone wrong. Maren knows that in the capital, money and power drive all things tragic and scandalous. Sex and love are little more than window-dressing.

But will she be able to prove her theory―and free her friend―before she becomes the next victim?
About the Author: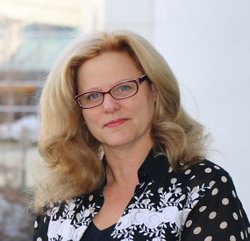 A former local elected official, debut author Kris Calvin knows politics from the inside out. She lives minutes from Sacramento, capital city of California and has been honored by the State Assembly and the California Governor's office for her leadership in political advocacy on behalf of children.
Educated at Stanford and UC Berkeley in psychology and economics, Kris Calvin uses her training to create "characters that all stand up in an emotionally rich and gripping novel" according to Kirk Russell, critically-acclaimed author of eight thrillers.
One Murder More is the first in Kris Calvin's new Maren Kane mystery series. She is working on Maren Kane's next adventure, A Timely Murder, the second novel in the series.
Website | Twitter
Buy the book at
Amazon
or
Barnes and Noble
.