Long and Short Reviews welcomes A.H. Richardson who is visiting with us today to talk about her mystery series: The Hazlitt/Brandon Series of Murder Mystery Novels.
Writing Mysteries
I believe that I was probably about nine years old, when I sunk my reader's teeth into my first Agatha Christie story, and was entranced by it. If memory serves, I think it was
Death Comes as the End
, and she had set it in ancient Egypt. After that, I read almost everything she ever wrote, and found myself thinking 'Gosh! That little old lady reminds me of Miss Andrews my kindergarten teacher' or 'that crusty old Colonel is exactly like the old duck that my father plays tennis with' and so on. I think I must have catalogued in my very retentive memory, many many characters that I planned to use in a story of my own. Writing a mystery is a unique challenge, planning who the unfortunate person is to be 'dun in' is the first part, then rallying round all the major players, and the bit parts is of equal importance, while keeping the characters very real and three dimensional.
Murder in Little Shendon was my first mystery, and probably my most loved, as it is the 'first child' so to speak, and one is always amazed that one actually wrote and published a book, and there it is in the flesh and in your hand — a very exciting moment, as every author knows. I think that good murders (if I may use those words) don't necessarily need 'buckets of blood' to make a point … I believe that building a psychological tension for the reader is paramount – make your reader think, wonder and ponder, I think this is what makes for a really good yarn. Put in a few red herrings, just don't be too obvious about it, so that you can lead your reader somewhat down the garden path. In this first story, I believe that I was successful in keeping my reader engaged and surprised at the ending.
Having been an actress for several years, I have a deep and abiding love for the theatre, where I am always felt quite at home. What better idea then to write about a play, a murderous plot involving actors, a director, and some less than pleasant characters? The theatre was made for this clearly, and made a wonderful back drop for my second murder mystery Act One, Scene One … Murder – with hopefully, a very surprising ending!
The last one is The Murder at Serenity Farm in which I indulged my love for horses, the gorgeous countryside, and the service of the now famous twosome, Sir Victor Hazlitt, retired diplomat, and his Shakespearian counterpart, the teddy-bear like and very smart Beresford Brandon. Our villain/villainess in this tale is quite, quite unexpected … and that is how it should be. As I write this, I am hatching a plot for a fourth in the Hazlitt/Brandon series, set on a tropical island.
Thank you so much for listening, and hopefully I haven't rambled on too much; I would add this final point for all those would-be authors out there – — Do it, Go for It, Write it, and don't be discouraged by anyone or any thing.
Thank you and have fun reading.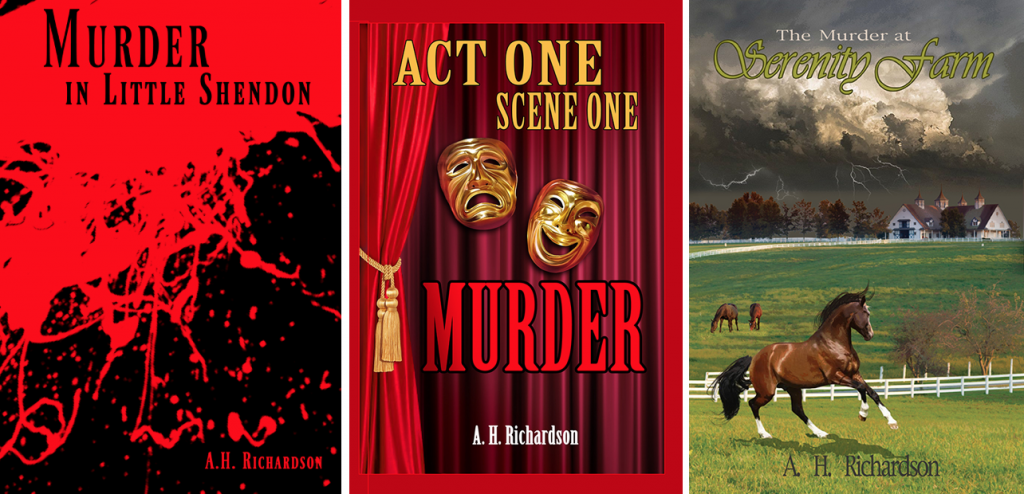 Picture, if you will, a picturesque village called Little Shendon, suddenly caught up in dealing with a murder of one of its citizens — not a particularly well-liked one at that. Which makes it all the more intriguing because the list of suspects becomes very long. This tantalizing tale unfolds with twists and turns to find out whodunit to Mr. Bartholomew Fynche, the murdered shopkeeper.

Fear grips the community as the investigation slowly progresses. Everyone is interviewed; everyone is suspect! From his housekeeper to Lady Armstrong and her household staff. Or could it be the shy librarian new in town? Or the defiant retired army major and his ladyfriend, the post mistress? Or perhaps the weird sisters who live on the edge of town? Then there is the couple who own the local inn and pub, along with the two Americans who are staying there? Even the vicar and his wife fall under the gloom of suspicion.

Uncertainty, wariness, and terror reign as neighbors watch neighbors to discover the evil that permeates their upturned lives. No one feels safe in this charming little village. Who is the murderer? And why was this strange uncivil man dispatched in such a seemingly civil community?

A murder mystery that will keep you reading until you learn the details, uncovered by Police Inspector Stanley Burgess and his two amateur detectives, Sir Victor Hazlitt and Beresford Brandon. The three sift methodically through the Alibis and life stories of the suspects until they uncover…

You are challenged to discover the culprit before the last few pages. And no fair looking ahead — it's the journey that proves the most enticing.
About the Author: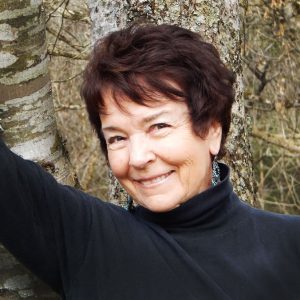 A. H. Richardson was born in London England and is the daughter of famous pianist and composer Clive Richardson. She studied drama and acting at the London Academy of Music and Dramatic Art. She was an actress, a musician, a painter and sculptor, and now an Author.
She published her debut novel Jorie and the Magic Stones, a children's chapter book, in December 2014. At the request of those who loved the first 'Jorie' story, Richardson has written a sequel titled Jorie and the Gold Key, and she is currently working on the third book in the series.
A.H. Richardson also enjoys writing murder mysteries and who-dun-its. She is the author of the Hazlitt/Brandon series of murder mystery novels. The series follows a pair of clever, colorful and charismatic sleuths – Sir Victor Hazlitt and Beresford Brandon. The series includes Murder in Little Shendon, Act One, Scene One – Murder, and Murder at Serenity Farm.
A. H. Richardson lives happily in East Tennessee, her adopted state, and has three sons, three grandchildren, and two pugs. She speaks four languages and loves to do voiceovers. She plans on writing many more books and hopes to delight her readers further with her British twist, which all her books have.
Website | Facebook | Twitter | Goodreads
Buy the book at Amazon.