Writing is Writing is Writing 
by Amanda Forester
Hello and thank you for inviting me today!  I started my writing career in a bit of a different way. I began in academia, writing grants and research papers. If I were to tell you I learned to write romance novels by writing grants you might cross my book off your TBR list.  But while the topics are surely different (they're different, I swear, it's safe to put my book back on your list), I did learn a few things from academic writing that have helped my fiction career.
1. The discipline of writing.  Granted, sitting in a chair might not seem like the most taxing of career choices, but actually it takes discipline to sit your tushy in the chair and keep it there to actually write.  One of the things about writing that is so difficult is that it is so easy to do something else.  It would be easy to only write when the muse was singing and the words were flowing like melted chocolate all over the page in a cascade of romantic deliciousness… but most of the time it's a slow slog.  Academic writing trained me to sit and power through it.
2.  Make the deadline.  Grants are due at a certain time, and if you are on contract, so are manuscripts.  Miss a grant deadline and you will no longer be considered for funding.  Miss a manuscript deadline with your publisher and you could lose your sale.  Bad news either way.  Perfectionism is the enemy of creativity.  Magic happens when you allow yourself to not be perfect.  Strange as it may sound, making the deadline forced me to trust in my internal voice and let the creativity flow.
3.  What's the point?  Both academic writing and fiction writing tell a story.  One might be a little more dry than the other, but both have a point and message they are trying to convey. The challenge with academic writing is to take complex, dry material and present it in a way that is compelling.  There are always lots of data that can be reported, but the important question is "why does this matter?"  This is an important question in fiction writing too.  Every scene should serve a purpose. What is the point?  Why am I writing about this?  These are essential questions in every style of writing.
See now—there are more similarities between academia and fiction than you thought, including nice numbered sections with bolded titles for ease of reading. Despite the similarities, I greatly enjoy writing fiction because I don't have to worry about getting it "right" and I can let my imagination fly.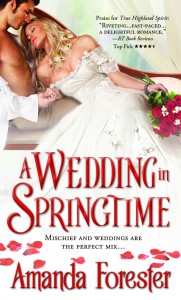 My newest release, A WEDDING IN SPRINGTIME, is the first book in a new series set in Regency England.  I am thrilled these characters, who have haunted me incessantly, are finally getting their chance to see their stories in print.
Here's the blurb for A WEDDING IN SPRINGTIME :
Five minutes into Miss Eugenia Talbot's presentation at court, notorious rogue Mr. William Grant makes her laugh before the queen, ruining her debut. To hush up the scandal, Genie needs to make a brilliant marriage, and fast.  Genie's aunt hires a matchmaker to find a suitor—anyone except the infamous William Grant—but amiable Genie shows a disturbing tendency to follow her heart.  When a traitor creeps closer, threatening to ruin more than just her reputation, Genie and Grant are drawn into a dangerous world of deceit and intrigue, where losing their hearts could mean their ultimate undoing.
I hope you will enjoy reading A WEDDING IN SPRINGTIME.  I love to hear from readers so come visit me at my website, facebook, or twitter.