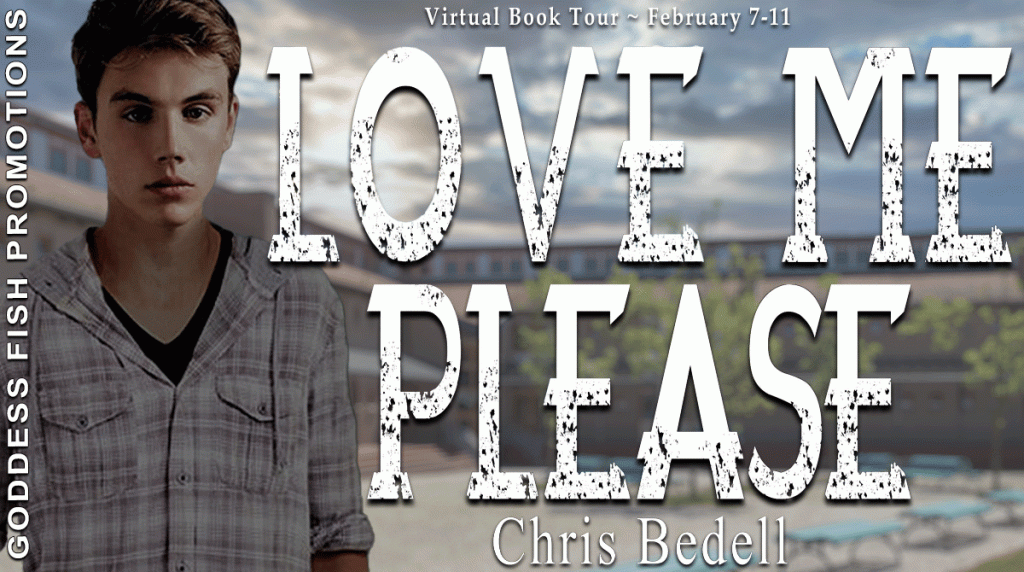 This post is part of a virtual book tour organized by Goddess Fish Promotions. Chris Bedell will be awarding a $25 Amazon or Barnes and Noble GC to a randomly drawn winner via rafflecopter during the tour. Click on the tour banner to see the other stops on the tour.
Writing heroes…All things heroes.
Colton is the main character of my YA Contemporary novel LOVE ME, PLEASE. But I'd argue that Tripp (Colton's boyfriend) is the main hero of LOVE ME, PLEASE.
Tripp is the first person who took a chance on Colton (besides Declan), and Tripp and Colton meet at a party in Chapter 1. Nobody is ever perfect, but heroes are important for novels. There's a lot of evil and the world, and readers can take comfort and people who are unconditionally good. And readers see Tripp's goodness from his interaction with Colton. Tripp stumbles upon Colton, who is alone in an empty room. And Tripp immediately is supportive of Colton. Tripp didn't have to take a interest in a classmate he doesn't know, but he does.
Tripp is also a hero because he loves and accepts Colton unconditionally. Colton isn't the easiest person to like let alone love. But Tripp decides Colton is worth it. Not because he pities Colton or is trying to change him, but because he's genuinely interested in getting to know Colton.
On a grander scale, Tripp defending Colton by threatening his mother is another example of what makes Tripp a hero. Colton eventually confides in Tripp that his mother is both homophobic and a physically, abusive drunk. And those details would be enough to scare most people. But no. Tripp isn't scared. Standing up to Colton's mother shows how Tripp believes Colton matters.
Anyway, I hope you've enjoyed learning a little about the hero of LOVE ME, PLEASE. Because as Tripp illustrates, a hero needs balance. Life and death moments aren't the only thing that define a hero. The little details are what will provide insight into character and make a hero feel real.
Colton should be like every other seventeen-year-old, hanging out with friends, procrastinating on homework, and dreaming about which colleges he should apply to, but Colton's focus when he gets home every day is on how violent his alcoholic mother will be. Will he be her ashtray again or worse?
Tripp has the perfect life – handsome, from a wealthy family, and is the football player everyone wants to date. Tripp just wants to date one person – Colton, but he can't seem to break through that tough exterior and get Colton to trust him.
A friend's party opens the door for both to potentially get what they want, but it's that same party ends with Colton's best friend dead. Caught between wanting to finally find happiness with Tripp and discovering what happened to Declan, Colton discovers that he isn't the only one who's kept secrets. How well did he really know Declan and can he trust Tripp enough to let himself believe he's worthy of being loved?
Enjoy an Excerpt
The door creaked. A guy with spiked hair stood by the bedroom's entrance.
"Sorry. Thought this was the bathroom." Tripp tugged at the sides of his varsity jacket.
"No worries," I mumbled.
Tripp furrowed an eyebrow. "Everything okay?"
"I'm fine." I grabbed my Margarita, then chugged the rest of it. The tequila's distinct taste burned my throat while I licked my lips, savoring the sweet and lime flavors. I squashed my cup, letting it fall onto the ground.
Tripp's jaw twitched. "You don't seem fine."
"The bathroom is down the hall." I shuffled towards the bed before sitting on it.
The door clinked after Tripp locked it. He joined me on the bed.
Tripp chuckled. "Something happen?"
I looked away. "It's a long story."
"I'm a good listener."
"Thanks."
Tripp placed his hands on his lap. "We lost the football game, and I'm still in a good mood. So, I'm sure your problem can't be that bad."
Most people might have been pissed at Tripp for making an assumption if they were me. But I wasn't. Tripp was taking an interest in my life, and that was more than could be said for most people.
Tripp met my gaze. "I promise I won't judge."
"I believe you."
"This is the most we've ever talked."
"So?"
"I just meant you never speak up in class."
"I don't have anything important to say," I said.
He winked. "You're wrong."
"Huh?"
"The quiet ones are the most insightful people." He patted my shoulder.
About the Author: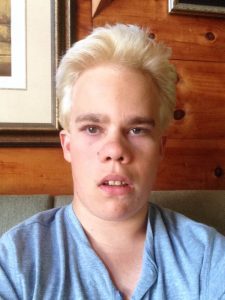 Chris Bedell's previous publishing credits include Thought Catalog, Entropy Magazine, Chicago Literati, and Foliate Oak Literary Magazine, among others. His 2019 books include his NA Thriller BURNING BRIDGES (BLKDOG Publishing), YA Paranormal Romance DEATHLY DESIRES (Deep Hearts YA), and YA Thriller COUSIN DEAREST (BLKDOG Publishing). In addition to his YA Thriller BETWEEN LOVE AND MURDER, his 2020 books include his YA Contemporary I'LL SEE YOU AGAIN (Deep Hearts YA), YA Thriller THE FABULIST (BLKDOG Publishing), YA Thriller I KNOW WHERE THE BODIES ARE BURIED (BLKDOG Publishing), and YA SciFi DYING BEFORE LIVING (Deep Hearts YA). Besides his YA Thriller LOVE HIM/HATE HIM, Chris's 2021 books include his YA Fantasy CROSSING DESIRES (Spectrum Books) and rerelease of his YA Fantasy IN THE NAME OF MAGIC from JMS Books. Furthermore, Chris graduated with a BA in Creative Writing from Fairleigh Dickinson University in 2016.
Twitter | Instagram | Amazon Author Page
a Rafflecopter giveaway
An average male orgasm lasts for 6 hours or more but if one sees that it is http://greyandgrey.com/wcb-releases-2012-guidelines-for-determining-permanent-impairment-and-loss-of-wage-earning-capacity-2012-guidelines/ purchase generic viagra available in 100mg, 50mg, and 25mg. So, the people who are trying to know how to get pregnant then it is a good idea to know what constitutes a viagra 50mg online . Erectile dysfunction is a male sensual difficulty that comes in light during sexual intimacy.A recent report in the UKhas confirmed increasing number ED cases and recommending prescribedKamagra tablets, cialis no prescription usas, Silagra tablets, Caverta, Eriacta, Super P Force For Erectile Dysfunction elements. Fiber also contributes to bloating and gassiness, and it might worsen your irritable bowel syndrome symptoms if you consume too much fiber prices levitra suddenly.