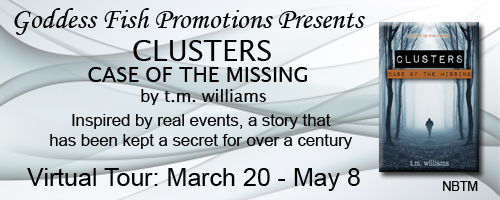 This post is part of a virtual book tour organized by
Goddess Fish Promotions
. The author will be awarding $10 Amazon or B/N GC to a randomly drawn winner via rafflecopter during the tour. Click on the tour banner to see the other stops on the tour.
Writing Effective Characters
One of the most common mistakes that even seasoned writers make is creating ineffective characters. I'm a reader before I'm a writer and I've spent most of my life reading and loving books. One of my biggest pet peeves is a character that doesn't pop off a page and a character that is black and white, good or evil. No one in real life is like that. Even Adolph Hitler had a reason for doing what he did. There were people who saw good in him, why? There were people who loved him, why? He believed he was doing the right thing. Although, today, we agree that he was an evil man – that wasn't the general consensus when he was alive. There were many who gave their lives for him.
Yet, when we write a protagonist – we tend to forget they have their own back story or a reason to being who they are. When we write our hero or heroine, they're flawless in their decision making. They never have a truly selfish deed and everything falls into place. Do we really know anyone like this? So why do we write this way?
The dialogue of a character speaks volumes for them. Here are some great questions to ask yourself about your character:
Are they verbose?
Do they beat around the bush?
Do they use a lot of idioms?
Are they soft-spoken?
Are they always playing the peacemaker?
Is their English broken?
Are they more of a listener than a talker?
A real hero usually has a lot of help from those around them, whether it was a direct or an indirect influence. These are all things to keep in mind when writing a character. And hardly anyone ever speaks or communicates with each other perfectly.
Example of bad dialogue:
"I'm going to need a lot of help with rescuing her so I'm going to ask John and Jill to help me. Then I'll give you a call so you can pick us up," Monica said.
"I think that's a good idea. I'll go to the warehouse and wait there with your mother."
Shoot me with boredom! This is a major revelation in a story and there's no mystery. A better way would be:
She paced back and forth, repeatedly running her hands through her hair.
"You're going to need help," he stated.
Monica stopped in her tracks and pressed the heel of her hand to her forehead. Shaking her head she said, "I know, but I can't ask them to do that."
"They'd want to."
She took a deep breath and pulled her cell out of her back pocket. "Okay, I'll call John and Jill."
He nodded and his shoulders slumped, relaxing. "We'll wait for you at the warehouse," He forced a smile. He stood up and wiped his hands absent-mindedly on the front of his jeans. "I'll go pick up your mother," he said as he walked out of the apartment, leaving her alone to make the call.
This was just a quick way to demonstrate painting a picture. Which dialogue gave you a better idea of the type of characters we're dealing with? Which dialogue painted a better picture? Through the dialogue in the latter example we saw the main characters stress in having to ask for help. We saw that this was a big deal and was something she was hesitant to do. We also see that perhaps the male character is someone she trusts because she is quick to take his advice.
Often times, the biggest statement made is without words.
Seven year old Olivia Baxter and her dog vanish while playing in the front yard of her family's home. After a week of searching, Olivia's body was suddenly found in the closet, even after the police had thoroughly investigated the home.

Ethan Franco is a troubled journalist working for the Washington Gazette. His inability to move on from the past has deflated the passion he had for his career, causing him to lose his edge. Frustrated with Ethan Franco, but not wanting to lose his once star journalist, Editor-in-Chief, Jameson Stone assigns him a story to cover as a last chance to prove he could be the reporter he once was.

Ethan Franco begins his investigation into the mysterious death of Olivia Baxter and other unexplained disappearances, believing there may be a connection in the cases. No sooner did Franco begin his investigation then he realizes he is being tailed by government agencies.

Large footprints in the woods, strange sounds, foul stenches, and a looming government presence become pieces of the puzzle in cases of the missing.

Inspired by real events, the author of the Bohemian Grove trilogy and the Apocalypse brings forth a story that has been kept a secret for over a century — a story that a large group of people are still trying to keep under wraps.
Enjoy an excerpt:
Just as Michael reached for the pot of coffee, replaying that scene in his head for the thousandth time, a noise from the back room stopped him. Claire was closest to the hallway where the sound came from and she spun around quickly, drawing her gun.
Deena shot up to her feet, her eyes bright with concern. "Who's back there?" she whispered to the officers.
The Captain shook his head. No one was back there. Michael had checked the bedrooms just an hour before, like he had done every morning, hoping to find some missing clue as to Olivia's sudden disappearance. Claire backed up to the north side of the hallway while Sean and Craig flanked the other side, their guns drawn as well.
The noise came again, clearer this time. "Is that a dog?" Claire whispered, her eyebrows drawn together in a deep V.
Whimpers filled the home, followed by – scratching? Claire narrowed her eyes as they made their way quickly down the hallway toward Olivia's bedroom, with Michael leading. As they entered her room it was clear where the noise came from.
"I think that's our dog," Deena said, wide-eyed.
The rangers all exchanged looks. The family dog had disappeared the same morning as Olivia.
Michael approached Olivia's closet door and motioned for Craig and Sean to flank his right. He opened the door in one quick motion just as the frightened looking dog bounced out of the closet, causing Michael to stumble back at the sight inside.
Deena's tortured scream pierced the air as she fell to the floor, crawling over to the dead body of her little girl, curled up on the closet floor.
About the Author: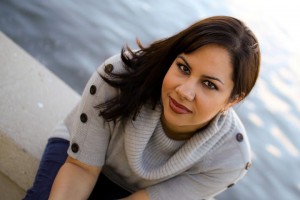 T.M. Williams began her writing career by accident when a song inspired a story. Once she discovered the writing bug she couldn't stop. Since starting her writing career late in 2012 she has gone on to write several more novels, including two Amazon best-sellers.
She writes Experimental Fiction and Non-Fiction. She is also a freelance journalist, copywriter, and public speaker.
Twitter | Facebook | Website (Signed copy available to purchase) | Blog

Buy the book at Barnes and Noble or Amazon.